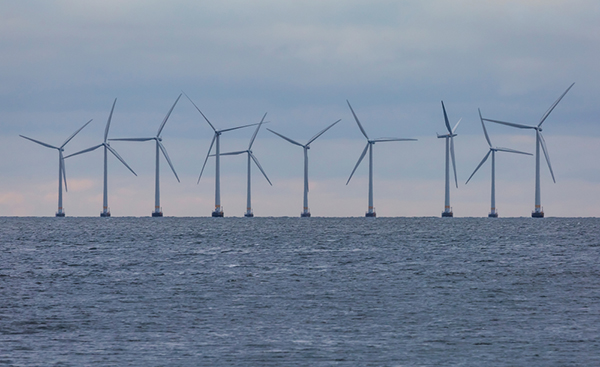 The subsidies available for offshore wind farms are not as generous today as they have been in the past. But the government's plans to double wind capacity over the next decade and the recent start of work on some major energy projects in the North Sea is creating some significant wind farm construction contract opportunities, both onshore and offshore.
At a recent offshore wind sector event in Lowestoft, delegates were told that East coast towns were set to become "honeypots of investment" thanks to opportunities from decades of investment in the offshore wind industry.
Around £22 billion is currently being invested in offshore wind farm construction off the east coast which will cost a further £550 million pa to run as well as generating construction projects onshore. An energy sector deal which is likely to be signed in the near future confirming government support for the industry should reinforce the sector's prospects.
Before Christmas, construction started on a new £10 million operations & maintenance base at Harwich International port which will service the 353 MW Galloper Offshore Wind Farm in the southern North Sea. Work on the new base is expected to take around 12 months to complete and will create 120 direct and indirect local jobs.
Wind farm developments
Harwich has already acted as the construction base for wind farm developments and the port's owner Hutchison Ports (UK) hopes it will provide a facility for further opportunities in the energy sector over the next few years.
Further up the coast at the Port of Lowestoft, a new £10 million operations and maintenance facility is currently being built by ScottishPower Renewables. It will service the £500 million East Anglia ONE North offshore wind farm which is to be built 36km off the coast of Lowestoft and where construction is set to start in summer 2023 (Glenigan Project ID: 12382463).
The wind farm is also paving the way for other developments in the area. In November, the first phase of a £300,000 demolition project to clear a 13-acre site was completed at the Port of Lowestoft's Shell Quay which will provide more development land for ABP and local businesses. The area is set to be free of all structures by early 2019 and ready for new development.
Plans have also been drawn up for a major expansion at nearby Peel Ports Great Yarmouth which also acts as a significant base for the region's offshore wind sector. A major £300 million-plus scheme is at the pre-tender stage involving an extra 350m of berth space and new training and quay facilities and with work set to start in 2021 (Glenigan Project ID: 17422529).
Generating opportunities
Glenigan Construction data highlights other construction opportunities being generated around the UK coast by the growing offshore sector. Peel Ports Clydeport is planning a £30 million redevelopment of a port site at Largs in Ayrshire to support the growth of the offshore wind sector as well as the decommissioning of oil and gas platforms. The scheme is at the pre-tender stage with work set to start in summer 2019 (Glenigan Project ID: 18418623).
Meanwhile, at Blyth in Northumberland, tenders have recently been returned on a £6 million wind turbine bearing test facility being built by ORE Catapult and where work is set to start in summer 2019 (Glenigan Project ID: 18083297).