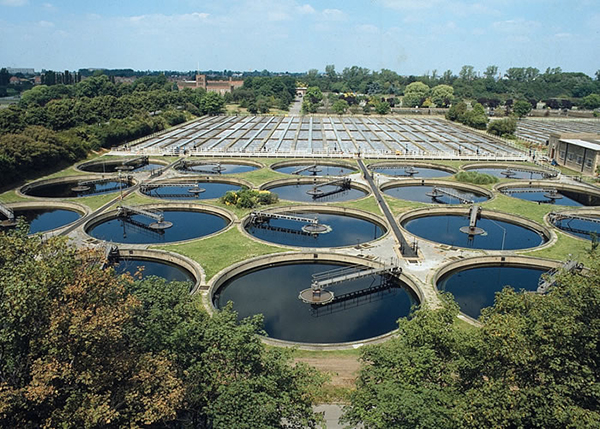 The onset of the next round of water utilities' spending is set to boost workload in the sector.
AMP7 will run from 2020 to 2025 and water utilities are proposing a 15% reduction in leakage and £10 billion worth of extra investment to improve stringent environmental standards.
Earlier this year, water regulator Ofwat approved the investment plans put forward by three leading utilities, Severn Trent, South West Water and United Utilities.
Severn Trent has subsequently recruited 15 contractors for its five-year £2.3 billion AMP7 programme (Glenigan Project ID 17318750). United Utilities has appointed seven contractors to its £824 million AMP7 framework (Glenigan Project ID 18182419), but other utilities were told by Ofwat to rethink their plans.
Ofwat chief executive Rachel Fletcher said: "We have challenged all water companies to deliver more for less for customers over the next five years.
Three companies have already stepped up to the mark with high-quality plans and stretching commitments to customers for the next five years.
"The rest of the sector now needs to meet this high standard so that customers across the country get better and more efficient services".
Utilities re-thinking their plans include Affinity Water, Thames Water and Southern Water and Severn Trent's Welsh operation, Hafren Dyfrdwy. This has slowed projects such as Thames Water's proposed £80 million Beckton Sewerage Treatment Works upgrade (Glenigan Project ID 19048230).
AMP6 ends
As the old AMP 6 spending-round reached its conclusion, spending by water utilities has subsided but a handful of major water projects are still filtering through.
Glenigan's construction research shows that Wessex Water's £45 million North Bristol Relief Sewer (Glenigan Project ID 19023252) being built by Murphy, while Galliford Try recently scooped up a £14.5 million deal to lay a 10-km pipeline in Chichester, West Sussex, for Southern Water.
Galliford Try's contract came through Southern Water's AMP6 framework, but with those contracts trickling to an end Glenigan recorded an 8% fall in the underlying value of utilities' project starts in 2018.
This fall is also reflected in Glenigan's ranking for the construction industry's top clients. The top spending utility in the 12 months to Q1 2019 is National Grid but no water utilities appear in the top 100 clients.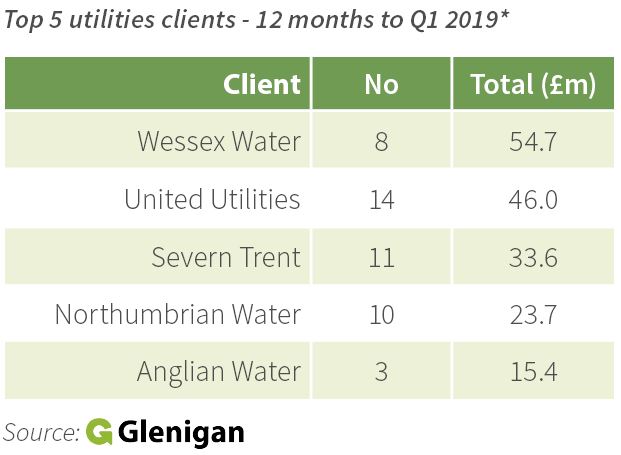 *1. Excludes framework agreements. 2. Clients need to have let three or more contracts valued at £250,00 or more for inclusion.
Plans afoot
As business plans for AMP7 are resubmitted and frameworks commence next year, project starts should rise.
Glenigan's construction market intelligence shows that work in the pipeline has already improved. There have been big rises in utilities work approved in the East of England and Scotland.
Major projects in the pipeline include the £45 million Water Trym Tunnel relief project in Bristol for Wessex Water. Northumbrian Water is in the midst of procuring a £36 million deal to repair its 16,000-km sewerage network in the North East (Glenigan Project ID 18358708).
Glenigan economics director Allan Wilén says: "Water industry work is expected to remain weak during 2019 as AMP6 draws to a close but the new programme, AMP7, will bolster workloads from April 2020."