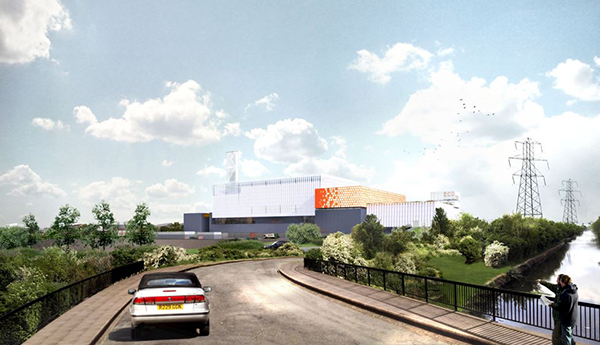 A buoyant market is emerging for the construction of new waste to energy plants as local authorities and larger companies invest in green facilities to limit their carbon emissions and the amount of material going to landfill.
Government figures show that the tonnage of waste going to energy recovery rose almost four-fold, from 1.9 million tonnes in 2014 to 7.3 million in 2016 and the sector is continuing to grow as a source of renewable domestic energy. It is also creating some significant new construction contracts and the prospect of major tender opportunities.
Energy recovery
Preparatory work is underway on the huge £500 million North London Heat and Power Project in Enfield where Buckingham Group has been named as the civil and site contractor. Construction work on a new energy recovery facility is set to start later this summer and run for ten years (Glenigan Project ID: 16093596).
Enfield is also the location for the £45 million Gibbs Road gasification plant which involves the construction of an inert waste management and recycling facility. Construction work is set to start next September and run for nine months (Glenigan Project ID: 10136247).
Outside the capital, some major waste to energy construction projects are also in the pipeline. Detailed plans have been submitted for the £220 million Hoddesdon Incinerator recycling & energy recovery facility in Herts, which could provide 33 MW of electricity for the national grid and cover an area of 25,305 sq m. Whilst the project has called in by the secretary of state, Vinci Construction UK could start work in late 2019 if the project is given the go-ahead (Glenigan Project ID: 09022070).
Private projects take shape
Some major private sector energy from waste projects are also taking shape. Site clearance has recently started and construction work is set to get underway next month on the privately-funded £450 million Peterborough Energy Park. Aecom is the project manager and KNM Group Berhad the design and build contractor on the project, which will generate 36 MW of renewable energy and involves an R & D centre and two three-storey main buildings. Construction on the project is set run for 24 months (Glenigan Project ID: 05049403).
Meanwhile in Rushden, Northants, detailed plans have been submitted by client Energy Roots for a £60 million recycling/recovery facility which will convert waste plastic into diesel, petrol and liquid petroleum gas. Dalol Energy is the architect for the scheme which is at the pre-tender stage and where construction work is set to start later this summer and run for nine months (Glenigan Project ID: 16342054).
Measures to improve energy efficiency are also an integral part of some major private housebuilding schemes which are under construction. A key feature of the huge £200 million Oakington Barracks/Airfield new town development near Cambridge are facilities for household waste recycling and to generate energy from renewable sources. Construction work on the development is continuing until 2025.