Over the last week the number of suspended sites has continued to decline, with work restarting on a further 91 sites. 45% of the initially suspended sites have now restarted. While this isn't as steep a rise in restarted projects as we saw last week, the bank holiday will have impacted this so it's still a positive shift.
Larger sites in particular have been reactivated. As a result, 57% of the value of construction work that was initially suspended, is now underway again.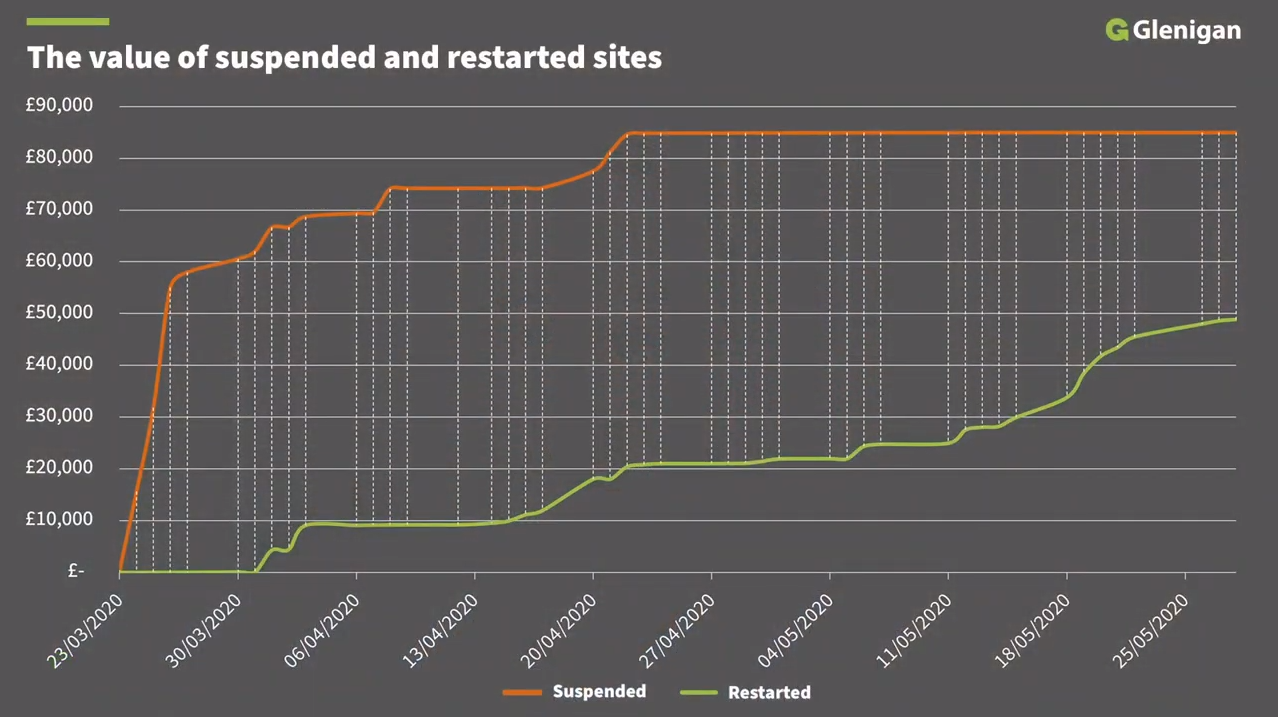 Site reactivation has been most widespread across the office, health and education sectors. However, at 47%, an above average share of private housing projects have also now restarted. The private housing sector was especially hard hit by the initial suspension of work and developers have been implementing a phased programme of site re-openings. Despite the above average proportion of restarted sites, at just over a third, a greater proportion of private housing sites remain closed than any other sector.
Overall work was suspended on 24% of construction sites, accounting for 22% of work by value. Public non-residential areas such as health, education and community & amenity sectors, and civil engineering all have a smaller than average proportion of suspended sites.
Over the last week the number of suspended sites has continued to decline in England and Wales, where just 16% sites are still closed in England and 17% in Wales, down from around a fifth of sites a week ago. Northern Ireland has seen the greatest improvement, with the proportion of suspended sites dropping to 63% down from three quarters of sites a week ago.
Whilst there has been little change in Scotland with 78% of sites still suspended, the Scottish Government has asked firms to gear up for a planned easing of the lockdown from 15 June so we anticipate that there will be a sharp drop in suspended Scottish sites during the final two weeks of next month.
Starts
The number and value of project starts have fallen sharply since the lockdown came into force during the second half of March. The Glenigan Index tracks new construction activity by looking at the value of project starts excluding high value projects of £100 million or more.
The latest Glenigan Index has recorded a 61% fall in the value of project starts during the three months to the end of May against the same period a year ago. The value of starts in May alone was 68% down the level of a year ago.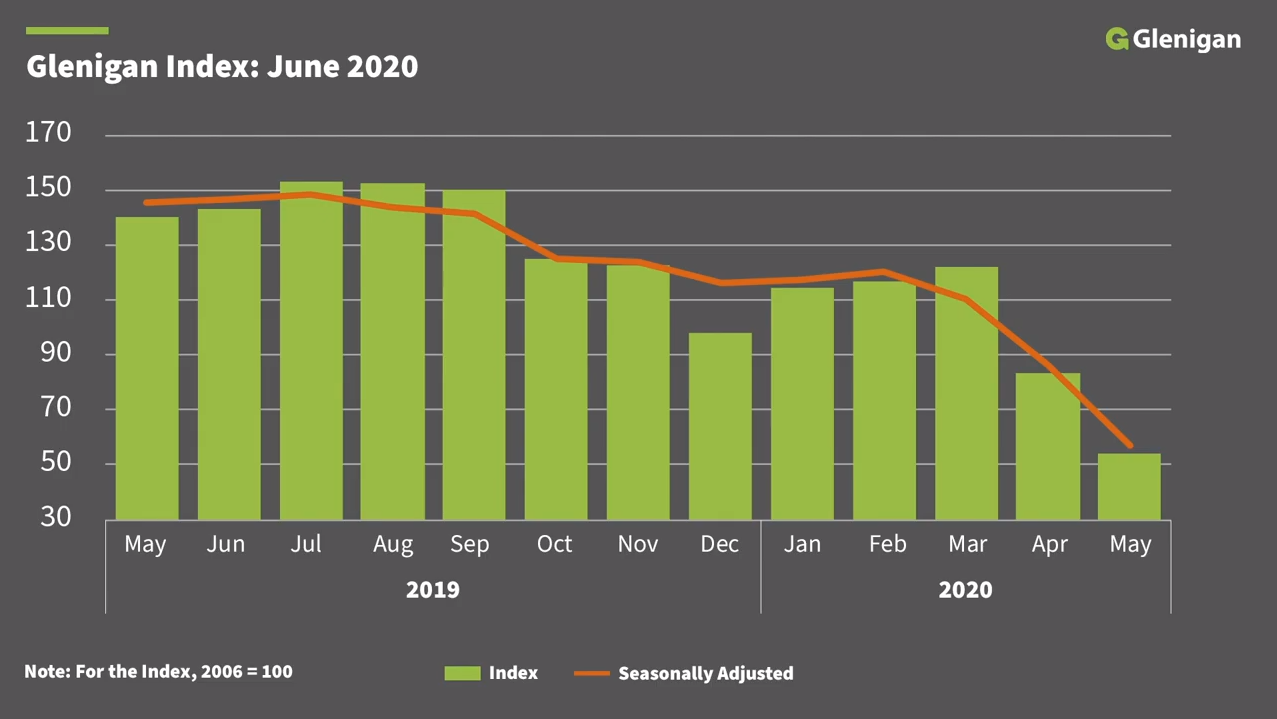 Within this total civil engineering projects have fared better than residential and non-residential work, with the value of civil projects during the three months to May 42% lower than a year ago.
Looking ahead, we anticipate that May should mark a low point with the number and value of projects starting on site progressively recovering from June as the lockdown is eased.
Planning Approvals
The number of planning applications being published by planning authorities has averaged 1,478 a day over the last week. This is little changed on the previous week and just 6% lower than the daily average seen earlier this year, prior to the COVID-19 lockdown. At 1,455 the daily average number of published planning decisions was 11% up on the previous week although it remains 7% lower than the average seen prior to the lockdown.
The last week has seen an improvement in applications and decisions for non-householder projects and there has been a strengthening in decisions for larger construction projects of £250,000 or more.
Applications for such larger projects rose by 8% on the previous week and were slightly ahead of average pre-lockdown levels. This week finally we saw the application finally being submitted for £14bn Sizewell-C nuclear power station, which had been delayed by two months due to the lockdown.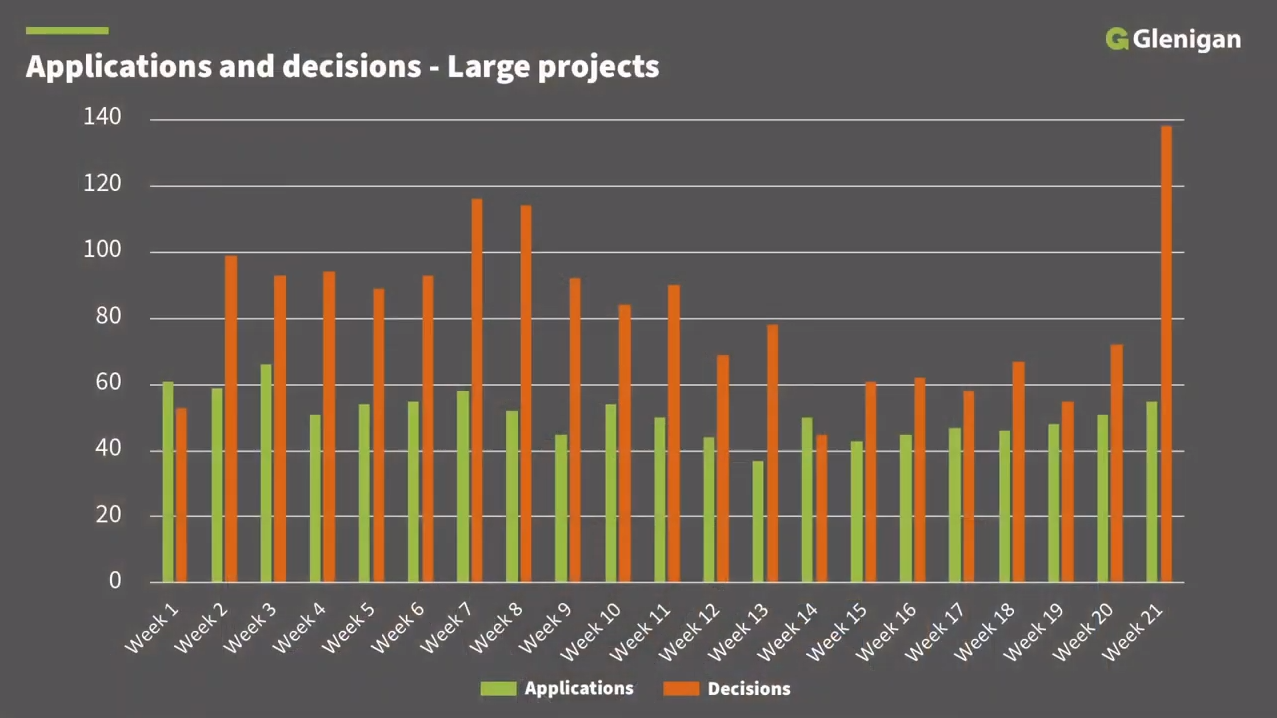 Decisions were 54% up on pre-lockdown levels. Larger projects had to date seen the sharpest declines in applications and decisions during the lockdown, something that we have in part attributed to delays in compiling and submitting the supporting documentation for these larger projects. This week's data provides a tentative sign that easing in the lockdown may be lifting this logjam and offers the prospects of an upturn in applications over the next few weeks.
All of which suggests that the industry has a potentially growing pipeline of planned projects as the lockdown is eased further over the weeks ahead. Now is the time for firms to be proactive in planning their future workloads as the recovery gets underway. Whilst improving, market conditions will remain extremely challenging and volatile. This week has included press reports that some developers are looking to subcontractors to cut their rates. Business will need to be especially vigilant to build a diverse portfolio of work that minimises their exposure to individual firms and sectors.
If you'd like to discuss how we can help you to do exactly that, and to explore other ways to safeguard your sales pipeline going forwards, then please do get in touch.