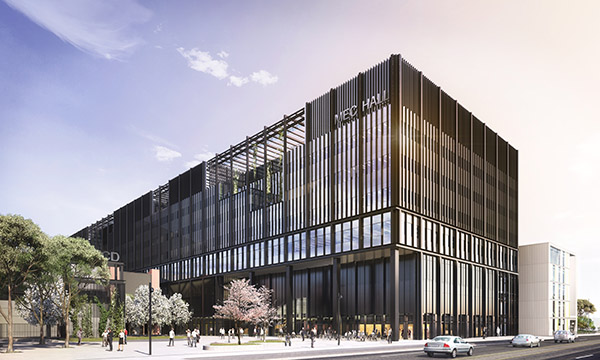 Spending on student accommodation construction projects is expected to defy uncertainty over Brexit over the next couple of years.
Major projects about to start include a £102 million 533-bed project in Guildford by developer Future Generation, a joint venture between developer Southern Grove and Tadhamon Capital, which has let the work to contractor McAleer & Rushe.
Regeneration specialist ENGIE starts work this September on a £200m student accommodation scheme in Leicester for the city's university and developer Equitix.
Elsewhere, Unite has bought a site at Derby Road in Nottingham to develop a £48 million new 620-bed scheme to open in time for the 2022/23 academic year. Unite also recently agreed a deal with RG Group to build a 24-storey 1,000-plus bed student accommodation tower in London according to Glenigan's construction market research (Glenigan Project ID: 18035339)
Modular moves
Unite's Nottingham scheme should open for the 2022/23 academic year, while the Leicester scheme will take three years to complete, but student numbers are surging.
In the coming 2019/20 academic year, 275,520 students have applied to go to university, which is up from 272,910 a year ago, and some universities are looking for quicker solutions.
Modular building specialist Caledonian is working with ENGIE and Cityheart Partnerships to provide Hereford College of Arts and the city's new NMiTE University with 178 student bedrooms at Station Approach.
Caledonian is also supplying 680 bedroom pods on a £54 million student accommodation development by Cole Waterhouse at the University Campus of Football Business, First Way Campus in Wembley.
"Our ability to deliver to a strict schedule and have an existing fire compliant solution made a compelling proposition," said Paul Lang, CEO of Caledonian Modular.
Funding strategies
The projects coming to site are increasingly led by private developers, which are building schemes for students for a variety of higher education institutions, rather than directly by universities. Investors are supporting this strategy.
In Guildford, for example, Future Generation has secured a £62 million loan from Maslow capital for the Guilden Park, which will serve students from four institutions based in the Surrey town: the University of Surrey, Guildford College, the Academy of Contemporary Music and the University of Law.
Future Generation has similar schemes underway in Colchester and Sheffield.
Reflecting on Unite's Nottingham deal, group property director Nick Hayes says: "This latest acquisition reflects our strategy of aligning our business with mid and high tariff Universities in cities where there is strong demand for affordable, high-quality student accommodation."
In the pipeline
The recent rise in work bears out earlier construction market analysis research by Glenigan, which predicted a surge in wider higher education spending, particularly by the leading Russell group universities.
In the near term, Glenigan expects student accommodation work to boom but this may slow.
Glenigan's economics director Allan Wilén says: "Student accommodation has become an important niche market for private sector developers. The development pipeline is strong and project starts are forecast to rise by 6% this year.
"Looking further ahead, the number of student entrants to universities is projected to decline 4.5% over the four years to 2021/22, a trend that may temper the flow of investment into this market over the medium term."
Related stories:
Higher education construction sector spending surge