A recent survey has highlighted a potential staycation windfall of almost £31 billion for the top ten UK destinations for domestic tourism this year.
The survey conducted by Barclays is part of a campaign the bank is launching to encourage people to get to 'Know Your Nation' and explore the British Isles, with the bank finding that the average UK resident has visited more places abroad than domestically.
Barclays says that billion-pound windfalls will be enjoyed by the ten most popular holiday destinations, with top-ranked Cornwall set to welcome £1.7 billion worth of staycation business, while the hotels, B&Bs and tourism economies in the Lake District, Devon and Yorkshire are also likely to feel the benefit.
In light of these monumental sums heading towards our much loved, and soon to be mobbed, holiday destinations, we thought we'd take a look at our data to see how each region is faring against previous years, in terms of planned new construction, to meet this new staycation demand.
Cornwall - Staycation windfall projection: £1.693 billion
Cornwall appears to have anticipated an up-tick in demand, with a marked spike of 74.9% in planning approvals for campsites and 67.4% for hotels forecast this year.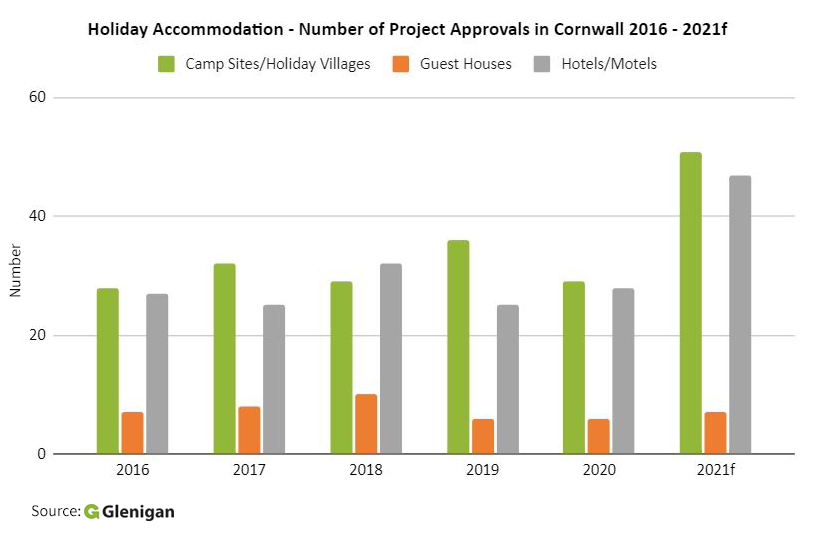 Lake District - Staycation windfall projection: £1.635 billion
The Lakes looks like it's prepared for an additional influx of walkers and campers with a 57.5% rise in project approvals vs. 2020 for campsites forecast this year. Hotels are expected to see a 34.6% increase.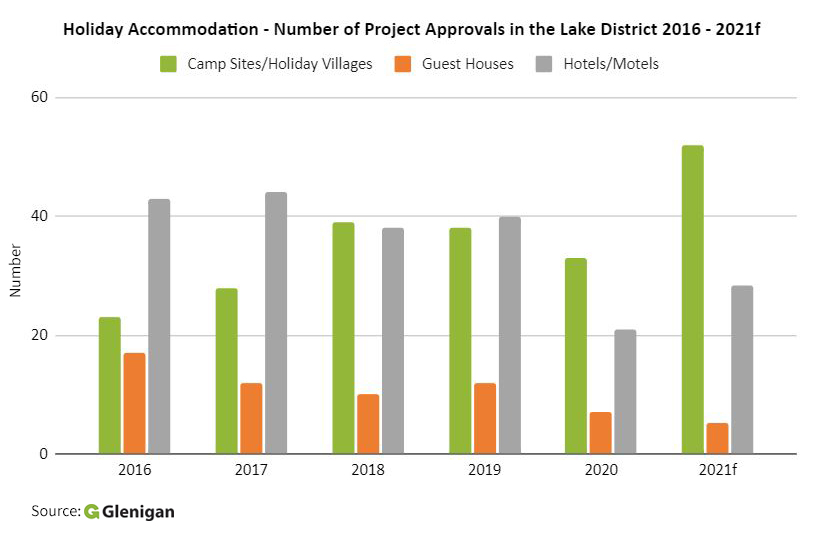 Devon -  Staycation windfall projection: £1.534 billion
Devon hasn't been quite as confident, with campsite approvals seeing an 8% drop in applications, a 45% drop in guest houses and an 18% drop in hotel approvals.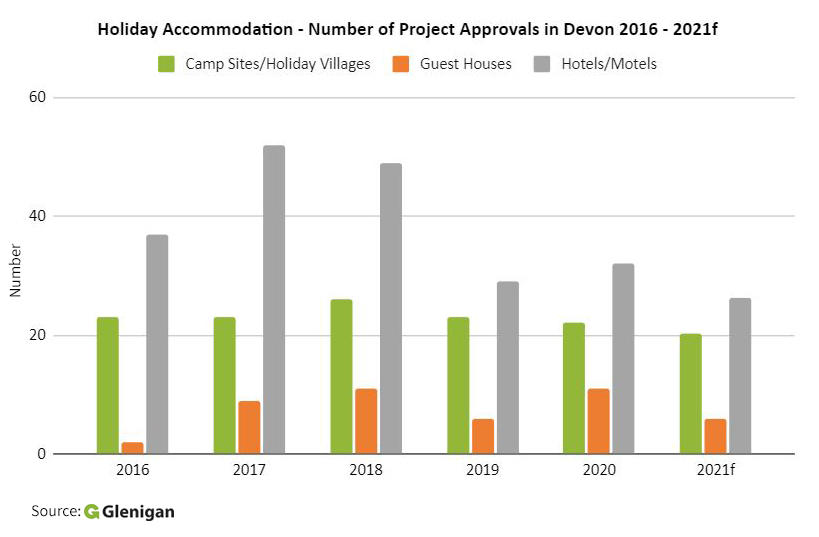 Yorkshire - Staycation windfall projection: £1.462 billion
Yorkshire on the other hand looks like it anticipated a rise in campsite visitors with a 55.6% rise in approvals expected this year, guest houses and hotels however are expected to see a drop in approvals of 15.5% and 4.9% respectively.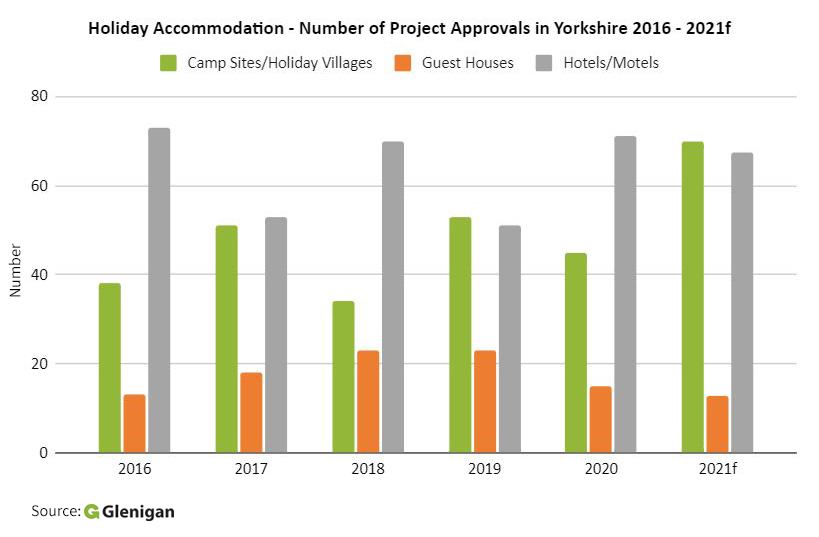 London - Staycation windfall projection: £1.366 billion
London, unsurprisingly, isn't expecting an influx of campers into its Boroughs this year, and as it's yet to recover from the catastrophe that COVID-19 brought with it, it's also unsurprising that hotel approvals are expected to be down 31% on last year.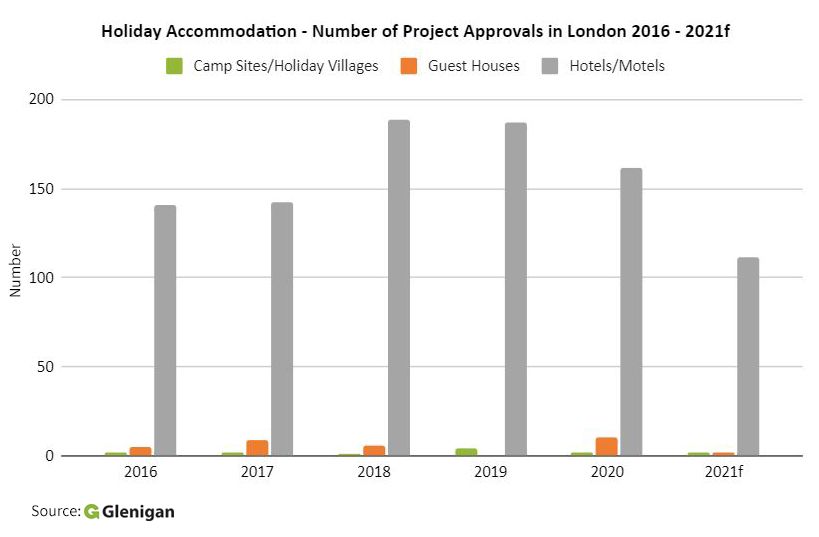 North Wales - Staycation windfall projection: £1.346 billion
North Wales is expecting a massive uplift in visitors this year with an up-tick of 75% in campsite approvals expected. Guest houses are expected to see an increase of 14%, while hotels will see a drop of 20.9%.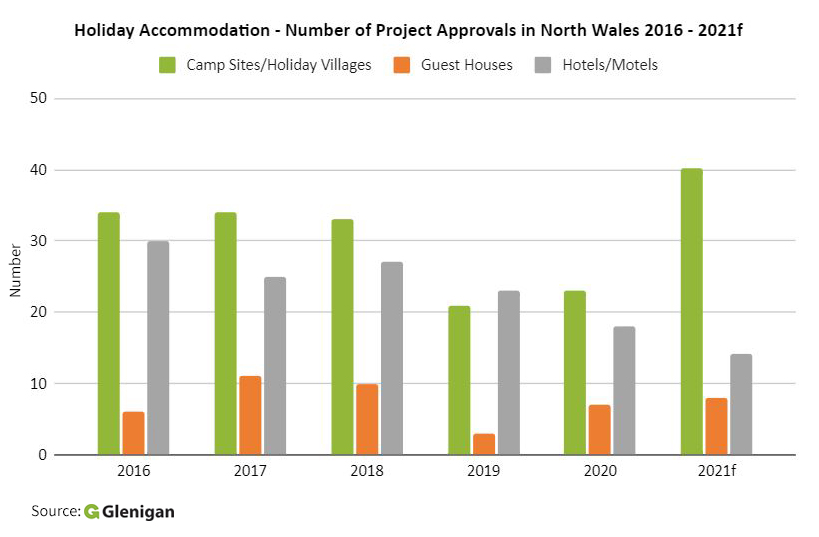 Scottish Highlands - Staycation windfall projection: £1.135 billion
The Scottish Highlands are anticipated to have a fantastic year with increases across the board. Campsites are expected to see a 25% rise in approvals by the end of the year, and guest houses a 45% up-tick, and a huge 125% rise in hotel planning approvals compared to last year.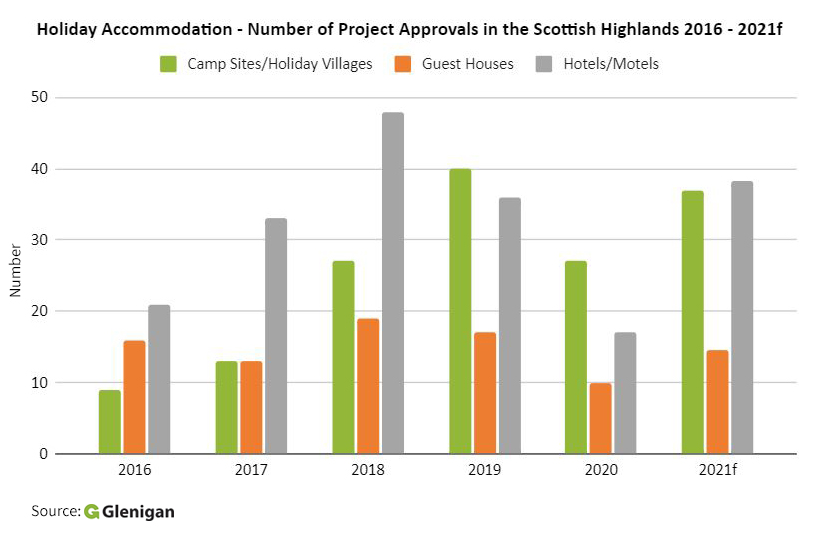 Dorset - Staycation windfall projection: £1.116 billion
Glenigan's home county of Dorset will see a positive move from last year's figures too, with a 18.5% up-tick in campsite approvals, 40.7% for guest houses, and a 21% up-tick for hotels.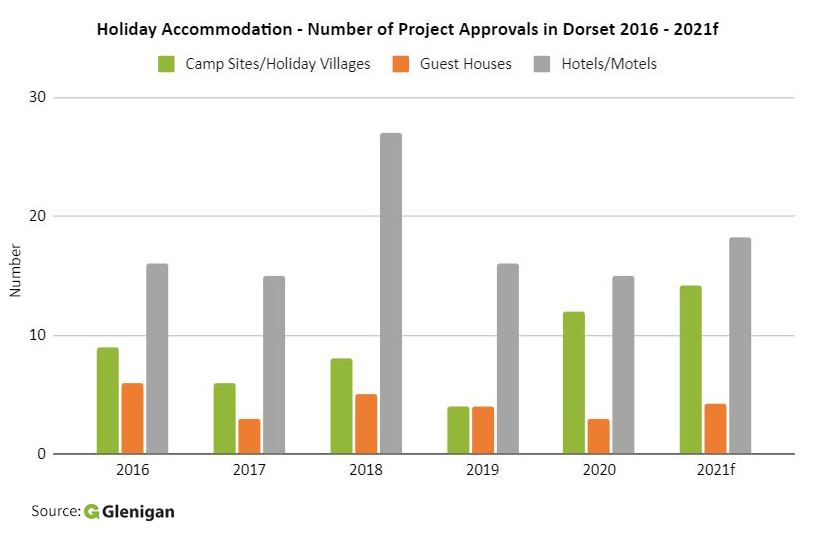 South Wales - Staycation windfall projection: £1.039 billion
South Wales will fare well in terms of campsite approvals with a 12.7% uplift compared to last year, but guest houses and hotels will fare less well with drops of 32.6% and 8.4% respectively.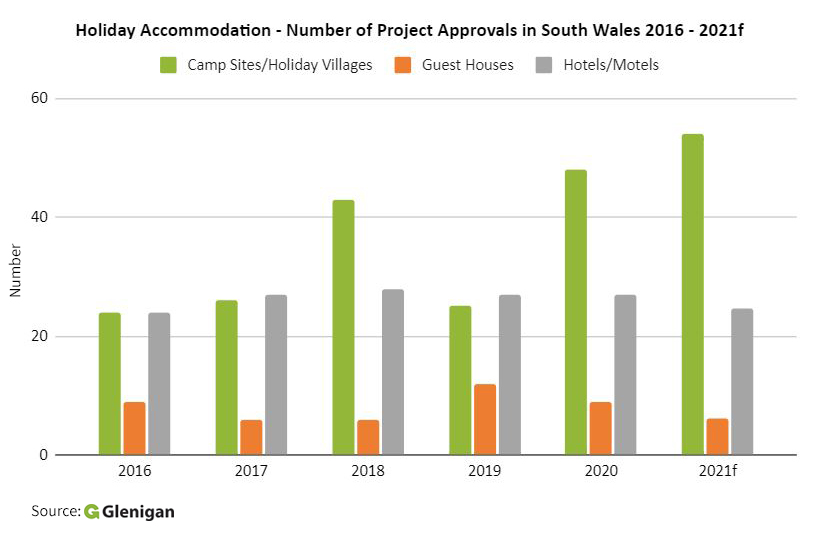 Cotswolds - Staycation windfall projection: £981 million
Similarly, the Cotswolds - perhaps anticipating a slightly smaller number of visitors - will see an up-tick of 25% in campsite approvals, but drops of 29% for guest houses and 15% for hotels.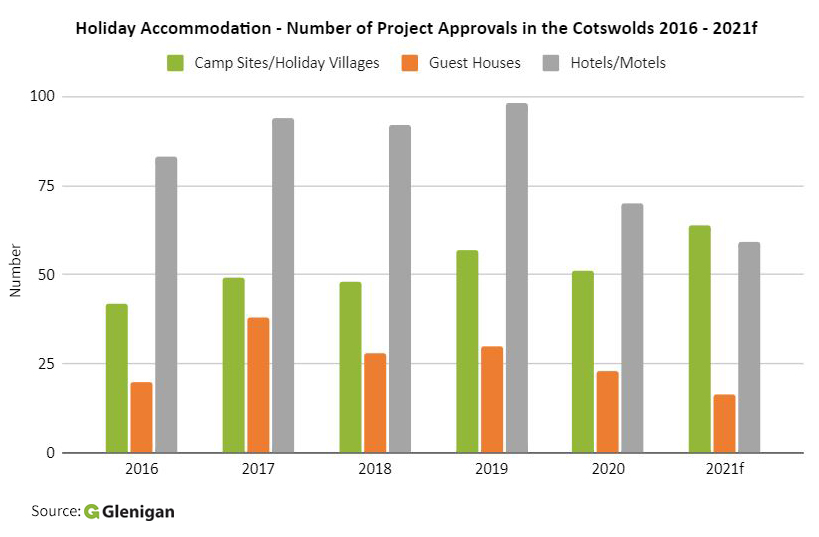 With 23 million Brits planning at least one staycation this year according to the Barclays data, and the up-ticks in planning approvals expected across the regions detailed above, now is the perfect time for construction firms to be looking at opportunities within these staycation hot spots.
Glenigan customers can view all new and planned hotel and leisure construction opportunities if part of their subscription.
Not a Glenigan customer but would like to take advantage of opportunities in this sector? Please request a free demo where we can show you more details on projects of interest.
PR contact:
Rick Stephens (Content Marketing Lead)
T: 01202 786 859 │ E: rick.stephens@glenigan.com