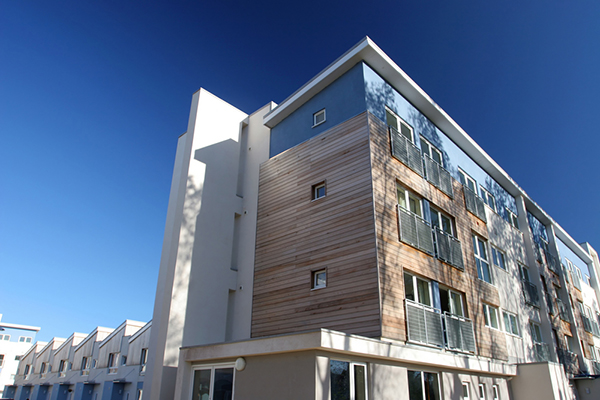 The government is being "more practical" about the National Housing Federation's call for a massive new social housing construction funding settlement.
This summer the NHF, which represents the country's housing associations, asked for £12.8 billion a year for the next decade to tackle the government's housing target of building 300,000 new homes a year.
"We are ambitious on supply. We need to build a lot more houses: 300,000 homes a year is a pretty conservative estimate of what we need," says NHF chief executive officer Kate Henderson at the Housing Market Intelligence conference in London.
The NHF believes that a figure of 340,000 homes a year should be the target, including 140,000 social housing units, of which 90,000 would be available for rent, and the private sector meeting the balance.
"We need more money from government. There has to be a funding settlement," added Ms Henderson "We invest £10 billion a year in roads and you have to look at homes as infrastructure.
"Over the last 18 months, the environment has changed a lot for housing associations in terms of policy and funding.
"Under Theresa May, we saw more funding for social housing. What we have seen in the last couple of months since Boris Johnson came in is another change in the environment.
"The response has been more open. It's much more practical."
Cross subsidy model limited
The NHF believes that the cross-subsidy model, where social housing is partly subsidised by profits from selling new homes is limited.
Faced with a downturn, London & Quadrant – the biggest housing association – recently put its housebuilding programme on hold.
Under the new NHF proposals, 44% of the cost of grant-funded homes would come from government funding.
The NHF wants the funding to start in 2021.
Wider support needed
In the wake of the Grenfell tragedy, new public housing slowed as resources were diverted into repair and maintenance.
To counter this, the NHF also wants to create a Building Safety Fund.
Ms Henderson adds: "Grenfell revealed an absolute failure in the building safety system in this country. We are tackling cladding, but what lies beneath the cladding? There will be a decade long programme of remediation."
Instead of diverting resources from new build, a new fund would bankroll this programme.
In the pipeline
Despite money going into repairs, social housing construction has recently outperformed expectations.
While private housing starts fell 8% in the quarter to August 2019 according to the National House-Building Council, there was a 4% rise in social housing starts.
Glenigan expects the underlying value of social housing construction project starts to edge up 2% this year.
Glenigan's economics director Allan Wilén said: "Overall the value of detailed planning approvals for affordable housing projects stabilised last year. This is expected to support a modest improvement in affordable housing project starts during 2019 as projects reviewed in the wake of the Grenfell tragedy start on site. "
This improvement is gaining pace. In Q3 2019, social housing project starts rose 14%. If the NHF settlement is agreed, the sector could boom.
Image Source: Shutterstock