The Government is bringing forward investment with a desire to get 'shovel ready' Infrastructure schemes going sooner rather than later.
The National Infrastructure and Construction Procurement Pipeline - with an estimated contract value of up to £37 billion - was released last week with the express purpose of providing '...industry with better visibility and certainty of current and future project flow, in order to help companies rebound from this crisis.'
Following the Pipeline's release, the Glenigan economics team has analysed our construction project data to identify the scope of 'shovel ready' schemes that firms' can get involved in right now.
Infrastructure projects at pre-tender stage
There are currently over £17bn worth of Infrastructure projects at the pre-tender stage, with Infrastructure projects taking the lead at £7.46bn. Local roads, motorways & trunk roads are valued at £2.4bn and £2.138bn respectively. Work focused on railway stations, and railway track works comes second with £1.711bn and £1.241bn of work respectively.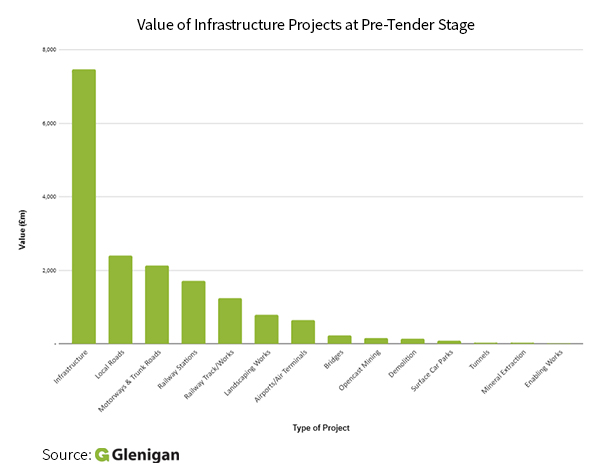 The largest project is the Lower Thames Crossing Infrastructure for Highways England (Glenigan Project ID: 19039698) valued at £6.8bn where an invitation to tender is expected shortly.
The second biggest is the £350m works to support the delivery of Airfield Operating Surfaces (AOS) for the Defence Infrastructure Organisation (DIO) (Glenigan Project ID: 19317918).
Infrastructure projects out to tender
At £3.753bn infrastructure projects out to tender provides substantial opportunity for firms wanting to shore-up their mid-term pipeline.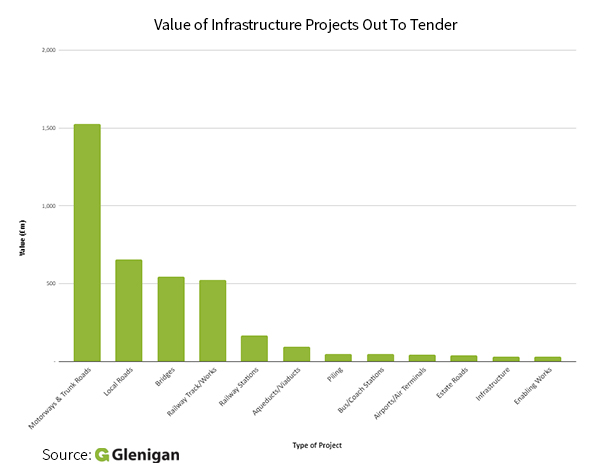 Motorways & trunk roads projects out to tender are worth £1.526bn, followed by local roads at £653m, and bridges at £547m, closely followed by railway & track work at £525m.
By far the biggest project out to tender in the motorways & trunk road segment is for the dualling/upgrading of the A465 Dowlais Top - A470 Junction for the Welsh Assembly Government, with a project value of £400m (Glenigan Project ID: 00403301).
Then, with a project value of £312m is the M40/M42 Interchange SMART Motorway for Highways England located just south of Birmingham, with a start date of 16 October 2020 (Glenigan Project ID: 17455560).
A bridges inspection & maintenance contract, again for Highways England, for Avonmouth and Severn Bridges Specialist Bridge inspection and maintenance, including some renewal and improvement works is also out to tender with a contract value of £240m (Glenigan Project ID: 19164462).
Infrastructure projects at contract awarded stage
There is currently £9.7bn worth of infrastructure projects at contract awarded stage, with Railway track/works taking the largest share with five projects worth a total of £3.663bn, followed by four railway station projects at £2.47bn, one bridge/tunnel project worth £1.2bn, and eight motorways and trunk roads projects worth £1.157 in total.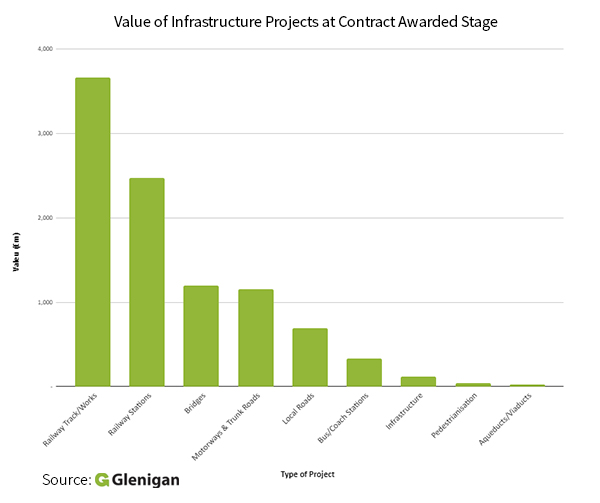 Unsurprisingly, the largest Railway track/works and railway stations project investments are connected to HS2.
The main contracts for the £2.2bn redevelopment of the Station Terminus at Euston (Glenigan Project ID:12081779) have been awarded to Mace and Dragados UK Ltd and work is due to start mid November this year.
Another huge project - the £1.2b Silvertown Tunnel for Transport for London (Glenigan Project ID: 09332701) where BAM Nuttall Ltd, and Ferrovial Agroman are the main contractors, announced two weeks ago, that they will now be starting a phased approach to start work back on-site, commencing with site preparation to accommodate social distancing.
The largest motorways project at contract award stage is the £392.3m M62 Junction 20 to Junction 25 Smart Motorway major improvement for Highways England (Glenigan Project ID: 17456939). Costain has been awarded the main contract and work is due to start in June next year, although with such a tight focus on providing much needed certainty through the delivery of infrastructure projects right now, this could be brought forward.
Glenigan customers with access to the Infrastructure sector can see all opportunities at every stage within their subscription. Customers who would like to access these projects can request additional insight from their account manager.
Not a Glenigan customer? Check out our free Pipeline-Finder to see infrastructure projects that you'd like to get involved in. All it takes is a few clicks.