Residential and office development is boosting construction work in Birmingham as investment from the forthcoming High Speed Rail 2 (HS2) improves confidence in the city.
The latest Regional Crane Survey for Birmingham from consultants Deloitte found that 33 of the 43 projects that were already under construction last year were residential schemes of 25 units or more, while 13 of the 18 schemes to begin construction were also residential schemes of 25 units or more.
Swathes of major residential developments each set to provide hundreds of new homes are also in the pipeline according to Glenigan's construction information research.
A plan for 642 flats at Lower Essex Street is due to start this summer (Project ID: 19298430). St Modwen is expected to start this Autumn on a £23.4 million plan for 350 homes on the site of a former MG factory in Longbridge (Project ID: 21357306).
Other plans are earlier in the cycle. Commercial Estates Group and Doobia Investments have submitted plans to build 571 homes at Smallbrook Queensway (Project ID: 16268867).
Birmingham boost
Office work is also holding up in Birmingham ahead of a start on the £571 million HS2 terminal at Curzon Street (Project ID: 17142804) and also in response to the Covid-19 pandemic.
Changes are afoot, according to Deloitte, as 'developers design (and re-design) schemes to meet the increasing demand for Grade A floorspace, sustainable buildings, and workspaces that are flexible and collaborative.'
Hammerson has submitted plans for its £55 million redevelopment of a former John Lewis department store on Station Street (pictured) into an office complex to be known as Drum (Project ID: 23016477).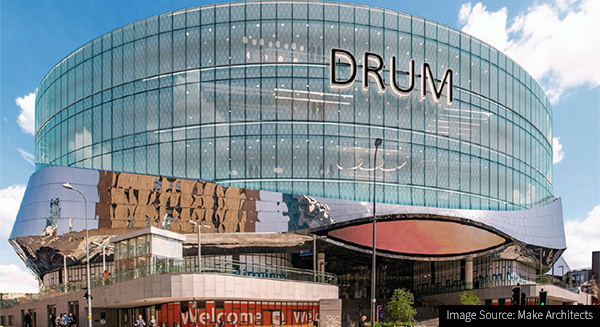 Hermes Real Estate is also planning a £38.1 million office and retail development at Paradise Circus to be known as Three Chamberlain Square (Project ID: 16088708).
Billion-pound Birmingham
Birmingham is the hub of the construction industry in the wider West Midlands region. The underlying value of main contracts awarded (schemes valued below £100 million) in the West Midlands in the three months to January 2023 was £1.3 billion according to Glenigan's research.
Work is also moving through the pipeline. Across the same period, the underlying value of projects given detailed planning permission was £1.1 billion.
Top contractors
The top contractor in the West Midlands in the 12 months to January 2023 was VolkerWessels. The Dutch-owned contractor had a £156 million order book, which was all civil engineering and focused on Birmingham.
VolkerWessels's work in Birmingham includes a £61 million plan for three new rail stations at Camp Hill (Project ID: 19373359) and the £59 million Aston Expressway roads scheme (Project ID: 19421327).
Willmott Dixon was ranked second in the region with a £145 million order book also boosted by work in Birmingham. The company's jobs in the city range from an £8.8 million residential and commercial development at Ladywood (Project ID: 22323054) to a £10 million office extension at St Philip's Place (Project ID: 20116415).
Birmingham's future
Residential work will drive future construction workload. "A growing population, coupled with an insatiable demand for homes and investor confidence in BTR, will see more schemes cutting ground over the next 12 months alongside a rise in planning applications," said Deloitte, which anticipates retail coming into this mix as development in central Birmingham continues to recover from the downturn.
Glenigan customers can see details of all new construction work in Birmingham if part of your subscription.
Not a Glenigan customer, but would like to see detailed sales leads for new construction in Birmingham? Request a free demo of Glenigan today so we can show you the size of the opportunity for your business.