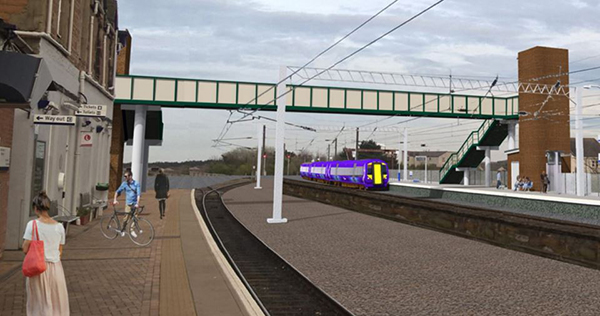 Railway Footbridge, Dunbar Station. Image Source: Thjv
Delays and cost-overruns at the country's two flagship rail projects, Crossrail and HS2, has produced some unflattering headlines for the industry in recent weeks. But elsewhere, contractors seeking rail  tender opportunities can take heart from the recent launch of Network Rail's new five-year investment programme.
Before Christmas, Network Rail announced the first contracts for Control Period 6 (2019-2024), worth a combined £645m. Story Contracting won 'Lot 2' covering renewals and enhancements work in Scotland and worth around £135m whilst AmcoGiffen picked up 'Lot 3' for work on the London North East route, valued at around £190m.
The framework involves replacing and refurbishing structures across the route and station improvements. Further construction work, worth £320 million on the Scotland and North East (SNE) framework is also due to be announced, together with a £147 million Geotech framework.
The awards are the first Network Rail CP6 contracts to be let following the Office of Rail and Road's recent confirmation of £35bn of funding for rail maintenance and renewals. The Scotland North East and Southern regions will see the largest construction workloads – over £5 billion of renewals spending in each region over the next five years. Southern is set to announce contract awards early in the new year.
Welcome boost to workloads
According to Glenigan's latest Construction Outlook, some £4.1 billion has been allocated for maintenance and renewals construction work during 2019/20, the first financial year of CP6 and a 23% increase on the previous year. A further 12% increase in spending is earmarked for 2020/21. The extra spending will give a welcome boost to contractors' workloads in the civil engineering sector, where Glenigan is forecasting a 5% rise in the value of project starts in 2020.
The hope is that by providing contractors with significant future workloads under the CP6 contracts it will also help the wider industry. Kris Kinnear, deputy regional director for SNE, said: "Significant five-year contracts not only benefit our key supply chain partners, but the thousands of companies who work for them too, providing them with the surety they need to invest in their people, innovation and value for money."
Significant projects
Aside from the CP6 programme, Network Rail is providing a continuing source of significant construction projects across the country. Glenigan Construction data shows that a new £15 million footbridge for Network Rail's London stations is at the pre-tender stage and that Gottlieb Paludan Architects has recently been appointed to the scheme (Glenigan Project ID: 18435670).
Elsewhere, Amco has recently been appointed as the main contractor on a new £13 million footbridge at Dunbar railway station in Lothian with work set to start in summer 2019 (Glenigan Project ID: 18040386).
Building contractors are also seeing tender opportunities from new rail investment. Detailed plans have recently been submitted for a new £21.4 million railway station at Thanet Parkway in Kent where Aecom is a key consultant and work is set to start next summer and run for two years (Glenigan Project ID: 18071697). Also in Kent, a £2.5 million redevelopment of Maidstone Station is at the pre-tender stage, with work set to start in the new year (Glenigan Project ID: 18318007).