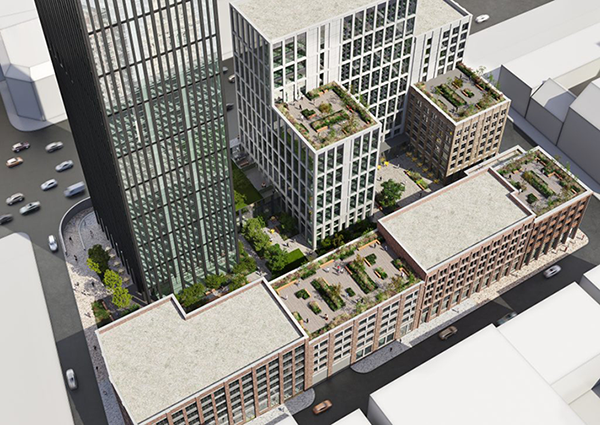 As more and more housebuilders re-open or plan to re-open sites as the peak of the coronavirus passes, Glenigan's research shows private residential construction work bubbling under in the planning pipeline.
Persimmon and Vistry staff began returning to site on April 27 and Taylor Wimpey and Bellway followed suit at the start of May. Redrow begins a phased re-opening of sites on May 18 and Barratt will have 180 of its 360 active sites open by the end of this month.
Glenigan's research shows that work is also moving through the planning pipeline. Economics director Allan Wilén says: "The long-term planning pipeline remains firm, and the immediate pipeline is beginning to show positive signs."
Projects
Despite some procurement and planning staff being furloughed, major residential projects continue to enter the planning system.
Developers Moda Living and Apache Capital have submitted plans for the £258 million Great Charles Street Development in Birmingham, which will feature 722 apartments plus shops, commercial space and a gym (Glenigan Project ID: 20106291). If approved, works should start on site next year.
Build-to-rent projects remain strong and Legal & General has confirmed funding of £150 million in its West Bar development in Sheffield. The scheme includes 350 new BTR homes and is being put together with developer Urbo and the city council (Glenigan Project ID: 07447519).
Legal & General chief executive Nigel Wilson said: "Our vision for West Bar Square is to deliver a much-needed new quarter for the centre of Sheffield.
"During these unprecedented times, it is absolutely imperative that institutions continue to push forward with deals, so we can position the UK for an accelerated recovery and lay the groundwork to support those most in need in society."
Planning approvals
Residential projects are also still securing planning permission despite the challenges at local authority level in terms of organising planning meetings.
Glenigan's data shows that the overall national value of private residential projects securing planning permission fell by 13% in the 12 months to Q1 2020 but some regions recorded a rise.
Approvals are up 54% in the South West and 3% in Scotland, while the falls in the East Midlands and Wales are marginal.
One of the developments to boost the total for the South West was Bellway's Pirton Fields development, where parcel 3745 to deliver 465 new homes now has planning permission according to Glenigan's research.
Other major residential schemes to recently secure planning permission include the £100 million Greengate development in Manchester, which will deliver around 1,500 units and also offers BTR units (Glenigan Project ID: 06412964).
Elsewhere, plans to develop 4,000 homes at Attleborough in Norfolk have also been given outline planning permission from Breckland Council (Glenigan Project ID: 16008630). The scheme will also include 400 affordable homes and a £34 million investment from developer Ptarmigan Land to fund local schools and a new link road connecting Buckenham Road and London Road.
As construction on sites begins to improve, continuing activity in the background will also boost the pipeline of work and aid the longer-term recovery.
See opportunities for your business with our free pipeline-finder. Search by location, sector, stage, and project value to see your perfect sales pipeline.