The government's recent decision to revive the concept of an Oxford-Cambridge Arc as a British version of Silicon Valley has underlined the potential for new development across a broad area linking the two university cities.
The government has committed £2.5 million to a new regional partnership to attract international investment to the area. Meanwhile, before Christmas Jeremy Hunt refreshed a pledge to complete the £5 billion project to re-open the former 'Varsity railway' line between Oxford and Cambridge.
The initiatives will reinforce the already buoyant prospects for new commercial construction contracts across the Arc region, driven largely by growing demand for space from science-based businesses.
The Arc covers a wide area between Oxford, Milton Keynes and Cambridge and involves five counties: Oxfordshire, Beds, Bucks, Northants and Cambs. In all, the area is believed to support over two million jobs and ranks as one of the fastest-growing regional economies in the country, worth some £110 billion.
Requirements for laboratory space
Last month property agent Bidwells noted that firms' requirements for laboratory space across the Oxford-Cambridge Arc region exceeded those for offices in the area for the first time. The expansion plans of fast-growing science companies, said the agent, have been stalled as they wait for available laboratory stock. There is 'close to no supply' in either Oxford or Cambridge but demand from firms for nearly 2 million sq ft of space.
Rents in the area rose by over 20 per cent last year and new schemes, which are coming forward over 2023, are being let ahead of completion which bodes well for future development.
Meanwhile, requirements for conventional office space also grew during 2022 and high-quality space remains in short supply in both the Oxford and Cambridge markets.
Glenigan data highlights some significant new projects designed to meet this demand which are in the pipeline across the Arc region.
One flagship project set to get underway is the new £150 million Moderna Innovation & Technology Centre (pictured), a research and manufacturing base being built at the Harwell Science and Innovation Campus at Didcot, near Oxford. Scott Brownrigg has been appointed as the architect on the almost 13,500 sq m scheme, which is at the pre-tender stage. Work is set to start later this year and run for 24 months (Project ID: 22241907).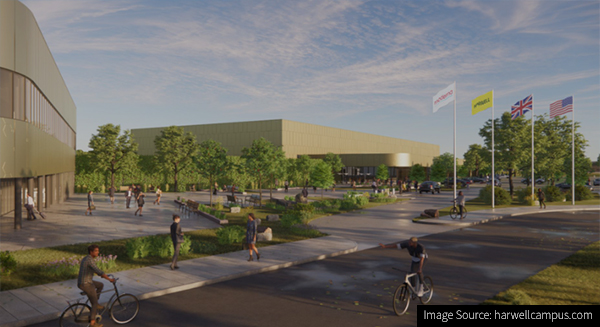 Closer to the city of dreaming spires itself, detailed plans have been granted for a £150 million scheme involving three laboratory and office buildings on The TOSP Development at Oxford Science Park. The scheme is also at the pre-tender stage with construction work on over 65,000 sq m of space pencilled in to start later this summer and run for 18 months (Project ID: 22351947).
Urgent demand for space
The large publicly quoted property groups are also progressing schemes to meet the urgent demand for business space in the Arc region. British Land - best known as the developer of Broadgate in the City of London - has recently submitted plans with joint client Peterhouse College for a £37 million office and laboratory concrete shell at Peterhouse Technology Park in Cambridge. Tenders are being sought for the scheme with work set to start early next year and to run for nine months (Project ID: 23073806).
Elsewhere on Cambridge's Peterhouse Technology Park, work is set to start next spring on the £19.2 million ARM C office building. Detailed plans have been granted and Bowmer & Kirkland has been appointed on the scheme for Bio Med Realty and Peterhouse College, which involves almost 10,000 sq m of new space (Project ID: 17183323).
Bio Med Realty is also the client on the £28 million Ghiberti Building R&D facility at Granta Park in Great Abington near Cambridge where detailed plans have been granted and SDC Construction is the main contractor. Work is set to start this spring on over 20,000 sq m of laboratory and office space and run for 20 months (Project ID: 22364115).
In a further spur to new development to cater for the Arc's tech cluster, planning approval was granted earlier this month for one of Europe's largest data centres to be built at Elean Business Park, near Ely, north of Cambridge. Work on the £100 million Camro Plus Data Centre, involving four data centre buildings and an office unit across 65,000 sq m of space, is set to start this autumn and run for 37 months (Project ID: 08033245).
Glenigan customers can see details of all new construction work in the Oxford-Cambridge Arc if part of your subscription.
Not a Glenigan customer, but would like to see detailed sales leads for new construction work in the Oxford-Cambridge Arc? Request a free demo of Glenigan today so we can show the size of the opportunity for your business.