The outlook for civil engineering projects is showing signs of improvement according to a number of different indicators.
Glenigan's construction industry research shows that the value of civil engineering main contracts awarded in the first quarter of 2023 was up 26% on the preceding year, boosted by public sector investment.
Other indicators from Q1 2023 also suggest a revival. Data from the Office for National Statistics also showed infrastructure output rising by 2.8% compared to the previous three months.
Indicators published after Q1 show this continuing. Rising volumes of civil engineering projects helped bolster wider construction activity in April according to the S&P Global/CIPS UK Construction Purchasing Managers' Index.
Road to growth
This improvement in civil engineering projects has been driven by major public projects such as the £1.2 billion Lower Thames Crossing contract (pictured) that has been awarded to Balfour Beatty (Project ID: 22190541) and the £1.3 billion A303 Stonehenge roads scheme (project ID: 93148284).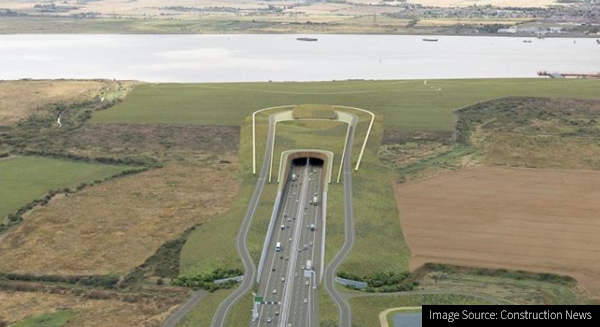 Roads-related work is a major driver of civil engineering activity, and Glenigan's construction market analysis shows that the Department for Transport is the industry's biggest client. In the 12 months to March 2023, the DoT awarded contracts worth a total of £4.3 billion and was ranked top in Glenigan's Table of the Industry's Top 50 clients.
Other major roads schemes to be awarded recently include the £460 million A417 Missing Link scheme to Kier (Project ID: 14432358).
Civil spread
More key infrastructure clients feature in Glenigan's ranking of the Top 50 clients, indicating a groundswell of wider civil engineering activity.
Network Rail is ranked seventh after awarding £641 million-worth of contracts. Major Network Rail jobs agreed so far this year include an £88 million railway depot at Beckton in east London (Project ID: 23036659).
Elsewhere, there are strong signs of a revival in water work and Anglian Water is ranked 17th with spending of £411 million after awarded a £400m contract for Bury St Edmunds to Colchester Water Pipeline Scheme (Project ID: 21560368).
Powering up
Power station schemes are also moving slowly towards construction starting.
A development consent order was granted in the first quarter of this year for a £350 million combined cycle gas turbine power station at Keadby in Humberside (Project ID: 19326868). Aker, Doosan Babcock and Siemens are lined up to build the station according to Glenigan's construction research.
Work should start this Autumn on a £300 million energy centre at Redcar (Project ID: 20214634). Metka EGN and Standardkessel Baumgarte will build the scheme, which comprises a material recovery facility incorporating a bulk storage facility, an energy recovery facility, and an incinerator bottom ash recycling facility.
 Big and small
Civil engineering projects in the planning pipeline are also increasing. While major schemes were behind a tripling in the value of schemes getting detailed approval in the first three months of 2023 to £11.7 billion, smaller work is also growing.
The value of underlying projects (valued below £100 million) that were approved in Q1 2023 rose 29% on a year ago to just over £1 billion further illustrating the sector's improved prospects.
Glenigan customers can see details of all new civil engineering projects if covered by your subscription.
Not a Glenigan customer, but would like to see detailed sales for new civil engineering projects? Request a free demo of Glenigan today so we can show the size of the opportunity for your business.