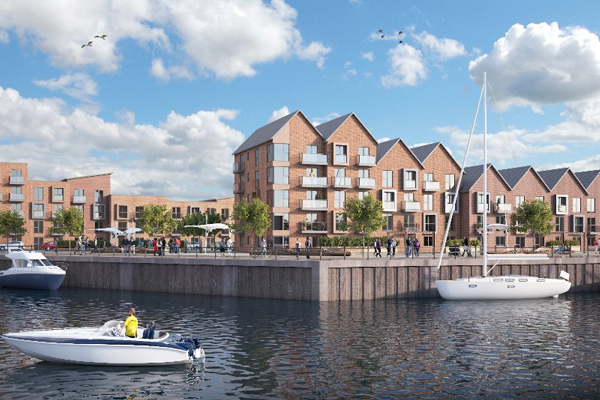 Holborn, South Shields. Image Source: South Tyneside Council
One UK region where construction prospects have brightened in the opening months of 2019 is the North East. Helped by an upturn in new development around Newcastle, contractors are set to benefit from a pick-up in approvals, particularly for new industrial, hotel & leisure, health and civil engineering construction projects.
A recent Savills report, Newcastle-a north eastern powerhouse, highlighted the city's potential as an affordable location which is attracting new private and public investment. As one of the UK's fastest-growing cities, Newcastle's population is expected to rise by 6% between 2016 and 2030 to 310,000. Overall, some 21,000 new homes and 14,000 new jobs are forecast to be created in the region over the next 12 years.
Regeneration work
The North of Tyne devolution deal, set up in 2018, will combine Newcastle, North Tyneside and Northumberland under a single mayor and give a boost to regeneration work in the area. It is set to bring in an extra £600 million of investment to the region over the next 30 years.
Glenigan Construction market analysis shows that the value of underlying construction starts in the North East increased by 20% and the value of planning approvals by 31% in 2018, compared to the previous year. Marked rises in starts were seen during 2018 in infrastructure (151%), utilities (87%), education (233%) and offices (105%).
Data for planning approvals in the North East in the latest Glenigan Construction Review suggests the upturn in the region is likely to be sustained. Industrial planning approvals in the North East were worth £34 million in the three months to February 2019, a 186% rise on the period a year earlier. Meanwhile, new industrial construction starts in the region rose by 248% over the same period.
Hotel and leisure-related construction is also set to grow in the North East. Glenigan Construction market analysis shows that planning approvals in the sector rose by 80% in the quarter to February 2019, compared to the period a year earlier. Among the hotel chains, Holiday Inn has recently submitted plans for a £1.4 million extension of its site at Fisher Lane in Newcastle, with work set to start this summer and continue for seven months (Glenigan Project ID: 19108495).
Civils contractors busy
Some major Highways England projects are helping to keep civil engineering contractors busy in the region. Construction work is set to start early next year on a new £130 million junction/flyover on the A19/A184 at Downhill Lane near Newcastle where Costain is the main contractor and Aecom the consulting civil engineer (Glenigan Project ID: 04205891).
Construction on a major £183 million road widening scheme on the A1 Scotswood to North Brunton section is also set to get underway early in 2020 and continue for 24 months. Aecom and WSP are the consulting civil engineers on the scheme which is at the pre-tender stage (Glenigan Project ID: 14429882).
Meanwhile, there are some significant construction schemes in the medium term pipeline in the North East. South Tyneside Council will soon start looking for a homes partner on a major £200 million commercial and residential project at Holborn Riverside quarter involving around 400 homes, as well as offices and leisure space. Construction work is set to start in summer 2020 and continue for 144 months (Glenigan Project ID: 17008313).