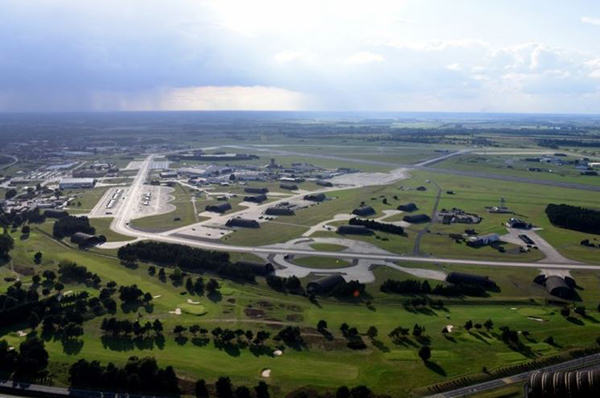 RAF Lakenheath. Image Source: Forces Network
A flurry of recent defence construction orders bode well for contractors in the sector and suggests the increase in capital spending in the sector announced in the Budget may be materialising sooner than expected. The new work will also help to offset some of the paring back seen in the MoD's construction spending over recent years.
In recent weeks, significant new construction contracts awarded by the Defence Infrastructure Organisation (DIO) have included a project for new facilities at RAF Lakenheath in Suffolk worth £160 million and a contract to resurface RAF Northolt in west London.
The awards come after last month's Budget showed the government's defence capital budget is set to rise from £9.4 billion in the current financial year to £9.8 billion in 2019/20 and remain high at £9.6 billion in the following year.
The pick-up in defence orders comes as Glenigan's latest Construction Outlook forecasts a 21% increase in the value of underlying construction project starts in the community & amenity sector – which includes defence - in 2019. Glenigan research shows that in the 12 months to June 2018, the MoD awarded work worth £486.5 million in the year to June 2018, putting it among the industry's top 10 clients.
Boost to economy
Kier VolkerFitzpatrick won the £160 million contract at RAF Lakenheath – where US F-35 fighter jets will be permanently based – which involves the construction of a flight simulator facility, a maintenance unit, new hangars and storage facilities. At its peak, the project will involve up to 700 contractors on site and provide a major boost to the local economy.
Meanwhile at RAF Northholt, Lagan Aviation & Infrastructure has won a £23 million contract to upgrade the existing runway, improve drainage and install new arrestor beds. The firm, which has recently completed work at RAF Gibraltar, RAF Akrotiri and is nearing completion at RAF Marham, is set to start work next Spring at Northolt for six months.
Other major defence-related construction projects are also getting underway. Glenigan Construction data shows that work started this September on a £45 million programme of alterations at Faslane Naval Base in Strathclyde. Morrison Construction is the civils contractor and construction work is set to continue for 24 months (Glenigan Project ID: 16028957).
Elsewhere, VolkerStevin is set to start work as main contractor in coming weeks on the £55 million Thanckes Oil Fuel Depot at HM Naval Base Devonport, where work will continue for 14 months (Glenigan Project ID: 12394139).
Tender opportunities
As well as new work, there are significant tender opportunities in maintaining the defence estate.  In September, the DIO launched a search for contractors to tender for facilities management (FM) contracts worth £2.9 billion.
They are being procured as part of a new Workplace Services Facilities Management Marketplace framework which should enable the DIO to gain access to a wider supplier base and take advantage of the government's buying power. Each of the seven year contracts has an option to extend for three years.
The FM sector has had its fair share of bad publicity with the demise of Carillion earlier this year and more recently, problems at Interserve. Indeed, commenting on the new framework contracts, the DIO's commercial director Jacqui Rock said: "We want to make the DIO easier to do business with and adopting this route to market is one of the ways that we hope to achieve this, while enabling us access to a wider, more diverse and increasingly resilient supply base."