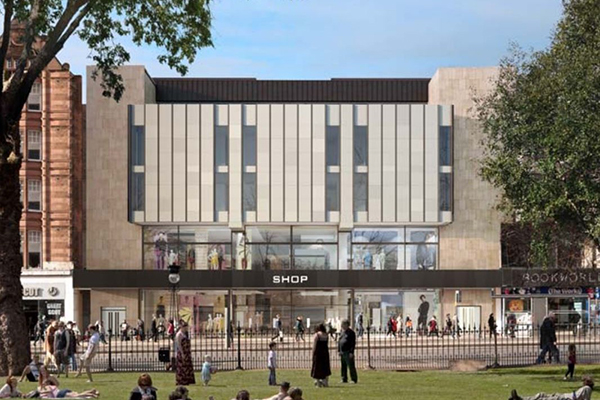 La Salle Investment Management's £24 million shop/restaurant redevelopment at 64 Princes Street, Edinburgh
Recent research from Savills has highlighted a series of key trends which the property agent believes will shape the commercial construction sector in 2019 and which could provide a pointer to promising markets for contractors.
It follows a welcome pick-up in commercial and industrial construction work in the fourth quarter, raising hopes that these sectors could continue to rebound over the coming year.
The latest Glenigan Index showed that non-residential construction project starts in the fourth quarter were up 8% on a year earlier, boosted by increases in industrial, office, retail, hotel & leisure and health projects.
Savills research points to strong tenant demand for London office space; a growing emphasis on customer care by landlords; the emergence of new uses for retail space and the continuing rise of logistics. It also predicts more mixed-use development in major regional cities.
The property agent points to the growth of co-working and serviced offices & workspace as a key theme in recent years, as tenants have demanded better customer experience. It predicts that the successful landlords and buildings will be those that best look after their tenants, however long their leases. Contractors involved in fit-out and office refurbishment markets could stand to benefit from this trend.
Retail repurposing
Savills sees 'retail repurposing' as a major theme for 2019. It believes retail landlords will look more at mixing uses and involving more services businesses in their schemes. It sees residential, hotels and even warehouses facilities being included in retail schemes.
This appears to be happening. One of the country's most prominent mixed-use construction schemes, Argent's £200 million Triangle Site at King's Cross – which was recently granted outline planning permission and is at the pre-tender stage (Glenigan Project ID: 16106916) - highlights the range of services included on modern developments. The development includes residential, shopping, food & drink and professional services space as well health & fitness, medical and community facilities and a habitat area. It also includes recycling facilities.
Driven by the growth of online shopping, logistics is now the most popular commercial property class among investors. With occupier and investor demand set to remain strong, Savills predicts that industrial developers will start to build upwards to meet demand, particularly on constrained sites.
The agent also sees tenant demand for London office space remaining strong. With only one year's supply of office space available in the City and West End, investors will seek to take advantage of this, which could point to more new construction in the pipeline.
Pick up in planning approvals
Glenigan Construction data confirms this. It shows that the value of detailed planning approval for underlying office projects in London rose 51% in the 11 months to November 2018, compared to the period a year earlier.
Savills also forecasts growing investor interest in mixed-use developments in major regional cities which it says are generally under-supplied with new offices.
This is consistent with recent Glenigan Construction data which shows a marked pick-up in planning approvals in key regions towards the end of last year.
In the North East for example, the value of detailed planning approvals over September-November 2018 rose by 63%, compared to the period a year earlier and by 40% in the South West. Sharp upturns were also seen on the same basis in the East Midlands, up 39%; the East of England, up 37% and the West Midlands, up by 27%.