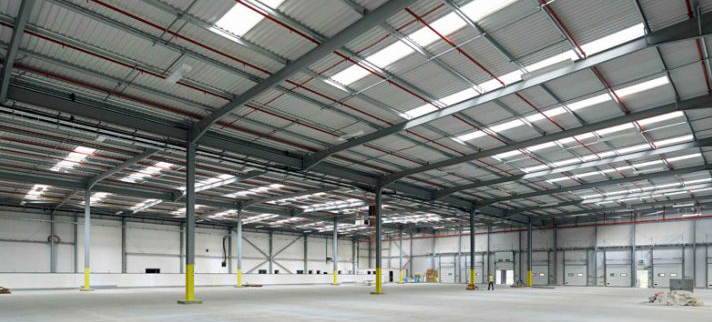 Prospects for the industrial construction sector are improving after a surge in work starting on site.
The underlying value of industrial construction projects starting on site leapt by 22% in the three months to October 2018 according to Glenigan's construction market analysis.
Big commercial clients with traditional exposure to the industrial construction sector are also riding high in Glenigan's latest ranking of the industry's top 100 clients. In the 12 months to October 2018, Peel Holdings had let £257 million-worth of contracts and was ranked 21st, while Prologis was in 31st place after letting £194.4 million-worth of work
Last November, Winvic started work on a £57 million 585,000 sq ft industrial development for Prologis in Hemel Hempstead (Glenigan Project ID 16157191) and delivery firm Hermes, signed up for 80,000 sq ft of space.
Peel is also in the process of selecting contractors for a framework, which will see spending of £100 million on warehouse developments. According to Glenigan's research, tenders have been returned and the framework will start next April and run for four years (Glenigan Project ID 18019875).
Big clients' confident
Work is also coming through the pipeline. In November, Peel submitted a planning application for a £300 million 3.5 million sq ft logistics and manufacturing hub near Doncaster Airport.
The project, which is being designed by architects Fletcher Rae, should be completed and fully occupied by 2025 and is part of the Aero Centre Yorkshire development.
Peel Airports chairman Robert Hough says: "This proposed development … will be an integral part of the aviation led economic cluster we are developing around our fast growing Airport, with Aero Centre Yorkshire acting as one of the main drivers of the Sheffield City Region's developing Global Innovation Corridor."
Aero Centre Yorkshire is part of the Government's Northern Powerhouse Investment Portfolio and more than 100 companies are already based at the 1,600 acre site including 2 Excel Aviation, Anglo World Cargo, Cessna and Redline.
Regional disparities
Despite the recent boost, the underlying value of industrial construction projects starting on site is forecast by Glenigan to be flat this year and only rise 1% next year, but this masks big regional differences.
Industrial starts fell in half of the UK's 12 economic regions in 2017 and are down in the first 10 months of this year in eight regions.
However, starts so far this year have surged 69% in the West Midlands, 62% in the East of England, 21% in the North West and 8% in the East Midlands.
Glenigan's economics director Allan Wilén says: "A more cautious outlook for the UK economy over the medium term and continued uncertainty over future access to export markets will have a dampening impact on manufacturers' investment plans, despite the current strength of their order books, but we expect the industrial construction sector to benefit from renewed investment in warehousing and logistics space.
"We anticipate a near-term rise in warehousing and logistics projects within the Midlands and the North West, but weakness elsewhere in the UK to undermine this improvement on a national basis in 2018."