Developers in the hotel and leisure sector face some tough times as rising costs and tight consumer budgets take their toll on hospitality businesses. But indoor leisure construction projects are continuing to attract significant new investment.
According to the new November Glenigan Construction Industry Forecast 2023-24, the value of detailed planning approvals for indoor leisure projects has been 'particularly firm' over 2021 and 2022 and is expected to translate into a growth area and more construction contracts as work gets underway on new schemes.
Investment in indoor leisure facilities such as sports halls, gyms, cinemas, and family attractions will help to drive a 9% rise in the value of underlying project starts (under £100 million in value) across the overall hotel & leisure sector which Glenigan is forecasting for 2023. A further 2% rise in total hotel & leisure project starts is pencilled in for 2024.
'Immersive experiences'
More investment comes as the underlying prospects for indoor leisure businesses have improved as Covid has faded. According to a report from property agent Avison Young earlier this year, cinema admissions are set to reach 80% of 2019 levels in 2022 whilst theme parks and visitor attractions should benefit from more international visitors. The weaker pound should also boost overseas visitor numbers. Meanwhile, new formats in the sector such as virtual reality and so-called 'immersive experiences' are also generating new investment in indoor leisure projects.
Glenigan data highlights a series of significant indoor leisure schemes around the country where construction work is getting underway.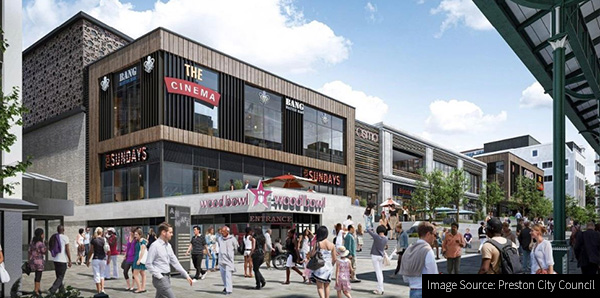 In Preston, the go-ahead has recently been given for work to start on the £40 million Animate Preston Cinema and Leisure Scheme which also involves restaurants, a bowling alley and other facilities and is being developed by the city council and Maple Developments. Work on the project, where Eric Wright is the main contractor, is due to start early in 2023 and continue for 20 months (Project ID: 16149199).
Elsewhere in the North West, the start of work on the huge £250 million Therme Manchester 'wellbeing resort' highlights the scale of some indoor leisure projects getting underway. The project, which covers 28 acres across a former exhibition site in the city, will offer 'immersive experiences' in a waterpark which will include 25 swimming pools, 35 water slides, over 30 sauna rooms and an indoor beach. Plans have been approved to clear the site and demolition work is due to start this autumn with construction work set to begin in spring 2024 and run for two years (Project ID: 19255727).
Smaller-scale contracts
As well as some spectacular major new developments, existing leisure/sports centre operators are also generating smaller-scale construction contracts as they extend their portfolios. Detailed plans have recently been submitted by David Lloyd Leisure and Comer Group for a new £16 million health, rackets and fitness club at Newland Park, Chalfont St. Giles in Buckinghamshire. Work on the scheme, across a floor area of over 7,000 sq m, is due to start next spring and run for 13 months (Project ID: 22315607).
Growth at smaller family theme parks outside the major cities is also generating new construction contracts. Planning permission has recently been granted for a £4.83 million extension of the Norfolk Dinosaur Park involving a redevelopment of a former deer park to expand its Roarr Dinosaur Attraction. Work on the scheme is due to start next spring and run for six months (Project ID: 21299227).
Glenigan customers can see details of all new indoor leisure construction projects if part of your subscription.
Not a Glenigan customer, but would like to see detailed sales leads for new indoor leisure construction? Request a free demo of Glenigan today so we can show the size of the opportunity for your business.