A huge spike in the value of major industrial planning approvals heralds a brightening future for the industrial construction sector.
Following a 43% YoY drop in the value of industrial construction sector work starting on-site during the three months to July, the industrial construction sector is desperate for some good news.
And that good news looks to have arrived, in the form of a huge pipeline of work being approved in just the last three months.
Planning approvals for the industrial construction sector grew 168% YoY with a total value of £2,863 million, largely due to a spike in the value of major projects being granted detailed approval.
With a total value of £1,639 million, major projects gaining approval saw a massive gain compared to last year, when no major industrial construction sector approvals occurred.
Underlying industrial approvals also saw a jump in approvals achieving a 15% increase YoY, and were unchanged on the preceding three months on a seasonally adjusted basis.
Regional Hot Spots
The three months to July was an exceptional period for industrial approvals in many regions, with five regions experiencing triple-digit growth YoY.
The West Midlands was the stand-out region, with the value of detailed approvals rising 680% on the previous year, to £770 million, accounting for 27% of the sector.
This figure was largely due to the approval of the £662 million West Midlands Interchange, west of Junction 12 of the M6, in South Staffordshire (Project ID: 16129115).

The 743,200 sqm scheme comprises an intermodal freight terminal with connections to the West Coast Main Line, and will be capable of accommodating up to 10 trains per day, and trains of up to 775 metre long. The project also includes construction for container storage, HGV parking, rail control building and staff facilities. New road infrastructure and works to the existing road infrastructure will also be required.
The East of England was the second most-active region accounting for 17% of the sector. The value of approvals jumped 244% to £494 million compared to a year earlier.
The approval of the £400 million Huawei R&D and manufacturing campus, located in the heart of the UK's 'Silicon Fen' in Cambridge, was largely responsible for the region's growth (Project ID: 19017368).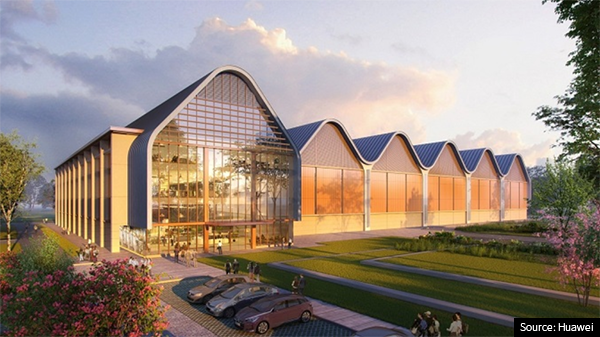 The Secured by Design scheme comprises 50,455 sqm of R&D accommodation, including ancillary accommodation to include office accommodation, water fabrication cleanroom, a basement for 284 car parking spaces, central utilities building, external storage building, 86 cycle parking spaces, and disabled and visitor car parking at surface level. Plus, access and circulation roads, engineering works and footpaths/cycleways, drainage and servicing infrastructure, and hard and soft landscaping including Mechanical Ventilation Systems will be required. The project also includes associated infrastructure works and access roads.
The South East was another prominent region for industrial construction sector approvals, accounting for 14% of the sector. Approvals climbed 152% to £414 million, and include the new £200 million Amazon storage and distribution unit in Dartford (Project ID: 19162194).
Both Scotland and Wales achieved triple-digit growth compared to a year earlier, with the value of industrial construction sector approvals rising 398% and 497% to total £221 million and £156 million respectively. Scotland accounted for 8% of sector approvals and Wales 5% of approvals.
Glenigan customers can find more details on all these projects via your subscription.
Not a Glenigan customer? Please request a free demo where we can show you more details on projects of interest to your business.