The government's commitment to the High Speed 2 (HS2) rail project in the recent budget will provide a boost for the construction industry during a lean period for the wider economy.
In his Autumn Statement, Chancellor Jeremy Hunt committed to completing HS2 to Manchester. "Such connections matter because they allow wealth and opportunity to spread to every corner of the country," said Hunt. "When looking for cuts, capital is sometimes seen as an easy option but doing so limits not our budgets, but our future."
The move was welcomed by the industry. Glenigan's economics director Allan Wilén comments: "The Chancellor's commitment to greater investment in the built environment, as a key element in the government's strategy for delivering sustained UK economic growth over the long term, is welcome. The commitment to HS2 will provide much needed security for the construction industry."
Phase one work
HS2 is divided into three main phases. A swathe of work has already started on the first phase from London to the West Midlands but more work is available. Phase 1 is valued at £44 billion (Project ID: 07309143) and Glenigan's construction research has identified 20 major packages coming out of this initial stage.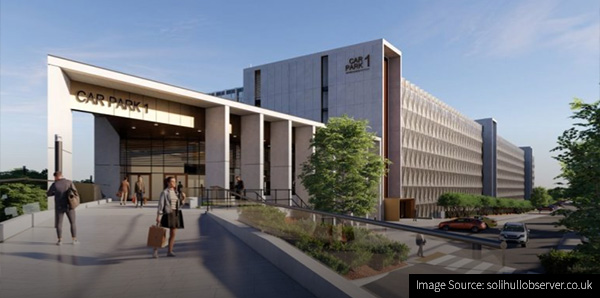 These range from an £81 million telecoms package (Project ID: 21291003) to a £70 million car park at the HS2 interchange station at Solihull on the M42, which was given planning permission on November 2nd (Project ID: 20106749). The scheme will provide a 3,950 space multi-storey car park and a 550 surface level car park. Work is expected to start next year.
More coming
Some of the work still coming out of Phase 1 of HS2 overlaps with the second stage, such as a £2 billion programme of covering rail, switches and crossings and pre-cast slab track systems.
Procurement began this Autumn for this section of works (Project ID: 19314880). HS2 procurement and commercial director David Poole said: "The launch of this new procurement contest is an important milestone for the project, and a significant opportunity for the industry and the wider supply chain."
The work is being let as four separate packages:
• Lot 1: Phase 1 (Urban - London and Birmingham) - £434 million
• Lot 2: Phase 1 (Open Route - Central) - £526 million
• Lot 3: Phase 1 (Open Route - North)- £566 million
• Lot 4: Phase 2a (Track) - £431 million
Second phase
The second part of HS2 is divided into Phase 2a and Phase 2b. The first part of the second stage is valued at around £14 billion and will take the HS2 link from the West Midlands to Crewe (Project ID: 12016346), while Phase 2b will run from Crewe to Manchester and the West Midlands to Leeds.
A swathe of other projects are coming out of these phases ranging from the £2.6 billion redevelopment of Euston railway station to include an HS2 terminus, which started last year (Project ID: 12081779) to a £1.5 billion Superhub in Crewe. This element of HS2 is still in the procurement pipeline and Glenigan's market research suggests that construction will not start until 2025 (Project ID: 16133899).
With HS2 not due for commitment until the end of this decade, the continued roll out of works will provide a welcome blanket for the construction industry against the worst of the expected downturn.
Glenigan customers can see details of HS2 related construction projects if part of your subscription.
Not a Glenigan customer, but would like to see detailed sales leads for HS2 related construction projects? Request a free demo of Glenigan today so we can show the size of the opportunity for your business.