Housing associations are increasingly working with new partners better placed to finance and take forward new developments.
Glenigan's market research found that housing associations submitted 254 detailed planning applications featuring proposals for 10 or more units in 2022. These submissions contained a total of 17,784 homes.
The average application contained 70 units but the number of units in the pipeline fell sharply, as housing associations looked to develop projects with partners to offset rising costs.
Glenigan's economics director Allan Wilén explains: "Potential funding for new social housing provision has improved since 2020, with housing associations and other social housing providers better placed to finance and take forward new developments. However, despite the improved funding, increased construction costs appear to be constraining development activity.
"Housing Associations are increasingly developing sites with mixed tenures and in partnership with other developers, providing the opportunity to cross-subsidise rented accommodation."
Clarion call
Clarion sought permission to build the greatest number of social housing units last year with applications to build 1,707 homes. The group's partners include the London Borough of Southwark on the Flaxyard Peckham scheme (pictured) to provide 164 flats and four townhouses (Project ID: 16383301).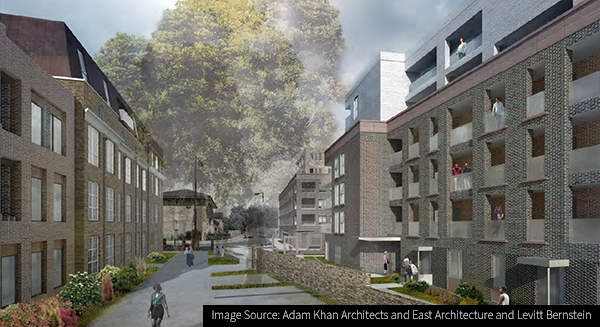 Clarion is also developing 336 flats at Furness Quay in Salford with developers Beaumont Morgan, Elite City and Fortis Developments (Project ID: 16069753).
Clarion continues to develop schemes independently. These range from a £36 million plan to regenerate the Barne Barton Estate in Plymouth to provide 102 houses and 102 flats (Project ID: 17297003), to the first phase – providing 623 homes – of the City Reach development in Leeds (Project ID: 22135872).
Top 10 Housing Associations by 2022 planning pipeline
| | | |
| --- | --- | --- |
| Company | Total Applications | Total Units |
| Clarion Housing | 12 | 1,707 |
| Home Group | 3 | 914 |
| Sovereign Housing | 7 | 765 |
| Evera Homes | 7 | 748 |
| Peabody Trust | 3 | 691 |
| Goram Homes | 4 | 602 |
| Trafford Housing Trust | 5 | 594 |
| Women's Pioneer Housing | 3 | 533 |
| Places For People | 4 | 498 |
| Saffron Housing Trust | 1 | 461 |
Source: Glenigan
Busy planning
Home Group was ranked in second spot after filing detailed plans to build more than 900 homes in 2022. Home Group is also working with partners, such as Karbon Homes, Taylor Wimpey and Miller on the South Seaham Garden Village (Project ID: 08026773). This will provide 1,500 homes and Glenigan's research suggests construction will start this year.
Sovereign ran in third with proposals including plans for nearly 800 homes. Schemes ranged from the 60 unit Bleadon Hill scheme in Weston-Super-Mare in conjunction with Vistry (Project ID: 17214490) to the £10.4 million Taverner's Field development at West Clyst in Devon (Project ID: 18299096), which the group is – so far - developing independently.
Glenigan's industry research shows that Sovereign is also busy acquiring land and sites ahead of starting planning including the Princes Mead Shopping Centre at Farnborough in Hampshire, where the group plans to develop 350 homes (Project ID: 22379768).
Flat out
Home and Sovereign are focused mainly on housing but the other three of the top five housing associations with the largest planning pipelines are seeking to build more flats than houses.
At Peabody Trust, which was ranked fifth, 95% of the units in the group's planning pipeline were apartments, such as the £30 million Bridgewater Road, development for 173 flats at Wembley, north London (Project ID: 20064479).
Overall, 41% of units in the overall planning pipeline for housing associations were flats last year – up from 38% in 2021 - while 52% were houses, which is down from 56%. The balance of units were bungalows, which occupy more land and are less attractive to the commercial partners that housing associations are increasingly seeking to work with.
Glenigan customers can see details of all new housing association construction projects if part of your subscription.
Not a Glenigan customer, but would like to see detailed sales leads for housing association construction projects? Request a free demo of Glenigan today so we can show the size of the opportunity for your business.