Source: Glenigan
Bellway grew its planning pipeline by 10% last year with proposals for 13,302 homes including 313 flats at College Way (pictured) in Welwyn Garden City (Project ID: 22189751).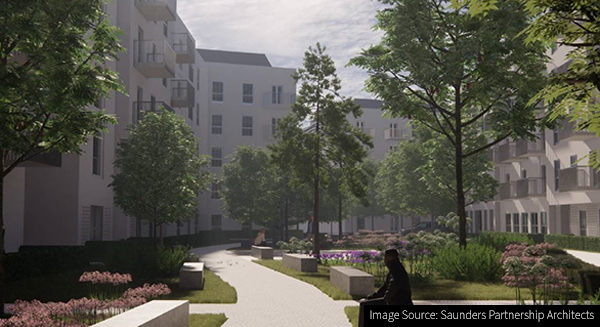 The number of homes in detailed planning applications submitted by Berkeley DeVeer, which owns Avant Homes, surged 28% to 3,248 units ranging from plans for 94 homes at Balderton in Nottinghamshire (Project ID: 17026241) to 150 homes in Walsall (Project ID: 21144894).
St Modwen plans more
St Modwen's planning pipeline also ballooned as the group embarked on a major expansion programme.
In March 2022, St Modwen, which is owned by investment group Blackstone, outlined plans to double its development programme over the next five years to 2,400 units a year. That ambitious programme is already evident in Glenigan's data with St Modwen submitting plans to build 3,393 units last year – up from 415 in 2021.
Major St Modwen schemes in the planning system include plans for 205 flats in Longbridge, Birmingham (Project ID: 22288312) and the 1,100 unit West Cheltenham Development (Project ID: 21451969)
Takeover influence
Vistry was ranked sixth after sending in planning applications last year for more than 5,000 homes. This total was boosted by Vistry's takeover of rival Countryside last November.
Vistry's overall total included proposals for 1,177 new homes submitted by Countryside, including plans for 119 houses and two flats at Maidstone Road in Ashford, Kent (Project ID: 18035384).
The totals of a number of other residential groups outside of the top 10 were also boosted by takeovers last year according to Glenigan's market intelligence.
US investment giant Pimco acquired Allison and Larkfleet and the newly enlarged business, trading as Allison Homes, was ranked in 16th position after submitting plans for 1,875 new homes last year. Allison schemes in the planning pipeline include 76 homes at Doddington Lane in Newark (Project ID: 21185535).
Elsewhere, investment group Terra Firma has a pipeline of more than 1,000 homes in planning as it expands its residential development portfolio. In 2021, Tera Firma bought Kier's housing arm and last year it acquired East Anglian housebuilder Hopkins, which is behind plans for 360 homes at North Walsham (Project ID: 21440810).
Apartments hold up
Overall, Glenigan's industry research shows that private housebuilders and developers submitted detailed planning applications to build 149,113 new homes last year. This total was down 16% on 2021 as proposals for new houses slumped 19%, but housebuilders are planning to build more flats.
There was an 8% rise in the number of apartments in the planning pipeline, while proposals for retirement homes only fell away marginally, showing that sections of the residential development market remain resilient.