Russell Group lead the way in higher education construction to deliver world class facilities
As students start or return to university, many will see major changes in their surroundings.
New facilities are a major factor in attracting students in the increasingly competitive higher education market place, but which institutions have spent the most and what more is to come?
Glenigan's construction industry analysis can offer some answers.
Since the cap on university fees was lifted in England in 2012, the higher education sector has seen a boom in construction work with billions spent on new facilities.
Glenigan's construction market research shows that since June 2014, work has started on nearly £8.8 billion-worth of higher education projects, which is nearly as much as the cost of staging the 2012 Olympic Games.
The University of Manchester has spent the most with £625 million invested in 47 projects. The centrepiece is the £350 million Manchester Engineering Campus Development, which is designed by Mecanoo and due to open in three years.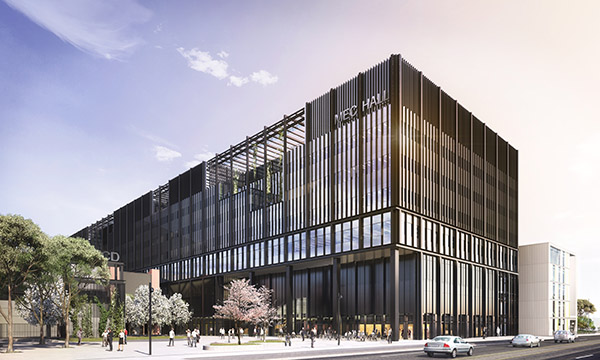 Manchester Engineering Campus Development. Image Source: Mecanoo
The University of Manchester is one of 24 institutions to form the Russell Group and nine out of the top 10 biggest spending clients in the higher education sector are from this grouping.
The only non-Russell Group member amongst the top 10 spending HE clients is Swansea University, which is investing £450 million at its new Bay Campus.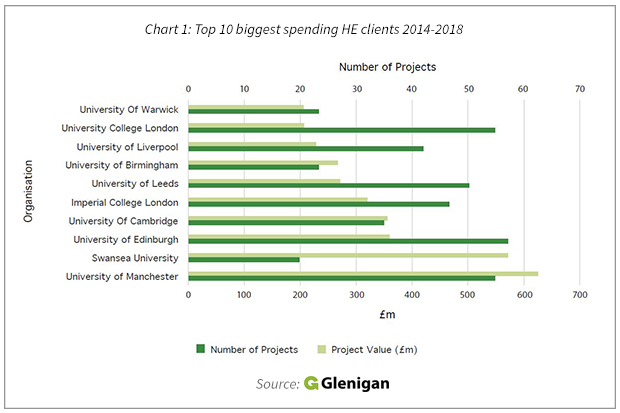 The Russell Group is driving this HE spending boom. Glenigan's construction market data shows that construction has begun on 593 projects valued at a total of £4.3 billion for Russell Group members since 2014.
So 49% of all spending on HE construction projects starting in the last five years has come from the Russell Group.
There are 162 HE institutions in the UK according to Universities UK. The Russell Group make up just 15% of that number but have put in nearly half the capital investment.
Russell Group Targets
In 2014, a report by BiGGAR Economics claimed that the Russell Group would spend more than £9 billion on capital projects in the five years up to 2016/17.
So the boom predicted back in 2014 has not completely materialised, but more work is still to come.
Glenigan's construction market analysis shows that since 2014, just under £7.5 billion-worth of HE projects have been granted planning permission and 55% (£4.1 billion) is for Russell Group members.
In the 12 months to June 2018 alone, £950 million-worth of projects proposed by Russell Group universities secured planning permission.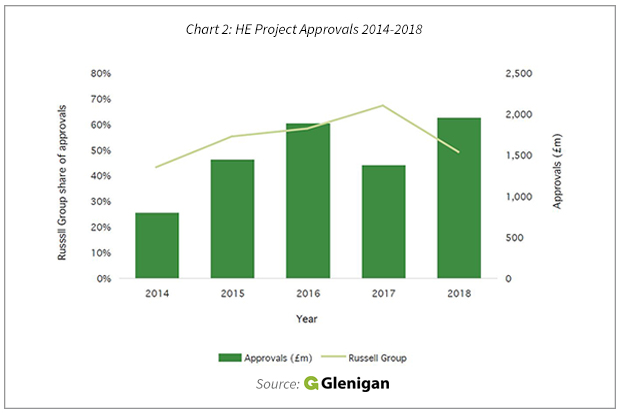 Despite the threat of Brexit, Glenigan expects the HE construction sector to remain buoyant.
In the North East of England alone, spending of £750 million is expected through the North Eastern Universities Purchasing Consortium framework (NEUPC), which will be used by Durham, Newcastle, Northumbria, Sunderland and Teesside Universities.
Again, the Russell Group has a strong presence with two of the five NEUPC members in Durham and Newcastle.
NEUPC is a framework to procure projects and if universities change investment plans due to changes in the funding arrangements, all that investment may not be made.
Political uncertainty influences plans
Universities pressed ahead with development plans following the 2015 general election as political uncertainties over student tuition fees, their principal source of revenue, were resolved.
The result of the 2016 referendum on membership of the European Union then raised concern over future access to EU research funds by UK universities and their ability to attract students from other overseas countries.
This subsequently led to uncertainty amongst universities over their spending plans.
In 2017, the year after the Brexit vote, Glenigan's construction data shows that the value of HE construction projects starting on site slipped by 2% and work in the pipeline slumped 27%.
Despite the continued uncertainty of what Brexit will entail for UK universities, this hiatus proved short-lived. The value of HE projects given planning permission surged by 42% in the 12 months to June 2018.
Universities also continue to award contracts to building contractors to build new facilities or upgrade existing ones.
There are a dozen universities amongst the construction industry's top 100 clients according to Glenigan's data for the 12 months to August 2018. In the preceding year, there were just nine HE institutions amongst the industry's top 100 clients.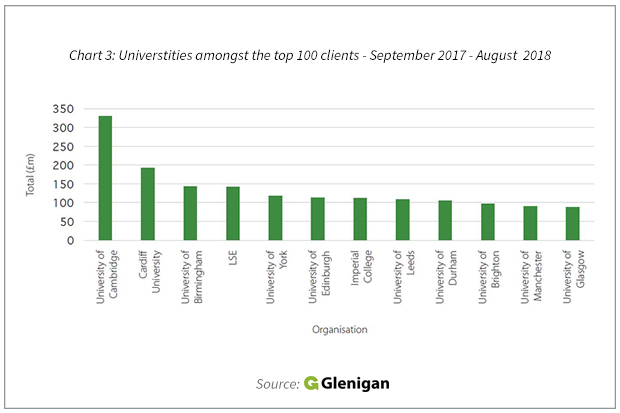 The total value of construction contracts awarded by those 12 universities is more than £1.6 billion. To put that spending in context, the Department for Education (DfE) awarded £680 million-worth of work over the past year.
Russell Group Continues Domination
The proportion of capital investment coming from the Russell Group looks set to continue.
In the 12 months to June 2017, two thirds of the HE work in the planning pipeline was from Russell Group members, which are pressing ahead with these projects.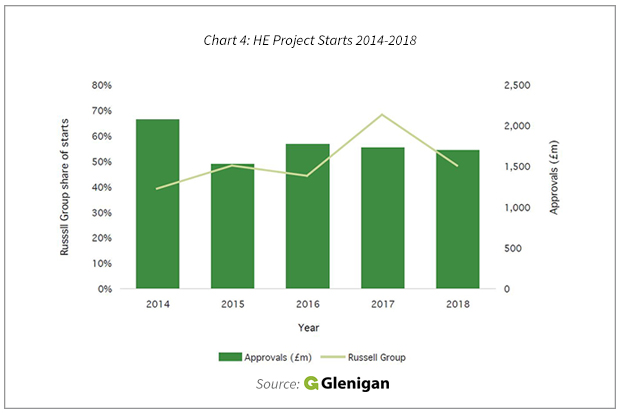 The only non-Russell Group institution amongst the dozen universities in Glenigan's latest top 100 construction clients is the University of Brighton.
Capital investment in new buildings is no guarantee of retaining elite status for the Russell Group universities behind this HE boom, but this elite grouping is clearly building for a prosperous future.