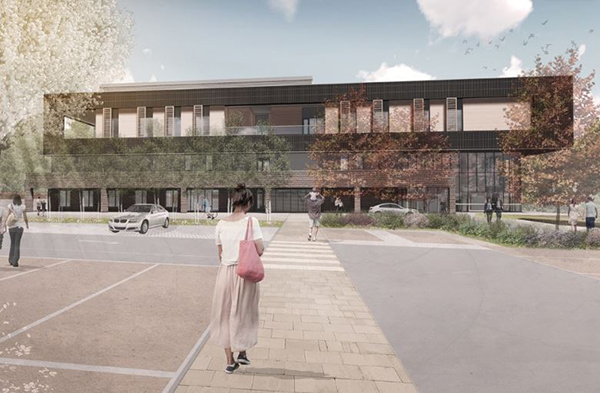 Heatherwood Hospital in Ascot
Health sector construction will produce the biggest rise in construction projects starts this year according to Glenigan's construction industry forecasts.
A surge in activity in the three months to November 2018 drove the underlying value of project starts up by 37% and the outlook is good.
Glenigan's economics director Allan Wilén says: "Project starts fell 17% last year as the snap election disrupted the delivery of planned projects.
"The current year has seen a sharp recovery in starts as delayed projects have progressed to site. The value of project starts is estimated to have grown 20% during 2018."
Starts and contract awards leap
In the 12 months to November 2018, Glenigan's construction market research identified 284 construction contracts awarded by the Department of Health, mainly through subsidiary NHS trusts.
The total value of those projects is just under £2.1 billion, which is up 75% on the preceding 12 months.
The Department of Health is ranked second in Glenigan's latest table of the industry's top 100 clients.
Although major hospital schemes are thin on the ground, some medium-sized projects are moving from contract award onto site.
The biggest award was to Laing O'Rourke, which picked up the contract to complete the £250 million Royal Liverpool Hospital scheme that stalled after Carillion went under.
Medium-sized projects where Glenigan's construction research has identified a construction contract as being awarded include a £58 million project to rebuild Heatherwood Hospital in Ascot and a £52 million mental health extension at Springfield Hospital in south London.
Both are due to start in early 2019, while in December Kier also broke ground on a £40 million extension to Birmingham Heartlands Hospital.
Contracts are also being let on schemes due to start in 2020 including a £45 million eye hospital in Edinburgh.
Near term drop due
This rash of medium-sized projects moving on site is reflected in Glenigan's construction data.
The size of the average construction contract let by the Department of Health in the more recent period was £7.3 million. In the preceding 12-month period, this figure was £4.8 million.
The rises in healthcare projects starting on site and contracts being awarded is being followed by activity earlier in the pipeline.
In the latest quarter, the underlying value of health projects given detailed planning approval only rose by 13%. In the year to date, this pipeline of work shrank by 5% and next year could see a fall in starts, but Glenigan expects another upturn in 2020, albeit milder than the current boom.
"Looking ahead the Budget confirmed that the NHS is the Government's top priority for additional funding, with an extra £20 billion promised over the next five years," adds Mr Wilén.
"This includes a 14% rise in capital funding for the NHS in England to £6.7 billion in 2019/20."
While the current boom may fizzle out, the longer term looks more assured and sustainable for contractors seeking opportunities in the health sector.