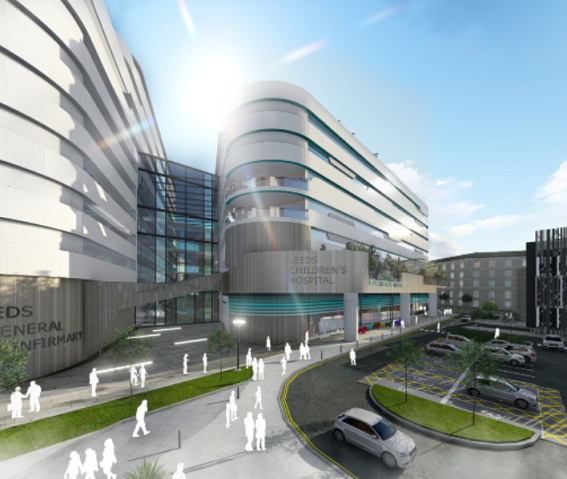 The government has published its Health Infrastructure Plan, outlining a £2.8bn investment, and showing its commitment to providing world-class healthcare.
At the centre of the plan, a new hospital building programme will provide six trusts with £2.7bn for the construction of new hospitals in London, Leeds, Harlow, Leicester and Watford, which are to be completed by 2025.
In addition to this, a further £100m of seed funding will see 21 other hospital schemes get the go-ahead.
Six projects to be publicly funded with £2.7bn:
21 trusts to share £100m seed funding for plans:
Cambridge University Hospitals NHS Trust, Addenbrookes, Cambridge
James Paget University Hospitals NHS Trust, James Paget Hospital, Great Yarmouth
Milton Keynes NHS Foundation Trust, Milton Keynes Hospital, Milton Keynes
West Suffolk NHS Foundation Trust, West Suffolk Hospital, Bury St Edmunds
Hillingdon Hospitals NHS Foundation Trust, The Hillingdon Hospital, North West London
Imperial College Healthcare NHS Trust, Charing Cross, St Mary's and Hammersmith Hospitals, West and Central London
Kettering General Hospital NHS Trust, Kettering General Hospital, Kettering
Nottingham University Hospitals NHS Trust, Queen's Medical Centre, Nottingham City Hospital, Nottingham
Lancashire Teaching Hospitals NHS Trust, Royal Preston Hospital, Preston
Pennine Acute Hospitals NHS Trust, North Manchester General Hospital, North Manchester
University Hospitals of Morecambe Bay NHS Trust, Royal Lancaster Infirmary and Furness General Hospital, Lancaster; Barrow-in-Furness
East Sussex Healthcare NHS Trust, Conquest, Eastbourne District Hospitals, Hastings; Eastbourne
Hampshire Hospitals NHS Foundation Trust, Royal Hampshire County Hospital, Basingstoke & North Hampshire Hospital, Winchester; Basingstoke
Royal Berkshire NHS Foundation Trust, Royal Berkshire Hospital, Reading
Dorset Healthcare NHS Foundation Trust, Various (potentially 12) community hospitals, Dorset
North Devon Healthcare NHS Trust, North Devon District Hospital, Barnstaple
Plymouth Hospitals NHS Trust, Derriford Hospital, Plymouth
Royal Cornwall NHS Foundation Trust, Royal Cornwall Hospital, Truro
Royal United Bath NHS Foundation Trust, Royal United Bath Hospital, Bath
Taunton and Somerset NHS Foundation Trust, Musgrove Park Hospital, Taunton
Torbay and South Devon Health Care NHS Trust, Torbay District General, Torquay
For more information on these trusts, please see Glenigan project ID 19342017.
Further Reading: