The Health Infrastructure Plan is underway and provides the construction industry with six confirmed major hospital project opportunities worth £2.7 billion to be delivered by 2025.
The Health Infrastructure Plan is the biggest hospital building programme in a generation and delivers on the Government's manifesto commitment.
New standards are set to be developed to help standardise the design of the new hospitals and will make use of modular construction methods to speed up development.
Matt Hancock, Secretary of State for Health and Social Care, said: "This plan is the biggest, boldest, hospital building programme in a generation. We're giving the green light to more than 40 new hospital projects across the country, six getting the go-ahead immediately, and over 30 that could be built over the next decade."
Go-ahead for six projects and share of £2.7 billion investment
The six Health Infrastructure Plan projects to have been given the go-ahead immediately will share a £2.7 billion investment and are outlined below:
The £100 million Princess Alexandra Hospital in Harlow, Essex (Project ID: 19342019) is scheduled to start on-site next June and is expected to take 56 months to complete. The Princess Alexandra Hospital NHS Trust has appointed Bryden Wood to advise on modern methods of construction, and Gilling Dod Architects are the main architect on the project.
The £260 million Watford General Hospital Health Campus (Project ID: 04432772), will deliver a mixed-use health campus on land at and adjacent to the Watford General Hospital. Additionally, Watford Council have formed a partnership with Kier Property to help improve the local infrastructure around the hospital and create a new community on council-owned land. The community, now known as Watford Riverwell, will create a new access road to the hospital itself, around 1000 new homes as well as business and office space. It will also provide leisure and visitor amenities including a hotel, restaurants and cafes, as well as new public spaces, including a community garden.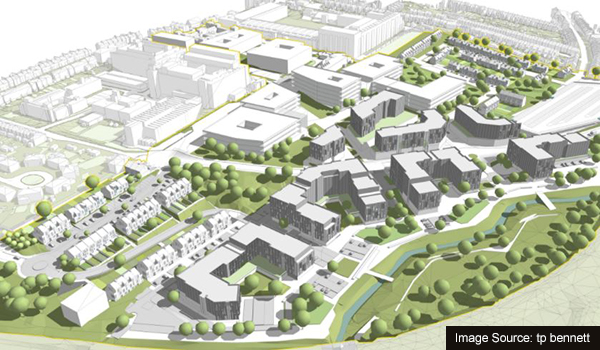 Another hospital redevelopment with plans to expand into building a new community is the Whipps Cross Hospital (Project ID: 20102249) in the London Borough of Waltham Forest. The new community will provide new homes as well as the potential for other health and wellbeing services, leisure and cultural facilities and green and public spaces. Barts Health NHS Trust began the search for a contractor for the £900 million development in August, issuing a PIN notice, to gauge interest in the job. The tender process is due to start early next year. Architect Ryder has been chosen to lead the design of the new Hospital.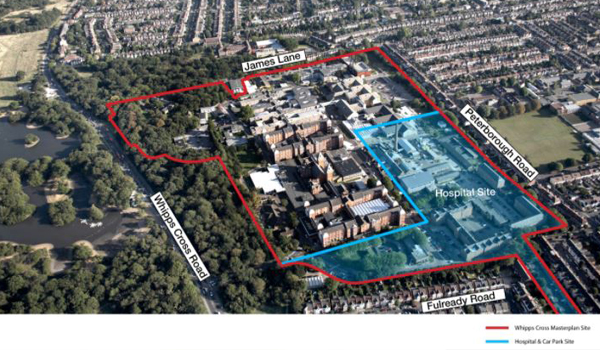 The £219 million Epsom and St Helier University Hospitals in Sutton (Project ID: 10031719) is due to start on-site in May 2022 and will take five years to complete. The development will involve demolition works and the construction of a new hospital building of 24,600 sqm to provide replacement hospital wards, out-patient accommodation and a local care centre. A multi-deck car park for 560 cars and surface car parking for 827 spaces as well as infrastructure, an access road, a sewer system, enabling works and landscaping will also be developed.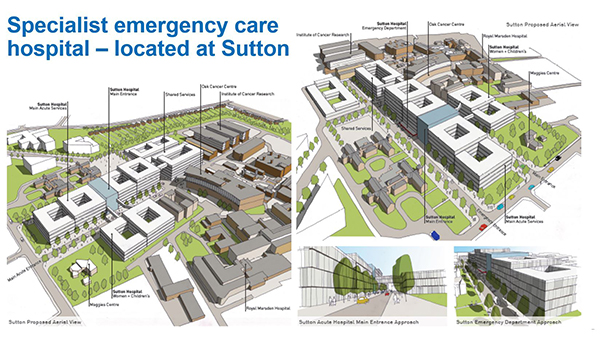 The new £90 million Maternity Hospital at the Leicester Royal Infirmary (Project ID: 18314650) which is designed to expand the current service and make it more accessible to women living across Leicester, Leicestershire and Rutland, while also enabling them to be closer to specialist medical support should they need it. The project is due to start in June next year, and is expected to take five years to complete.
Leeds Teaching Hospitals NHS Trust issued a Prior Information Notice in October for contractors and consultants wanting to work on the £600 million Leeds General Infirmary scheme at the hospital (Project ID: 18366238). Interested firms have until 16 December to register their interest. Five firms will be shortlisted for each of the roles, with the contenders to be announced on 26 January. The project is due to start in May 2022 and will include demolition of a former nurses' home and other buildings and construction of a new adult hospital wing and a prominent home for the Leeds Children's Hospital. The project is anticipated to be completed in 2026.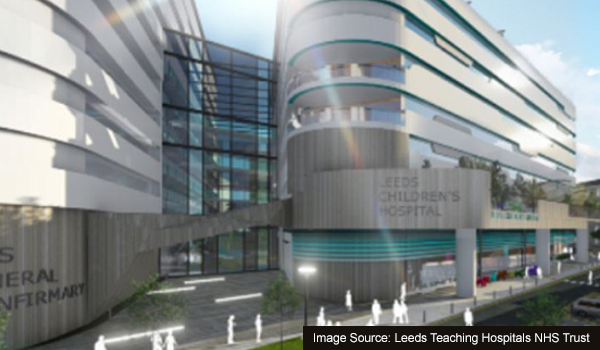 Glenigan customers can view all new and ongoing hospital and health opportunities as part of their subscription.
Not a Glenigan customer but would like to take advantage of this growing sector? Please request a free demo where we can show you more details on projects of interest to your business.
PR contact:
Rick Stephens (Content Marketing Lead)
T: 01202 786 859 │ E: rick.stephens@glenigan.com