Grim start to 2023 tempered by commercial office uptick
The value of work starting on-site fell 6% during Q.4 2022, 10% down on a year ago.
Residential project-starts slipped back 5% during Q.4 2022, and 15% compared with the previous year.
Commercial office starts rise 17% during Q.4 2022, up by a third on 2021 figures
Overall non-residential construction-starts weakened 8% in Q.4 2022, 5% down on a year ago.
Civil engineering work starting on-site fell 5% against the previous year, and 7% compared with the preceding three-month period.
2023 begins on a somewhat gloomy note, with starts softening during the final quarter of 2022. However, despite an overall depressed economic landscape, some verticals rallied. For example, commercial starts picked up, with offices enjoying the sharpest rise.
Regionally, starts rose in London, The South and the North East of England. Unfortunately, elsewhere experienced a period of general decline.
Commenting on the largely grim picture painted at the outset of the year, Glenigan's Economic Director, Allan Wilen says, "The varied and fluid regional and sector performance underline the need for firms to be especially alert to identifying and targeting opportunities over the next six months. We recently evaluated industry performance and the state of the industry over 2022. Project starts and planning approvals nose-dived in Q.3 and Q.4, prompted by an extraordinary set of geopolitical and socioeconomic events, which should serve as a harbinger of more disruption to come in Q.1 and Q.2 of 2023.
He continues, "Other challenges, including a spiralling skills shortage, an overhanging symptom of Brexit and COVID-19, will add extra pressure. However, there are opportunities to be had for those contractors which can diversify their services and invest in the latest technology to capture a share of potential growth verticals, including commercial offices, mission-critical infrastructure, and utility upgrading.
"Whilst our latest Forecast, published in November 2022, indicates the green shoots of economic recovery emerging at the back end of this year, the construction sector can expect to be buffeted by strong headwinds in the near future."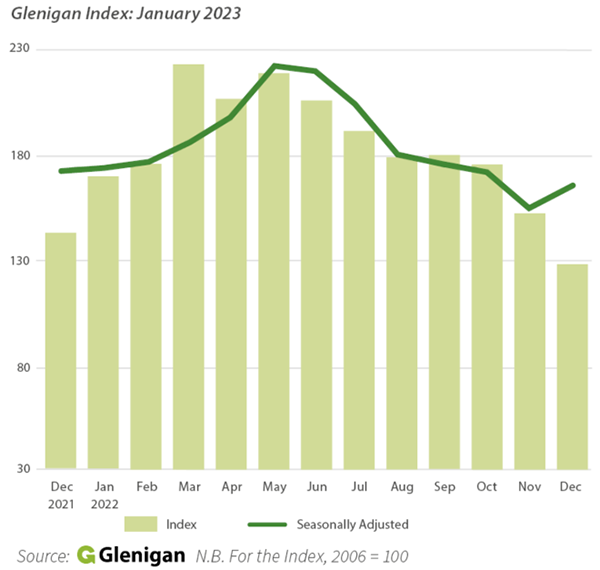 Sector Analysis – Residential
Residential construction starts fell 5% during Q.4 2022 to stand 15% lower than a year ago. Whilst private housing only experienced a modest dip of 1% against the preceding three months to December, starts were 12% weaker than 2021 levels.
On the other hand, social housing performed abysmally, with work starting on site plummeting 15% against the preceding quarter, standing 28% down on the previous year.
Sector Analysis – Non-Residential
Performance in non-residential verticals was mixed. Offices experienced a period of strong performance, with the value of underlying project-starts rising 17% against the preceding quarter, a third higher than a year ago.
Retail also strengthened, rising 5% on the previous quarter, up 4% on December 2021 levels. Hotel and leisure, and health project-starts also registered an uptick against the preceding quarter, respectively, but failed to increase on the previous year.
In contrast, industrial projects suffered, falling 35% during Q.4 to stand 22% lower than a year ago. Only community and amenity starts performed worse, falling 40% against the preceding quarter and 41% on the previous year. Education starts remained relatively stable, dropping only 2% against the previous three months and 1% against 2021 figures.
Civils performance slipped back 7% in Q.4, to sit 5% down on a year ago. This can largely be attributed to a significant drop in utilities-starts, which tumbled 41% during Q.4 and by 31% on 2021 figures. However, this was tempered by a noticeable spike in infrastructure work, which rose 20% against the previous three months, up 12% against the previous year.
Regional Analysis
Performance was mixed across the regions, with the North East standing out, with project-starts increasing 29% during Q.4 and a staggering 72% up on the same period in 2021. The South East also experienced strong growth, increasing by a fifth on 2021 levels and 29% on the preceding three months.
Whilst project-starts rose 4% in London and 13% in the South West, figures remained 19% and 5% lower than a year ago respectively.
Some areas of the UK performed particularly poorly, including Scotland where the value of projects fell 43% against the preceding quarter to stand 39% down on a year ago. This was also the case in the East Midlands, West Midlands and North West which also suffered heavy falls in project-starts against Q.4 and 2021 levels.
Glenigan Index
Residential
Non-Residential
Civil Engineering
Month
Index
% change y-o-y
Index
% change y-o-y
Index
% change y-o-y
Index
% change y-o-y
Dec-21
142.9
2%
208
0%
104
13%
109
-17%
Jan-22
170.0
7%
245
-2%
128
30%
122
-16%
Feb-22
178.4
6%
260
1%
138
31%
105
-36%
Mar-22
223.6
6%
329
-1%
168
29%
140
-25%
Apr-22
207.3
7%
307
3%
146
19%
166
-10%
May-22
219.4
14%
332
16%
141
10%
213
14%
Jun-22
206.3
15%
299
21%
137
7%
220
16%
Jul-22
191.9
7%
277
14%
135
-1%
177
5%
Aug-22
179.7
-3%
246
-6%
140
-2%
147
11%
Sep-22
180.3
-1%
252
-1%
140
-2%
132
0%
Oct-22
176.0
-2%
231
-9%
144
2%
144
18%
Nov-22
152.5
-10%
197
-15%
126
-4%
128
-7%
Dec-22
128.2
-10%
177
-15%
99
-5%
104
-5%
Press Contact:
Allan Wilen
Economics Director
T: 01202 786760
E: allan.wilen@glenigan.com