The recent rises in building materials prices and labour rates have understandably increased interest in Modern Methods of Construction (MMC) as a route to lower costs and improve on-site productivity.
With government support, some major contractors have invested heavily in offsite manufacturing as a way to deliver projects faster, using fewer people and in a greener fashion. Laing O'Rourke has invested £200 million to create its Centre of Excellence for Modern Construction in Nottinghamshire, an advanced concrete products manufacturing plant which has made components for more than 350 UK buildings and infrastructure projects.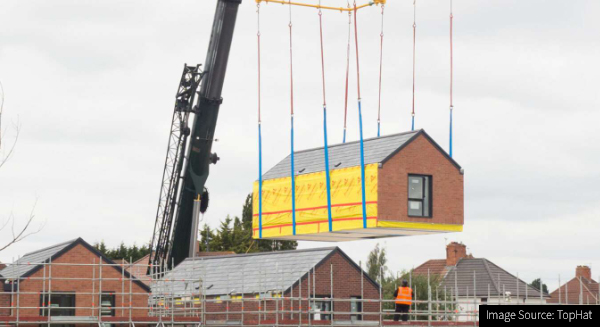 Today, volume housebuilders are following suit and embracing MMC as a way to boost efficiency and mitigate the impact of skills shortages. Last month, Persimmon said it was investing £25 million to take a stake in TopHat, a leading manufacturer in the modular sector. The deal is part of a £70 million funding round which will help TopHat speed up the delivery of a new modular housing factory which it is building in Corby. The new plant, which will be Europe's largest with an annual capacity of 4,000 homes, will operate alongside TopHat's existing plant in Derby.
New techniques for volume growth
Persimmon aims to use new modular techniques to support future volume growth and expand its product range as well helping it to meet the Future Homes Standard for energy efficiency.
As well as the investment, Persimmon is setting up a business partnership with TopHat which guarantees the housebuilder access to the manufacturer's modular homes as well as an innovative brick façade product which it offers.
The tie-up should ensure a steady demand for TopHat's modular homes, helping it to avoid the problems faced by Legal & General which recently announced it was closing its modular homes plant in West Yorkshire with heavy redundancies. The L&G modular business had struggled to maintain a sustainable pipeline of site projects in the face of long planning delays.
Today, Glenigan data highlights the variety of projects particularly in the public sector, where MMC is being adopted and where a familiarity with the new methods offers the potential for winning new contracts.
MMC is being readily taken-up in the social housing sector. Earlier this month, an agreement was awarded for a £600 million Modern Methods of Construction New Homes Framework (MMC Framework NH3) let by the government's LHC Building Components & Services department based in Hillingdon. The framework covers 20 lots covering a wide range of social housing projects across nine English regions and is set to run for four years (Project ID: 22043766).
Significant social housing frameworks
Similar significant MMC frameworks have recently been let covering social housing projects in Wales worth £100 million (Project ID: 22046247) and in Scotland, worth £500 million (Project ID: 22046243).
Meanwhile, one major government housing contract in the pipeline - where applications to tender are being invited - is the £1.125 billion Offsite MMC Housing Construction Framework, aimed at delivering a wide range of houses, apartments, care homes and multi-occupancy homes across the South West of England using offsite/MMC. Work under this framework is due to start this coming autumn and run for ten years (Project ID: 21126134).
New work in the education sector is also providing fertile ground for MMC. A new £6.3 million school at Winscombe in Avon, North Somerset, is being built under a second wave of the Department of Education's MMC Framework (the DfE's first £3 billion MMC framework was launched in 2020). Work on the new 65-pupil SEN school, where B&K Building Services is the main contractor, is due to start this spring and run for 12 months (Project ID: 21476823).
Glenigan customers can see details of projects involving MMC if part of your subscription .
Not a Glenigan customer, but would like to see detailed sales leads for new projects involving MMC? Request a free demo of Glenigan today so we can show the size of the opportunity for your business.