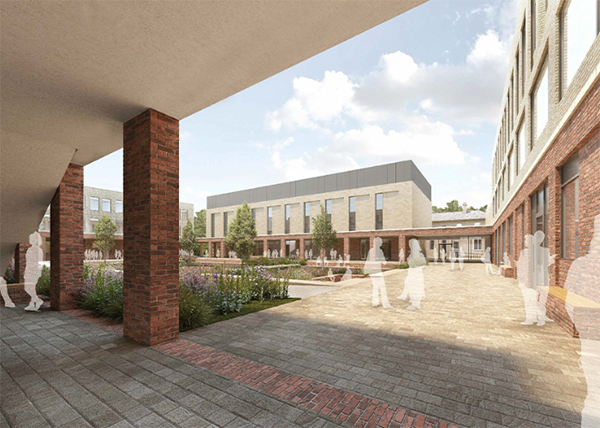 As schools start to consider how to readmit pupils, a swathe of new education construction projects are getting ready to move on to site once the worst of the Coronavirus passes.
Morgan Sindall and Galliford Try alone have secured more than £100 million-worth of work on education projects in recent weeks.
Morgan Sindall has a £29 million scheme to build a 1,530-place school at Glebe Meadows in Aylesbury for Milton Keynes Borough Council (Glenigan Project ID: 19414654) and a £10 million Community College in Hailsham for the Hailsham Academy Trust (Glenigan Project ID: 20092250).
Galliford Try's education work includes a £38 million contract with to build a new education campus in Hexham for the Hadrian Learning Trust on behalf of Northumberland County Council (Glenigan Project ID: 15045609).
Galliford Try chief executive Bill Hocking said: "We continue to make good progress in our key sectors and these excellent contract wins in the higher education and schools sectors are further demonstration of the quality of our offering."
Swotting up
Other education contracts being let recently include the £13.5 million Addington Valley Academy scheme in Croydon, where Kier has picked up the work (Glenigan Project ID: 19006498).
Glenigan's construction research shows a strong pipeline of work moving through the procurement process despite the limitations imposed on site work by the Coronavirus. A significant number of projects are at the tender stage according to Glenigan's market intelligence.
Schemes at this stage of procurement range from a £9 million sports complex at Sherborne School in Dorset, where bids have been received (Glenigan Project ID: 19338299), to a £2.5 million new music department at Queen Elizabeth's School in Barnet that is at the same stage (Glenigan Project ID: 17310784).
Both schemes should, depending on the progress of the virus, start on site later this year according to Glenigan's market analysis, which also shows a strong pipeline of work securing planning permission.
Plans afoot
In the first quarter of this year, £1.1 billion-worth of education projects secured detailed planning permission. This total is a rise of 50% on the first quarter of last year and 21% up on the final three months of 2019.
There are many smaller projects that have recently secured planning permission but are yet to go out to tender. Examples include a £1.2 million extension to Castledon School at Wickford in Essex (Glenigan Project ID: 19434437), and a £1.5 million addition to Broomwood Hall School at Lambeth, south London (Glenigan Project ID: 15205304).
Good long-term prospects
The fundamental drivers for increased investment in education as a whole and schools in particular mean that the longer-term outlook should boost opportunities in this sector with an increased shift to offsite construction expected.
Glenigan's economics director Allan Wilén said: "March 2020 compared favourably to most months in 2019 in terms of the overall value of planning approvals and education work was very strong compared to February 2020.
"We believe rising pupil numbers will drive investment in expanded and new higher education and secondary school facilities over the next five years."
See opportunities for your business with our free pipeline-finder. Search by location, sector, stage, and project value to see your perfect sales pipeline.