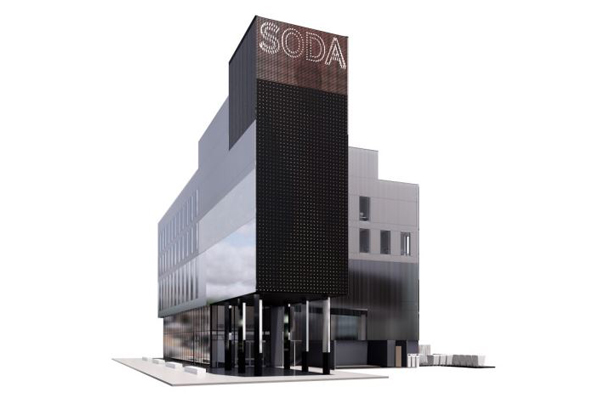 School of Digital Art - Manchester Metropolitan University
The current drive to raise digital skills in the workforce is creating a promising new stream of construction projects as government funds are channelled towards new educational and other buildings to promote the online economy.
The New Anglia Local Enterprise Partnership recently secured £14.5 million for four new projects to boost digital education in Norfolk and Suffolk. They are designed to meet a forecast demand for 10,000 new workers with online skills in the area by the mid-2020s.
The new projects include a new £6.5 million digital skills & innovation centre at the University of Suffolk in Ipswich which will involve the construction of 1 600 sq m of new space to accommodate over 500 new students and around 150 apprentices.
A new £1.6 million digital & technology skills hub is also to be built at Suffolk New College in Ipswich, partly to provide skills for local small and medium size firms to boost their digital capability.
Meanwhile, at City College in Norwich, funding has been secured for the construction of a £6.1 million 'digi-tech factory'. The 2,780 sq m building will serve as centre for students and local SMEs to boost their digital potential.
Significant construction projects linked to initiatives to boost digital skills across colleges and businesses are also in the pipeline in other major cities.
Digital innovation 'factory'
Glenigan Construction market analysis shows that construction is set to start this summer on a £6 million 'digital innovation factory' at the University of Liverpool. It will involve a three-storey teaching and R&D facility across 1 545 sq m, with work set to continue for eight months (Glenigan Project ID: 18248641).
Elsewhere in the North West, Kier Construction has been appointed as the main contractor on a £35 million digital arts building for Manchester Metropolitan University. Work is set to start on the six-storey building - which will include digital innovation laboratories, media exhibition space and seminar rooms - in summer 2019 and run for 20 months (Project ID: 18260654).
At the privately-run Cranfield University, near Bedford, tenders are currently being invited for a £8.5 million digital aviation research and technology centre. Construction work on the two-storey building, which is being publicly funded, is due to start this autumn and continue for around 12 months (Glenigan Project ID 18381990).
Private investment
One of the most ambitious digital-related developments in the pipeline is a £30 million digital village in Kingsway, Swansea to be built on the site of a former nightclub. Invitations to tender are expected by the middle of this year for the project, which is being funded by the Swansea Bay City Region. It will involve offices covering almost 9,300 sq m, with work set to continue for 16 months (Glenigan Project ID: 17171075).
The private sector is also investing in the construction of new space to accommodate the growing demand for digital skills. In Sheffield, the Scarborough Development Group has submitted detailed plans for a £13 million digital campus building involving a 7-8 storey block with some 7 629 sq m of space. Construction work on the project is set to start next autumn and continue for 14 months (Glenigan Project ID: 19057948).