Bradford's recent successful bid to become UK City of Culture 2025 should give a welcome boost to the local economy – and the construction industry - around the West Yorkshire city over coming years.
Other cities which have secured the title in the past – including Hull and Glasgow - have benefitted as their new-found status as centres of culture have helped to spur new development locally. Winning the title of City of Culture 2021 has helped Coventry to attract £121 million in inward investment.
In Bradford's case, the City of Culture designation should enable it to take advantage of its strong cultural offer which includes the Bronte Parsonage, Saltaire UNESCO World Heritage Site and the National Science and Media Museum.
Investment in culture-related projects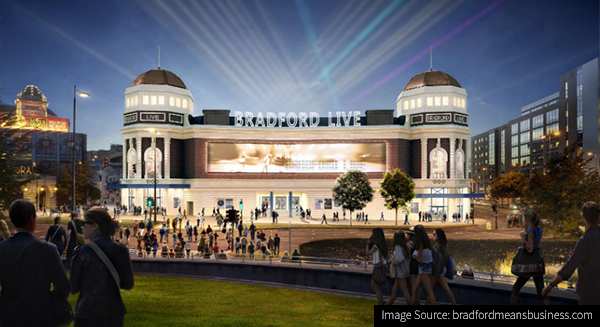 It will also reinforce some promising signs of significant investment in local culture and leisure -related construction projects. Construction work got underway last year on the £21.5 million Bradford Live project to restore a 1930s Bradford Odeon as an entertainment hub which is expected to attract 300,000 visitors each year. Work on the scheme, which involves some 378 sq m of space, is set to continue until this autumn (Project ID: 19350908).
Cultural pursuits such as dance will form part of the facilities at Bradford's new Squire Lane Wellbeing and Enterprise Centre which recently secured £20 million from the government's Levelling Up fund. Detailed plans have been submitted for land remediation work on the scheme and construction work is set to start later this year on a new sports and leisure facility at the site (Project ID: 21488615).
Bradford's strong cultural offer is also encouraging developers beyond the leisure sector. The developer behind what is the first Grade A office scheme in central Bradford for 20 years - the £35 million One City Park project – is highlighting the scheme's proximity to the city's cultural assets as one of its key attractions for occupiers.
Construction work started in April at One City Park - on the site of a former police headquarters - and where Caddick Construction is the main contractor and work is set to run until next summer (Project ID: 14349102).
Key theme in 'levelling up'
Meanwhile, new culture sector initiatives and investments are continuing to create construction contract opportunities of all sizes for firms across the country. Indeed, arts and culture projects are one of the key themes in the government's £4 billion Levelling Up Fund which is making monies available for local schemes up to £20 million (Project ID: 20469842).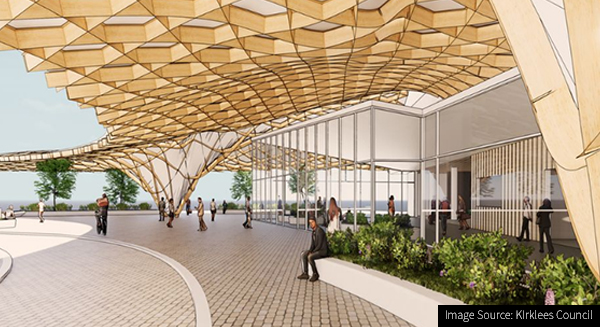 In Huddersfield, Kirklees Council is seeking to appoint up to two main contractors, for its £165 million Cultural Heart Masterlead redevelopment of the town centre which aims to create a vibrant quarter centred on culture, art, leisure, and nightlife along with a thriving business sector. Work on the scheme, which could run over ten years, is set to start in spring 2024 (Project ID: 06431582).
Moving south in Birmingham, detailed plans have been submitted for a £25.75 million project to create a Cultural Events Space project in the city's Adderley Street. Construction work on what will be a conversion project is set to start later this summer and run for seven months (Project ID: 22206694).
The culture sector is also providing opportunities on smaller contracts. In Northumberland, work on the £1 million flagship Blyth Culture Centre is at the pre-tender stage with work due to start later this year and continue for 12 months (Project ID: 21343315).
Glenigan customers can see details of new culture and leisure construction work if part of your subscription.
Not a Glenigan customer, but would like to see detailed sales leads for new culture and leisure construction work? Request a free demo of Glenigan today so we can show the size of the opportunity for your business.