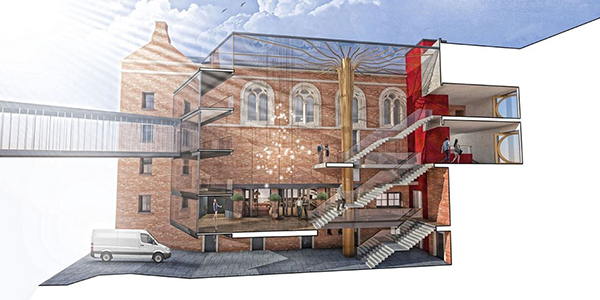 Opera North's £18 million extension to the Grand Theatre in Leeds
One region which has enjoyed a Spring bounce in new construction activity has been Yorkshire & Humber. Alongside an upturn in private housing and infrastructure, the region is benefitting from new development for the digital and new tech sector, particularly around Leeds.
Glenigan Construction data shows that new project starts across Yorkshire & Humber rose 26% in the quarter to May, compared to the period a year earlier.
The construction work pipeline is also looking healthier in the region. After falling last year, the value of underlying detailed planning approvals rose by 25% in the first four months of 2019, compared to the period last year.
Significant increases have been seen in planning approvals in Yorks & Humber for private housing (up 19% in the four months to April on the period last year), offices (up 22%), hotel & leisure (up 167%), community & amenity work (up 73%), infrastructure (up 53%) and utilities work (up 152%).
Tech hotspot
As Leeds has emerged as a tech hotspot in the region a growing demand for business space is generating new construction activity. According to a recent report on the Leeds office market from Savills, the city has a development pipeline of 269,000 sq ft of new space, having seen a 6% increase in the take up of Grade A office space last year.
One major flagship scheme in Leeds where construction work is expected to start later this summer is developer Vastint's £155 million new complex on the former Tetley Brewery site on the city's South Bank. It will include a conference/exhibition centre, two hotels and up to 1000 flats with construction work set to continue for some 60 months (Glenigan Project ID: 14379597).
Leeds' expanding financial sector is also generating new commercial construction work. Detailed plans have been granted and a contract awarded on an £8 million refurbishment and extension of Leeds Building Society's offices in Sovereign Street. Work is set to start on the scheme this summer and continue for 15 months (Glenigan Project ID: 17239788).
The city's growing media sector is also creating opportunities for contractors. A new £6.4 million studio for Channel 4's new base in the city to be built in a former nightclub is at the pre-tender stage. Work on the 6,100 sq m scheme is expected to start later this year and continue for 12 months (Glenigan Project ID: 18129744).
Cultural development
Significant new development is also underway across the city's cultural sector. Construction has recently started on an £18 million extension to Opera North's Grand Theatre in Leeds with work set to run for 15 months (Glenigan Project ID: 05142042).  Meanwhile, construction on the £50 million new Creative Arts Building at Leeds Beckett University will carry on until next summer (Glenigan Project ID: 17175962).
A growing student population in Leeds is also prompting new building activity. Earlier this Spring, construction work started on a £22 million scheme of 407 student flats for Maxis (Ripponden) at Bingley Street which will continue until late 2020 (Glenigan Project ID: 18271133).