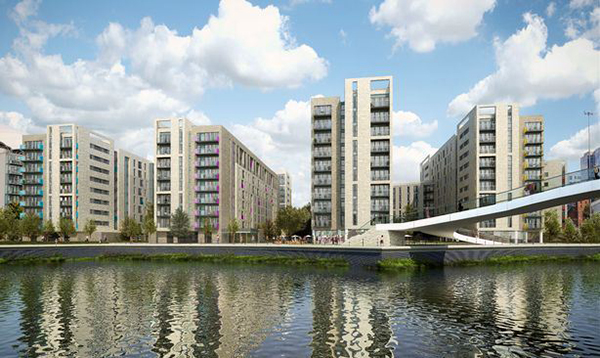 Housebuilders' share price have fallen in recently weeks on fears that Brexit will take a heavy toll on new private housing sales. But sentiment around Build to Rent remains positive and the sector is continuing to create new tender opportunities for contractors.
Forecasts in the latest Glenigan Construction Outlook covering 2019-2020 highlight the pace of growth in Build to Rent to meet increasing demand from the Private Rental Sector (PRS). In the first ten months of 2018, build for rent projects accounted for 7% of overall private housing sector starts and were worth some £885 million. London, Manchester and Birmingham emerged as favoured locations of major schemes and Glenigan is expecting further strong growth in the sector during 2019 and beyond.
Expanding pipeline
A strong vote of confidence in the sector came in recent weeks with results from the largest quoted residential landlord, Grainger. Alongside a 26% increase in earnings and a £347 million rights issue to raise equity for growth, the company announced an expansion of its build to let pipeline to £1.37 billion. The expansion will involve a further pipeline of 5,300 units at the company, which mainly operates in London and the South East, alongside its existing portfolio of around 8,200 rental properties. Areas of strong tenant demand with strong growth prospects where Grainger has recently acquired new schemes include Southampton, Leeds, Milton Keynes and London.  It is also currently planning schemes in Waterloo, Haringey, Lewisham and Newbury.
Grainger believes the private rental sector continues to offer a 'vast market opportunity' and that demand is set to grow from 4.7 million households today to around 7.2 million by 2025. It notes that there are currently 132,000 private rental new homes in the pipeline and that the sector is ripe for consolidation, with 20 per cent of existing buy-to-let landlords looking at selling. The company also points to growing demand across all age groups, particularly 25-34 year olds, and to changes in the National Planning Policy Framework which support private sector rented development.
Last month, Grainger agreed to forward-fund and acquire a £41 million build to rent development of 108 homes in Tottenham Hale in north London which it believes will generate an attractive gross yield of 5.5-6%. Work is expected to start early in 2019.
Sector confidence
The company's confidence echoes a regular British Property Federation survey on the sector which estimated that in the third quarter of 2018, there were some 131,855 build to rent homes either completed or planned - including 41,870 under construction – of which just over 67,000 are in London. It also highlighted a further 64,320 with planning permission.
Glenigan Construction data highlights construction opportunities on some major build to rent/PRS schemes in the pipeline across the country. In Bristol, work on Dandara's £15.7 million East Street development involving 340 one and two-bed build to rent flats is set to start next Spring and run for three years (Glenigan Project ID 18178797). Meanwhile work on phase one of Caddick Development's huge £300 million PRS development at Quarry Hill in Leeds is set to start early in the new year (Glenigan Project ID 17412985).