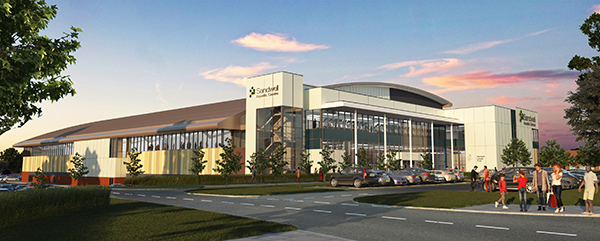 Commonwealth Games - Sandwell Aquatic Centre
The construction industry in the Birmingham area is set for a major boost as the 2022 Commonwealth Games construction work gains pace.
A host of projects are already in development and site mobilisation began in March on the flagship proposal to build a £350 million Athletes Village at Perry Barr (Glenigan Project ID 18129238).
Lendlease is building the village, which comprises 1,400 homes to accommodate 6,500 athletes plus a running track and green spaces. The village will be close to Alexander Stadium where the track and field events take place.
Work to the stadium will cost £70 million and Mace has been recruited as project manager and Glenigan's construction market intelligence reports that the procurement process for a main contractor started in late April.
Arup is already working on the design to increase the capacity of the 40-year-old Alexander Stadium in Perry Park from 12,700 to 40,000. After the Games, about 20,000 seats will be retained to create the country's second largest athletics stadium (Project ID 17459888).
Other projects
Other projects linked to the Games include a £60 million aquatics centre. This proposal secured final approval in early April and Wates as the main contractor's role.
Arup is also working on this project and Glenigan's construction market intelligence shows that detailed planning permission has been secured and work should start later this year. Designed by architects Roberts Limbrick, the scheme will feature a 50-m Olympic-sized competition swimming pool, a 25-m diving pool, a studio pool and seats for 1,000 spectators (Glenigan Project ID 18030745).
A host of temporary projects will also be delivered including a £1 million three versus three basketball venue with seating for 1,000 people (Glenigan Project ID 18092680). The University of Birmingham's two synthetic pitches are also undergoing a £4 million upgrade and 5,000 temporary seats will also be added to host the hockey tournament.
Short lived slump
In a recent report titled 'Gold Opportunity', Mace estimated that the minimum benefit to the West Midlands of hosting the Games would be £1.5 billion plus £500 million-worth of 'one-construction benefits'.
"If we get it right, the Games will also be about much more than sport," says Mace board member Dennis Hone.
The Games should help revive building work in Birmingham, where Deloitte's 2018 Crane Hire Survey found that new office starts in the city were at their lowest level since 2014.
Glenigan expects a fall of around 9% in the underlying value of construction starts across the wider West Midlands region this year, but this will change.
Glenigan economics director Allan Wilén says: "The Commonwealth Games are already having an impact on construction activity in the pipeline."
Urban regeneration coming out of the Commonwealth Games is also aiding this resurgence.
Councillor Ian Ward, Birmingham City Council's leader said: "The regeneration of Perry Barr will be the most tangible and transformative legacy we achieve as a result of hosting the Games, bringing investment and regeneration to an area that has long been crying out for it."
Further phases of the regeneration of Perry Barr will come out for consultation this year and should boost optimism in Birmingham's construction industry for the future.