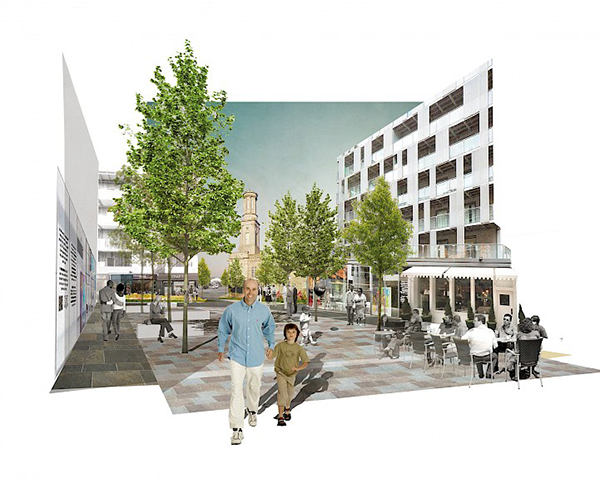 The 'end of austerity' should help sustain the healthy levels of spending on regeneration projects across Britain's towns and cities which are proving a good source of new urban regeneration construction work.
Schemes to revive urban areas with new residential projects, improved transport and pedestrianised high streets are helping to buoy up public and private sector construction workloads.
The various government regeneration spending initiatives which featured in the last Budget are translating into new construction work in many regions and the signs are that more will follow.
Spending on the Transforming Cities Fund is set to climb from £140 million in 2018/19 to £355 million in this financial year and to £1,010 by 2021-22. Meanwhile, spending on the Future High Streets Fund is set to grow from £5 million this financial year, to £75 million in 2020-20, to £240 million by 2022-23.
One beneficiary has been Marshalls, the publicly quoted supplier of paving stones and bricks which are used in many urban regeneration construction projects. It recently pointed to a 21% in increase in its public sector and commercial market in the first half of 2019, compared to the period last year.
Spread of pedestrianisation
The company is taking advantage of the spread of pedestrianisation across British cities. It has supplied the paving stones for Trafalgar Square and should benefit from other pedestrianisation schemes in other central London areas such as Bond Street, as well as in regional centres such as Leeds. The firm is opening a new office in Birmingham to help meet a growing demand for its products linked to redevelopment in the city.
Construction markets where Marshalls is expecting higher levels of growth today include new build housing, road, rail and water management; all sectors of which are set to benefit from extra regeneration spending.
Glenigan Construction Data highlights the extent of major city centre regeneration projects which are in the construction pipeline nationally.
In Aberdeen, tenders have recently been returned and work is set to start next summer on a £20 million city centre redevelopment at Queens Square. As well as 330 flats and a new public space, it will involve the pedestrianisation of part of the city's historic thoroughfare, Union Street (Glenigan Glenigan Project ID: 10199112).
Meanwhile, Balfour Beatty will start work this month on a £25.7 million regeneration of Aberdeen's Union Terrace Gardens under the council's city centre masterplan (Glenigan Project ID: 16334352).
New city centre gateways
In Leeds, John Sisk has recently been appointed as the civils contractor on a £30 million city council scheme of public road and transport improvements to create a series of new gateways into the city centre. Work will start at the end of this year and should run for 14 months (Glenigan Project ID: 18347626).
Elsewhere, Newcastle City Council is set to embark on a £23 million town centre redevelopment. It involves the construction of a new shopping area on Pilgrim Street and the pedestrianisation of the city's Blackett Street, as well as the creation of a new events space. Work is set to start on the project - which is at the pre-tender stage - next Spring and continue for two years (Glenigan Project ID: 17421569).
Further south in Oxford, work is set to start later this year on the city council's £8 million pedestrianisation of the city's Broad Street which will involve the creation of a new university square. Work on the scheme, which is at the pre-tender stage, is set to continue for 12 months (Glenigan Project ID: 98441283).