At the Easter break, the construction industry is still adjusting to life under lockdown. Glenigan researchers have now confirmed around 3,000 on-site projects that have been impacted by COVID-19 since the start of the outbreak. Work is currently suspended on 29% of UK construction sites, accounting for 36% of the value of work currently on site.
Decisions by the devolved authorities has had a marked impact on construction activity across the UK this week, and construction sites in Northern Ireland have been the hardest hit, following the decision by the Northern Ireland Executive to suspend work on almost all construction sites.
The Scottish government has also announced that all non-essential sites should close, and this is having a significant impact upon private housing and non-residential sites north of the border. Overall, 79% of Scottish sites are currently suspended, accounting for 83% of the value of work currently on-site in Scotland.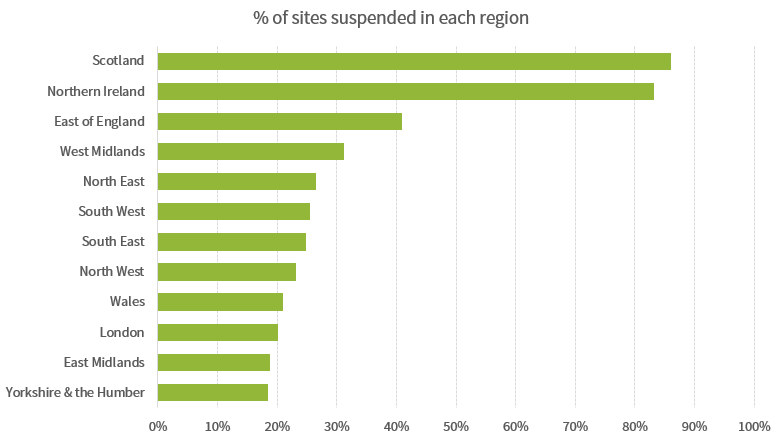 However, a high proportion of public sector projects from health to utilities are mandated by the Scottish Executive as being essential services with work allowed to continue, and this focus on the completion of public sector and civil engineering projects is also highlighted in analysis of projects that have reopened this week, having previously been suspended.
UK Reactivated Sites
As of 9th April, there were 261 reactivated sites throughout the UK, which is 10% of sites that were previously suspended, with a combined value of £10 billion. A total of 84 education projects have been reactivated, accounting for the greatest share (32%) of reactivated sites and for 12% of education projects currently under construction. A relatively high proportion of health (8%), community & amenity (4%), infrastructure (5%) and utilities projects (6%) have also been reactivated.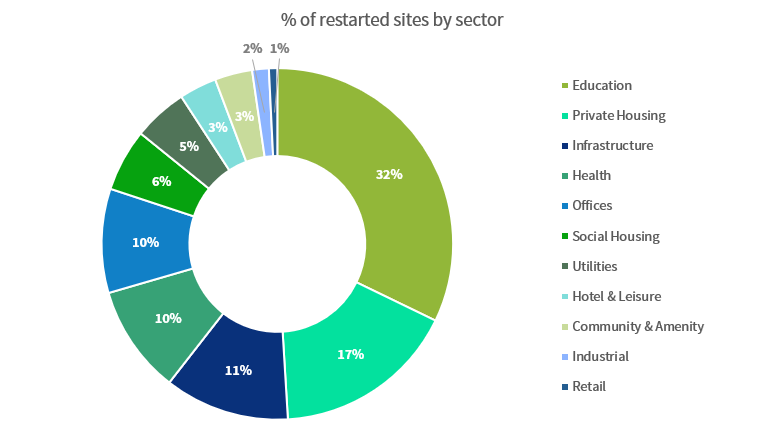 This may suggest that a number of private sector clients are happy in the current market to see work on their projects pause, delaying their liability to pay for work, in the same way that house-builders in particular have been stopping work.
Whilst 17% of reactivated sites are private housing projects, the sector remains the one most affected by site suspensions. The sector accounts for over half (58%) of all suspended sites. Work is suspended on 1,409 private housing sites, accounting for £29.7 billion or 59% of sector activity. The suspensions reflect both site-safety concerns and efforts by housebuilders to adjust work in-progress to match a slump in house sales as potential purchasers are unable to view new homes.
Firm Development Pipeline
Last week we reported that the longer-term development pipeline remains firm, and offers encouraging signs for the market once the current situation is resolved, and the good news is that this continues to be the case.
March was one of the best months for planning approvals against any month in the previous year in terms of volume. When looking at seasonally adjusted data, March was only down 3% compared with February 2020. This is in keeping with the general trend, and therefore suggests COVID-19 is yet to have a real impact. Health and Social Housing detailed planning approvals both had strong months compared with February, with the value of plans for Social Housing up 16% month on month.
Regionally, London, the East Midlands and the East of England are all down compared with the previous month when looking at seasonally adjusted data. However, the other parts of the UK are showing signs of clear growth, with detailed planning approvals up 82% in Wales and up 34% in the South West compared with February. The South East also experienced growth in detailed planning approvals, seeing a 5% rise on February.