Over the last week we have seen an acceleration in the number of suspended sites being restarted by contractors and developers.  As of Friday morning, our researchers have identified 585 sites that have restarted this week. This compares with 295 last week. 38% of the initially suspended sites have now restarted, with a higher proportion of suspended office, health and education projects having been reactivated.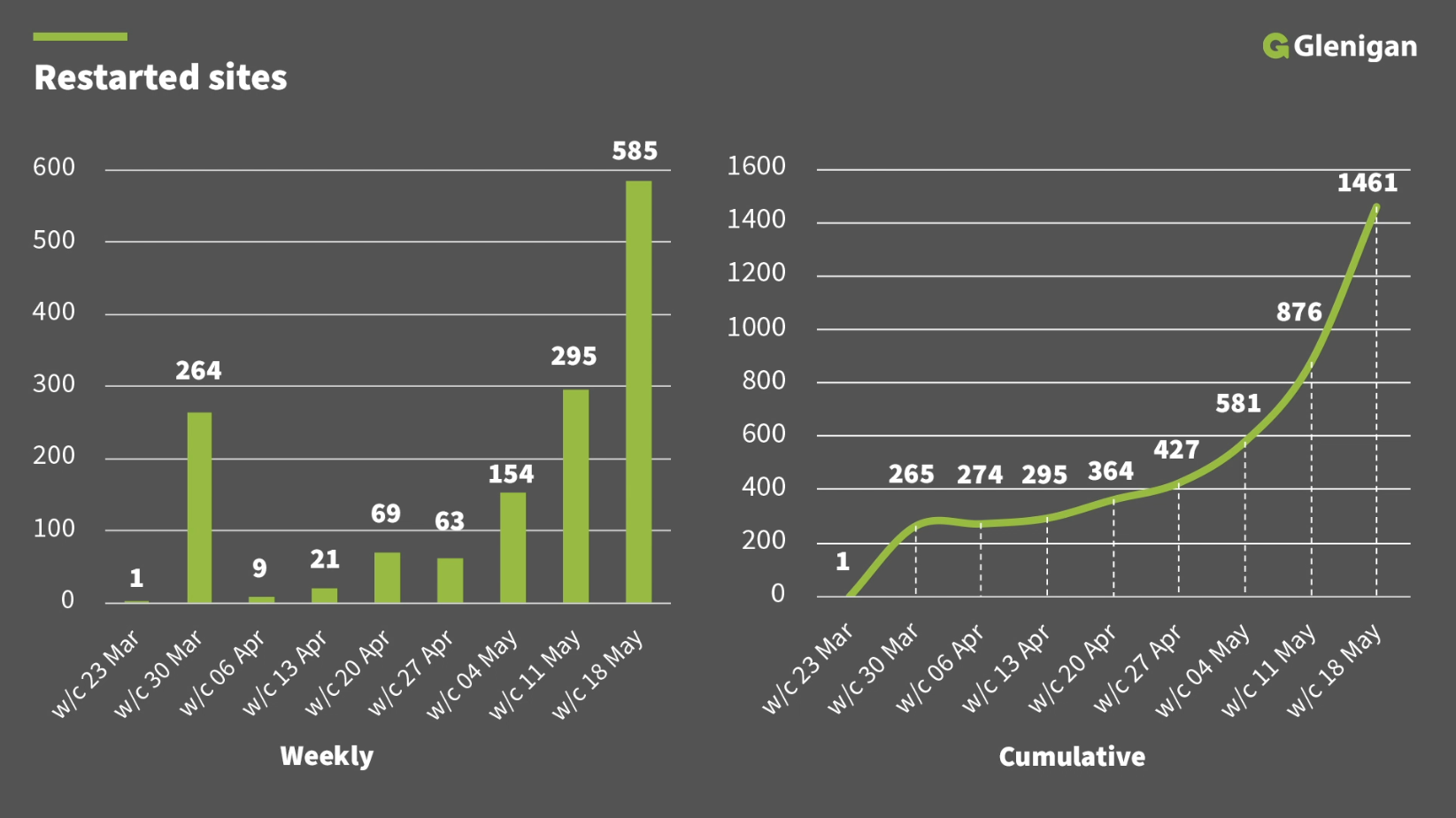 Larger sites in particular have been reactivated, and as a result, half of the value of construction work that was initially suspended, is now underway again.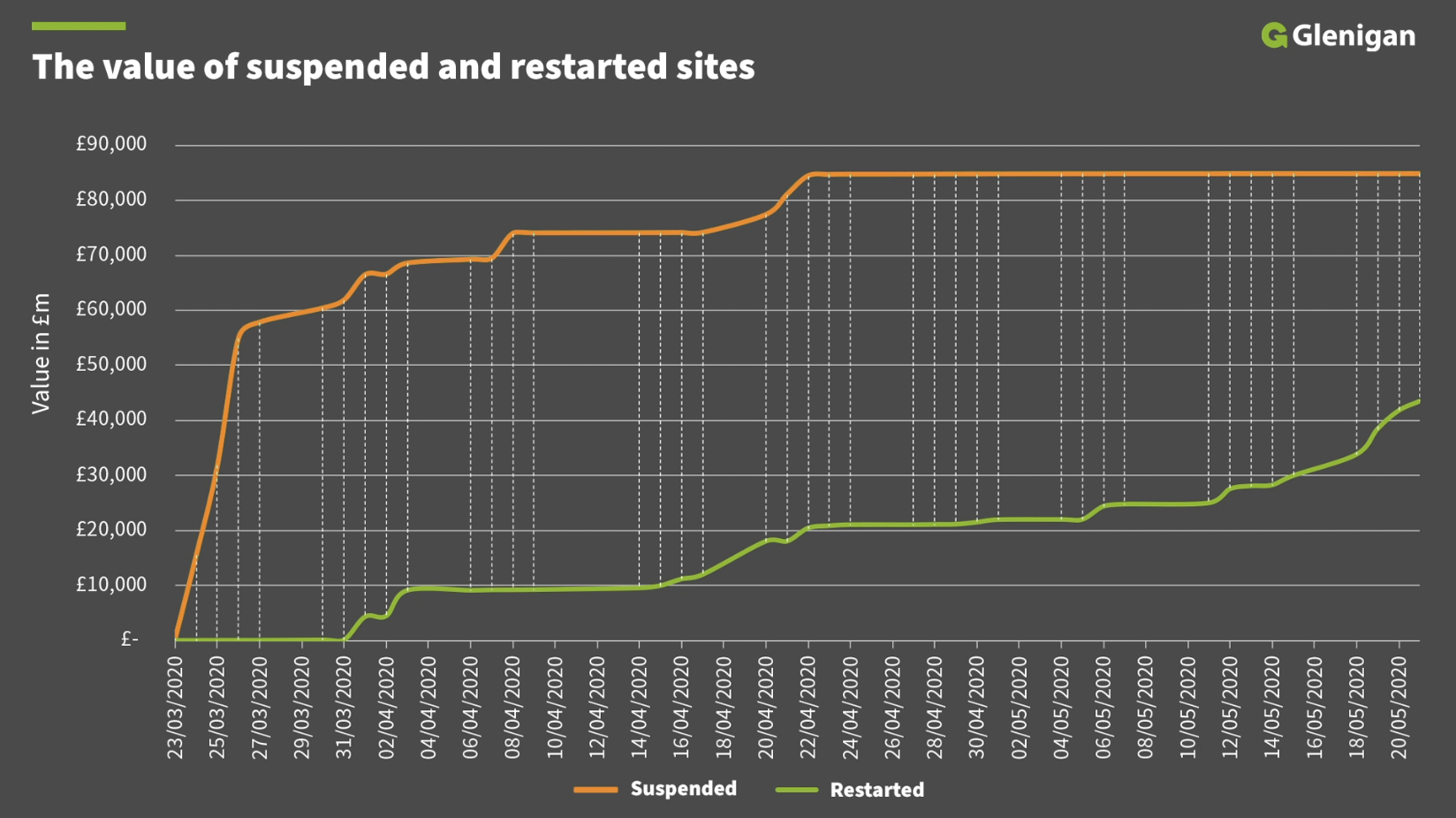 The greatest improvement in active sites has been in England where just a fifth of sites are now suspended, which is 7% down on last week. In Wales, 21% of sites are currently suspended. This compares to around 78% of sites in Scotland and Northern Ireland where there has been no increase in site activity as the more extensive shut downs implemented by the devolved authorities remain in place. The Scottish Government has announced plans to implement a 4-phase plan to unlock Scottish sites from 28 May, hopefully leading to the gradual reactivation of sites next month.
While we're seeing positive shifts in onsite activity, there were still 2,201 suspended sites yesterday (21st May), which means that around a quarter of large-scale construction activity is still suspended.
At 54%, private housing continues to have the highest proportion of sites suspended. However, the number of reactivated housing projects has grown sharply over the last three weeks as major housebuilders have instigated a phased re-opening of their sites and we anticipate a further acceleration in site reactivations over the coming weeks.
Our researchers have spoken to a large number of companies who are currently busy onsite assessing and implementing measures to enable social distancing, which will enable those sites to reopen fully and construction activity to begin again.
Bidders
An average of 80 new bidders a day were added against projects this week. This is a sharp jump on previous weeks and in line with the daily averages seen earlier this year, prior to the lockdown.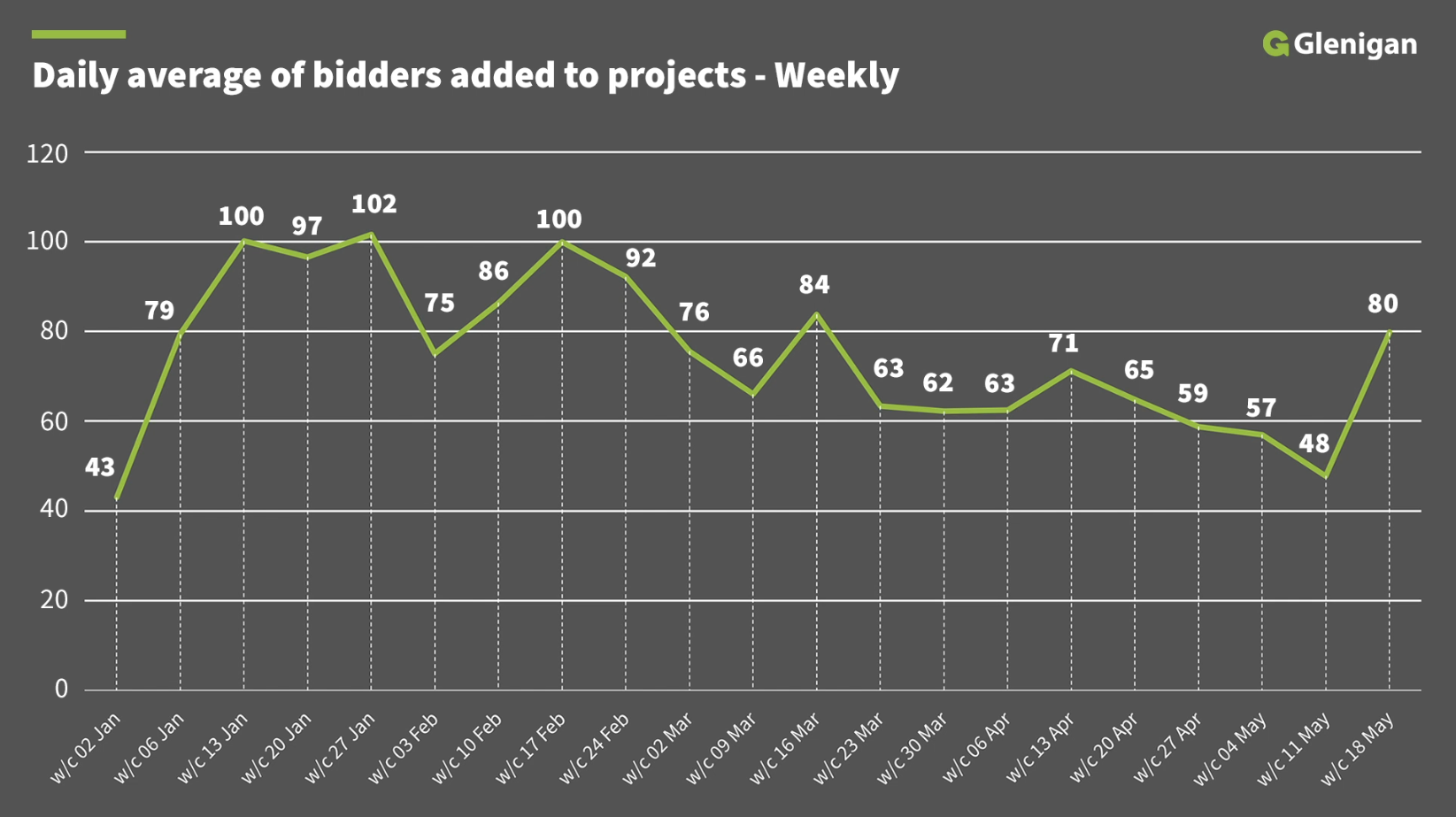 While one swallow doesn't make a summer, the strong performance this week does demonstrate that there is still a significant pool of work currently out to tender.
It appears that the average tendering process has been extended during the lockdown. This may also in part be due to delays to decision making processes as key staff work from home, with the delayed decisions exacerbating the short-term drop in contract awards.
There may be a progressive recovery in invitations to tender and contract awards over the coming weeks. As the market recovers, contractors and sub-contractors will need to be especially vigilant when bidding for work, seeking a suitably diverse portfolio of projects to safeguard their cashflow. Firms will also need to be mindful of the potential impact of social distancing on the cost and potential build times of the projects that are bidding for.
Planning Approvals
The early development pipeline remains relatively firm. The number of planning applications being published by planning authorities has averaged 1,382 a day over the last week. This is just 12% down on the daily average seen earlier this year, prior to the COVID-19 lockdown. At 1,323 the daily average number of published planning decisions is 16% lower than the average seen prior to the lockdown.
The decline in applications and decisions on large construction projects of £250,000 or more has been greater. Applications over the last week were down by a quarter on pre-lockdown levels while decisions were 17% lower. The sharper declines in larger projects may reflect delays in compiling and submitting the supporting documentation for these larger projects. Therefore, an easing in the lockdown may prompt an upturn in applications over the next few weeks.
All of which suggests that the industry has a potentially growing pipeline of planned projects as the lockdown is eased over the weeks ahead.