As sales of electric vehicles gather pace, the pressing need to build a nationwide infrastructure of charging points to keep the sector on the move is generating some major opportunities for contractors and suppliers.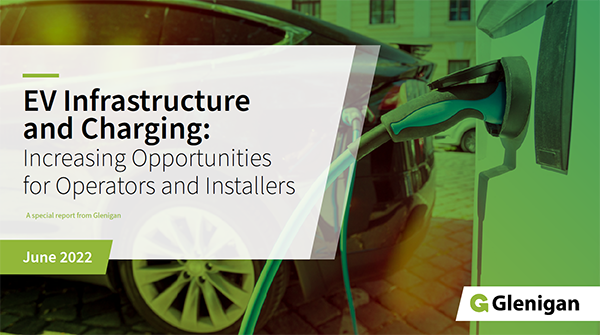 The scale and potential for activity in the sector is highlighted by a recent Glenigan report EV Infrastructure and Charging: Increasing Opportunities for Operators and Installers which shows that there are currently over 5,000 planning applications for electric vehicle charging points (EVCPs) in the pipeline.
With 300,000 new electric vehicle registrations expected this year alone, the potential workload in the sector could be huge as new charging points are added to homes, streets, workplaces and particularly, public parking places. The House of Commons Climate Change Committee has called for 150,000 public charge points to be up and running across the UK by 2025.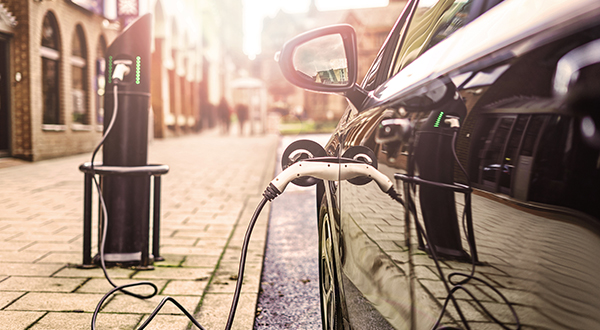 Ten-fold rise in public charging points
Forecasters suggest a ten-fold increase in the number public charging points - from a current 25,000 to 'at least' 280-480,000 - will be needed by 2030, when the government is banning the sale of new petrol and diesel cars.
Today, private housing EVCP projects offer some of the brightest opportunities for new contracts. Glenigan data shows that private housing accounts for 24% of EVCP planning applications, followed by service stations (14%), hotel & leisure (12%), on-street (11%), industrial (10%) and retail (9%).
Charging facilities for electric vehicles already form an integral part of most major private housing schemes. One example is the Greenwoods Development near Bedford, where outline plans have been submitted for a huge £559 million scheme involving some 3750 homes and other types of space, where the plans involve an electric vehicle charging station along with an on-site polar PV park (Project ID: 20329958).
But changes to building regulations mean all new housing developments started in England from this month will require an EVCP on each parking space; implying some 2.8 million charge points will be installed on new housing sites by 2030.
Opportunities by the roadside
Opportunities for work on roadside service stations are set to benefit from the government's £950 million Rapid Charging Fund which supports the roll-out of charge points at motorway service areas and on key points on A roads. The workload on this front is growing and Glenigan data shows 375 applications for EVCP installations at such sites since 2017.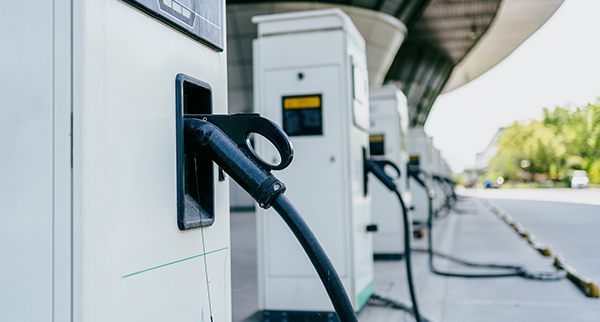 One major new motorway service station project in the pipeline, the Chiltern Chalfont Services on the M25 in Buckinghamshire, includes an electric vehicle charging station as part of an overall £20.6 million development where work is due to start later this year (Project ID: 19244611).
Electric charging facilities also form part of the Derby City Public Transport Improvements which have recently secured funding of £161 million and where work is set to start in summer 2023 (Project ID: 21273571).
Local 'rapid hub' electric charging facilities are also providing new contract opportunities on smaller schemes. In West Sussex, the Adur and Worthing Councils Project SmartHubs includes 13 EVCPs to be spread across six sites as part of a £1 million scheme where work is set to start later this year (Project ID: 20313168).
EVCPs are also being introduced on public buildings as part of redevelopment and refurbishment schemes. At the £20 million refurbishment of The Tower Building at the University of Nottingham, new electric vehicle charging facilities form part of a £20 million refurbishment where work is set to start this autumn and continue for 15 months (Project ID: 21408322).
Glenigan data provides a plethora of upcoming opportunities for work on EVCP projects across the country, many on contracts valued at under £250,000.
Yet ECVPs also offers opportunities for experienced contractors to maintain a continuing workload in the sector through frameworks. In Stockton, for example, a £10 million combined authority scheme to supply, install, operate, and maintain a network of EVCPs across the Tees Valley is set to start this spring and run for four years (Project ID: 21150183).
To read the full EV Infrastructure and Charging: Increasing Opportunities for Operators and Installers report, which contains more in-depth analysis of the above, click here.
Glenigan customers can see details of all new EVCP and infrastructure opportunities if part of your subscription.
Not a Glenigan customer, but would like to see detailed sales leads for new EVCP and infrastructure opportunities? Request a free demo of Glenigan today so we can show the size of the opportunity for your business.