Solar panels construction work is set for a £1.5 billion boost as investment filters down from the government's Social Housing Decarbonisation Fund and Home Upgrade Grant.
The aim of the investment is to fund energy saving measures including solar panels, and clients are gearing up for this spending.
The government is providing £1.1 billion which will be matched by local authorities, registered social landlords and charities to upgrade social and private homes in England (Project ID: 22387485).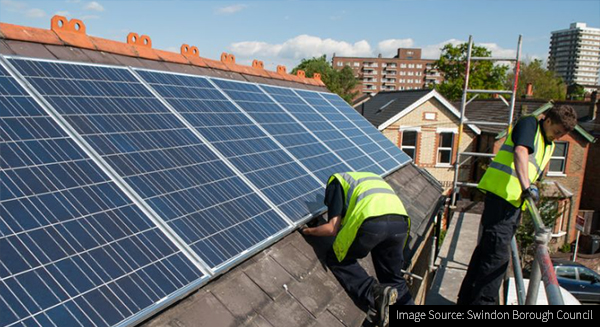 Procurement for Housing represents 900 RSLs and is setting up a four-year framework to help deliver decarbonisation and retrofit solutions. The framework is expected to see £520 million-worth of spending across England and Wales in 11 areas including £20 million on fitting solar photovoltaic panels (Project ID: 23090308).
Elsewhere, Barnet Homes recently agreed a framework with Re-Gen (UK) Construction to deliver £726,000-worth of energy efficiency work including fitting solar panels at various locations in north London over the next 12 months (Project ID: 22207618).
Education lights up
A further £409 million has been allocated by the government through the Public Sector Decarbonisation Scheme, which will help 144 public sector buildings such as schools and hospitals cut their carbon emissions.
Wellspring Academy Trust has been awarded £1,030,181 to decarbonise Horncastle Primary School and Lacey Gardens Junior Academy. Gas boilers at both schools will be replaced by air source heat pumps and solar panels added as part of a larger £5 million rebuild that is part of the government's School Rebuilding Programme (Project ID: 22465292).
Elsewhere, SMB College Group has been granted £2,700,300 to support the decarbonisation of Brooksby Melton Further Education College in Melton Mowbray (Project ID: 21174016). As part of this redevelopment, solar panels will be installed on the roof of the main office building.
North Warwickshire and South Leicestershire College has been awarded £3,065,846 to decarbonise four buildings at their Nuneaton Campus with solar panels to be installed on the roofs of three buildings (Project ID: 23100725).
Farming out
In addition to this public sector investment, private developers are also pushing on with major solar farms.
The Statera Energy £300 million Chickerell Solar and Battery Storage scheme will generate 300MW of electricity a year and store an additional 400MW (Project ID: 22417171). This scheme, which has been identified as a Nationally Significant Infrastructure Project (NSIP), and be built on 1,400 acres of farmland near Weymouth in Dorset, is still in the planning phase.
The £250 million Beacon Fen Energy Park at Sleaford in Lincolnshire has also been deemed an NSIP by the government and is again in development (Project ID: 23105616). Glenigan's construction industry research shows that a development consent order is expected to be submitted Q1 2024.
Construction is due to start this summer according on Naturalis Energy Developments' £10 million Blandford Hill Eco Hub, also in Dorset (Project ID: 21051946).
Solar panels work looks set to continue expanding as the country looks to decarbonise across all fronts.
Glenigan customers can see details of all new projects involving solar panels in the 'Dimensions' tab on Glenigan. 
Not a Glenigan customer, but would like to see detailed sales leads for new projects involving solar panels? Request a free demo of Glenigan today so we can show the size of the opportunity for your business.