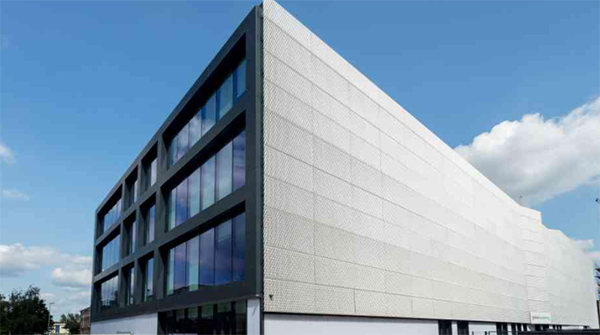 Modular construction is often lauded as the answer to the country's housing crisis, and the current and predicted future skills shortages, by delivering faster and more efficiently built homes off-site.
However, analysis of Glenigan construction data covering the past five years highlights that the sectors most keenly adopting modular construction are not private or social housing at all.
Indeed over the past 5 years only 9% of private housing and 3% of social housing has been planned or built using modular construction.
This may change however, when clients look at the relative stability that modular showed during the first seven months of 2020 when only a relatively small 21% fall in modular project-starts was recorded, compared to the overall 39% decline in all construction-starts during lockdown.
Making up for lost time may also become a more urgent factor in wider adoption of modular construction as the speed of delivery, plus the ability to social distance more effectively is easier to manage and achieve with off-site construction.
And with Brexit concerns being exacerbated by the Prime Minister's recent statement that leaving the EU with no-deal would be a "good outcome" for the country, the efficiency of modular construction with it's higher degree of project certainty to some developments may help to mitigate some of the predicted construction material cost rises expected due to higher prices and shortages.
Sectors adopting modular construction 
Our recent article; 'Can modern methods of construction answer our housing needs?', outlines a number of reasons why modular construction in housing may be lagging behind other sectors. For example, the complexity and lack of standardisation of modular solutions, the lack of rock-solid evidence that modular can match or out-performs traditional construction, plus the shortage of warranties available - up until very recently - that have made mortgage applications and insurance for property difficult to obtain
But as mentioned above, this could be about to change in the new social distancing and post Brexit world. If housing clients look more closely at the reasons driving the sectors that are most actively adopting modular construction, then there may be a dramatic uplift relatively soon.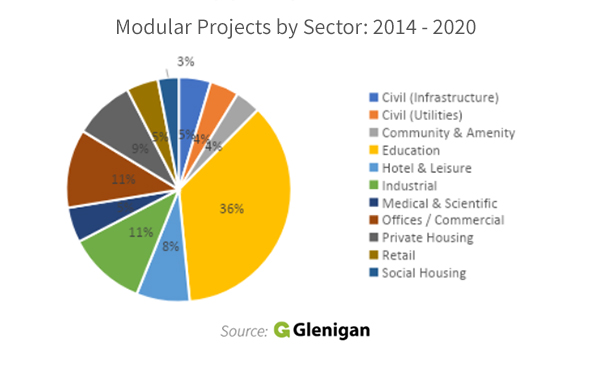 The sector most active in flying the modular construction flag, accounting for 36% of all modular construction projects planned or constructed over the last five years, is the education sector.
Citing lower costs, increased speed of delivery and more flexibility to meet the demands of changing pupil numbers, plus a lower carbon footprint, schools have been the biggest customer of modular construction within the sector.
And both the office, and industrial sectors, are seeing the benefits too, with both accounting for 11% of all modular projects planned or constructed over the last five years.
Regional adoption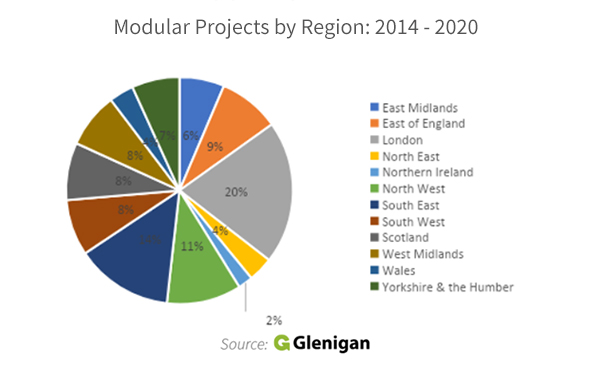 Regionally, the greatest proportion of modular projects are located in London and the South East, accounting for 34% of all modular projects planned or constructed over the last five years.
The modular construction pipeline
Glenigan research has identified a 26% rise in the number of modular projects being started between 2017 and 2019, and the development pipeline has been firm over the last four years too, with planning approval granted on almost 1,000 projects a year. 
While the number of approvals unsurprisingly fell back during the first seven months of 2020, earlier approvals will help to sustain the number of modular projects starting on-site during the second half of this year. 
And once other sectors recognise the benefits achieved by the education, office, and industrial sectors, we expect an uptick in planning applications to follow.
Glenigan customers can find future modular project opportunities via your subscription.
Not a Glenigan customer? Please request a free demo where we can show you more details on projects of interest to your business.