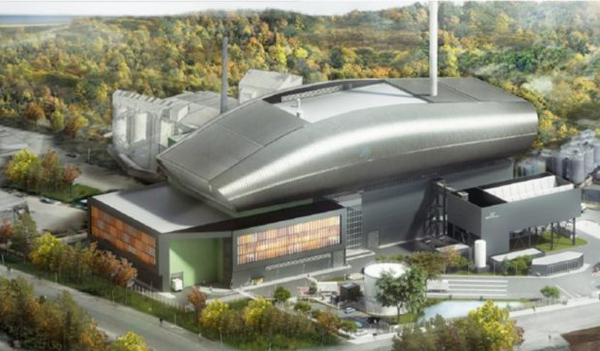 £150 million energy from waste plant in Aberdeen
Despite a weak start to 2019, the construction industry in Scotland is expected to recover this year.
Glenigan's construction data shows that the underlying value of starts in Scotland slumped by 21% in the first quarter of this year.
Glenigan economics director Allan Wilén says: "Although a poor start to the current year underlines expectations that sector activity will remain weak in the near term, starts are expected to gradually improve over the forecast year as the economic and political outlook becomes more certain."
Civils slump
Last year, the private housing, industrial, health and civil engineering sectors all experienced decline. Infrastructure work also suffered as a host of big roads projects drew to a close and replacements did not emerge in the pipeline.
This was highlighted by the Q4 2018 workload trends survey by the Civil Engineering Contractors Association. CECA's research found that, on balance, 42% of members had reported a fall in civils workloads in Scotland for the last five successive quarters.
In addition, the survey showed that 48% of CECA members, on balance, reported a decline in orders in 2018 but only 4% expect a fall this year.
Going forward, Glenigan's construction market analysis has identified a rise in approvals for infrastructure work. Other sectors to experience a rise in the planning pipeline in Scotland last year include education, offices and hotel & leisure.
Challenges
Social housing work in the pipeline is also improving with the underlying value of approvals up 40% in the first quarter of this year. Work is expected to materialise from big new-build programmes such as Edinburgh City Council's new £700 million CEC Housing framework.
Overall housing starts sagged 5% last year according to the National House-Building Council. Malcolm MacLeod, NHBC director for Scotland put this down to a slow start to 2018 and is more optimistic about this year.
Mr MacLeod explained: "The delays put great pressure on the supply chain over the summer while the uncertainty over Brexit attributed some caution towards the end of 2018. Overall the underlying demand is there from prospective homebuyers – particularly in and around Inverness and the central Scottish belt."
Glenigan's construction analysis has identified £283 million-worth of private housing projects in Scotland that were approved in Q1 2019. If this trend continues and these approvals turn into starts, private residential work should improve.
Big projects moving on
The biggest single project in Scotland to go to main contract award in the 12 months is the £210 million Earls Gate Energy Centre in Grangemouth, which began this spring (Glenigan Project ID 16196138).
Elsewhere, the SFN joint venture has started work on a £207 million extension to the Edinburgh tram, and Acciona starts work this summer on a £150 million energy from waste plant in Aberdeen (Glenigan Project ID 16091620).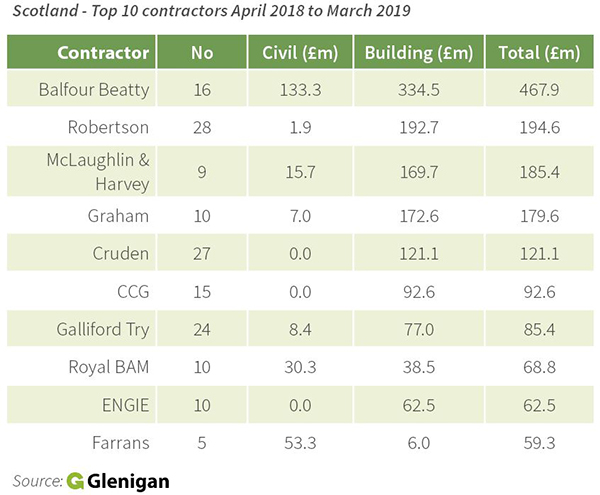 The most successful contractor in Scotland in the past year to Q1 2019 has been Balfour Beatty. The group's order book totals nearly £470 million and includes major projects such as the £61 million A9 Luncarty to Pass of Birnam dual carriageway scheme.
With projects expected to continue to improve, Glenigan is forecasting a strong rebound with a rise of around 21%, suggesting a bonnie outlook for Scotland.