It will come as no surprise that in 2020 and early 2021 a huge proportion of UK households invested in home improvements. We've all been spending a lot more time in our homes, and have realised that they might not be quite the useful spaces we once thought.
Working from home has of course been the main change - and challenge - for the majority of us, with recent analysis from finder.com reporting that 60% of the UK's workforce - that's 23.9 million people - have been working from home. The same analysis also reports that 26% of us plan to continue to work from home permanently or occasionally after lockdown.
It's no wonder then that homeowners' expenditure has been focused on improving and expanding their space, and with spare budget that might have been earmarked for foreign holidays being available, plus possible savings made by the stamp duty cut, homeowners haven't been hanging around to get started.
Uptick in UK home improvement planning applications
Analysis of Glenigan home improvement planning data - which tracks all planning applications and approvals - between March 2019 and March 2021 shows a very obvious upward-trend within the last twelve months.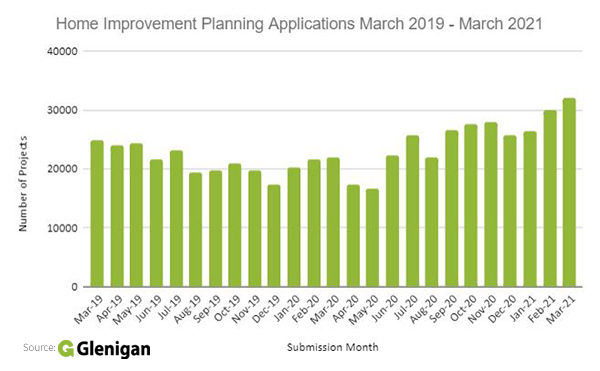 Top 10 UK home improvement planning applications
Although house extensions in their various forms take up the lion's share of applications - with the likelihood of kitchen extensions, or adding a home office to the rear of a property being very high - it might come as a surprise that applications to add or to update a swimming pool have been quite popular too, with over two thousand planning applications being made by homeowners in the last twelve months. Seventy five saunas and forty five cinema rooms have had applications submitted in the last twelve months too, suggesting that a much more relaxed home environment is on the cards for many households too.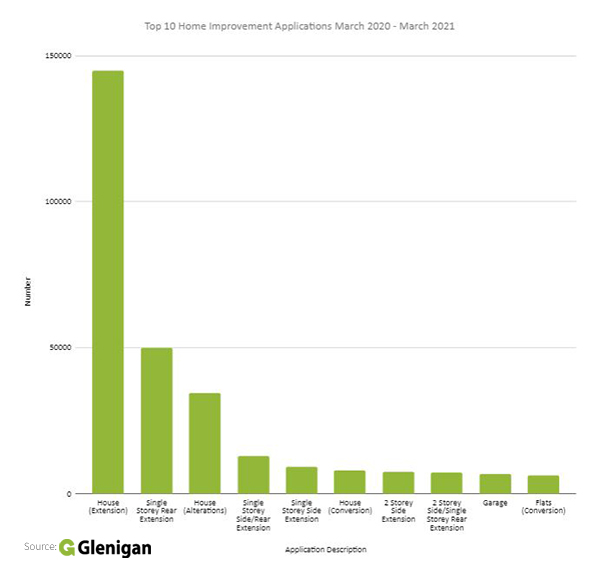 Home improvement hotspots - March 2020 - March 2021
Again, it won't come as a huge surprise that the most planning applications for home improvers between March 2020 and March 2021 have been in the South East, London, and the East of England. These regions have traditionally included the commuter belt, feeding the Capital with much of its workforce. Post pandemic however, it seems likely that more households are expecting, and planning, to be spending a lot more time at home.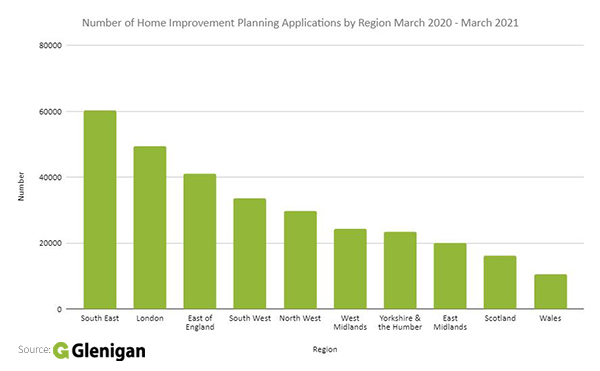 Value adding home improvements 
And households aren't just making home improvements to make their current situation a little easier. Many home improvers are looking to add value to their homes too. 
According to a recent report published by Rated People, home improvements that add the most value to a home in 2021 are:
| | |
| --- | --- |
| The home improvements that add the most value to a home in 2021 | Average added value (£) |
| Self-contained annex | 14,385 |
| Loft conversion | 12,951 |
| Kitchen extension to create a large kitchen diner | 11,514 |
| Newly renovated kitchen | 10,649 |
| Summerhouse/garden room | 9,188 |
| Newly renovated bathroom | 9,011 |
| Garden office (office room, built in the garden) | 9,008 |
| Walls knocked down to create one open-plan living space | 8,999 |
| Landscaped garden | 8,547 |
| Walls built to create separate spaces | 8,123 |
| New driveway | 8,012 |
| Home gym | 8,004 |
| Home office (inside the home) | 7,630 |
| Bespoke storage | 7,409 |
| New wooden flooring | 7,255 |
| Outdoor cooking area – BBQ/pizza oven | 6,859 |
| Garden bar | 6,687 |
| Home bar (inside the home) | 6,575 |
| New carpet | 6,396 |
| Vegetable patch | 6,093 |
Data Source: Rated People (Ranked by the value placed on each improvement by UK homebuyers)
So, with the likelihood of more home working and less foreign holidays - at least this year - on the cards, it looks likely that more home improvement projects will provide a welcome source of new work for smaller, local building companies going forward.
Glenigan customers can see all home improvement planning applications and decisions if part of their subscription.
Not a Glenigan customer but would like to leverage this growing market? Please request a free demo where we can show you the size of opportunity for your business.
PR contact:
Rick Stephens (Content Marketing Lead)
T: 01202 786 859 │ E: rick.stephens@glenigan.com