The stay at home rule, and the resultant change to our working practices, plus the massive increases in home streaming and online shopping has put enormous pressure on data centres and is driving significant investment in new data centre construction.
Working from home puts pressure on existing supply
Prior to the pandemic, data centre customers' servers typically "utilised 75-80% of their capacity outside of peak times", during the crisis however, "they have regularly drawn 100% of their available capacity for extended periods" said Matt Pullen from data centre provider CyrusOne in a recent article for Capacity.
Recent analysis from finder.com says that 60% of the UK's workforce - that's 23.9 million people - have been working from home, and that 26% of us plan to continue to work from home permanently or occasionally after lockdown.
Compare this to the pre-pandemic figure of 1.54 million people who worked from home for their main job - just 6% of how many do now - and it's easy to see the problem, and also the level of opportunity facing data centre operators and the construction industry.
Significant opportunity for data centre construction
Analysis of Glenigan planning data for new data centre construction has identified 23 high-value projects* with planning approval, due to start on-site in the next twelve months alone, with a total value of £1,337 billion. Here we take a closer look at the biggest opportunities in both the Republic of Ireland and the UK.
Republic of Ireland data centre construction
The Republic of Ireland continues to dominate new data centre construction in terms of project value with seven projects worth £860 million in total due to start in the next twelve months.
The Republic of Ireland is a prime location for clients wishing to retain EU data sovereignty since Brexit, as well as benefit from the country's attractive tax breaks. It's geographic location helps to act as a bridge between Europe and the UK, as well as its subsea cable access to the US. Renewable energy sources and reliability, also play a big part in choosing the Republic of Ireland due to the massive energy required to run data centres.
Echelon Data DUB20
The largest value project is for the £420 million Echelon Data DUB20 data centre in Arklow, Co Wicklow (Project ID: 20186969). The scheme comprises demolition of existing building units totalling 2,784 sqm, followed by the construction of three single-storey data centre buildings, ancillary offices and plant.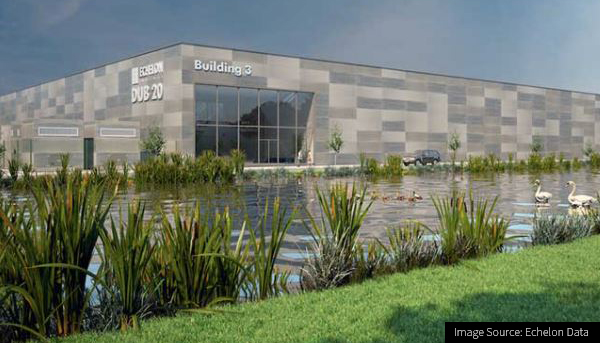 The 45,000 sqm project is at pre-tender stage and is due to start in August this year and is expected to take 37 months to complete.
An additional joint venture project to build a 220KV substation (Project ID: 20241646) has also been agreed between Echelon Data and green energy developer SSE Renewables to provide direct energy to the data centre and also route offshore wind energy to the Irish national grid.
Damastown Data Centre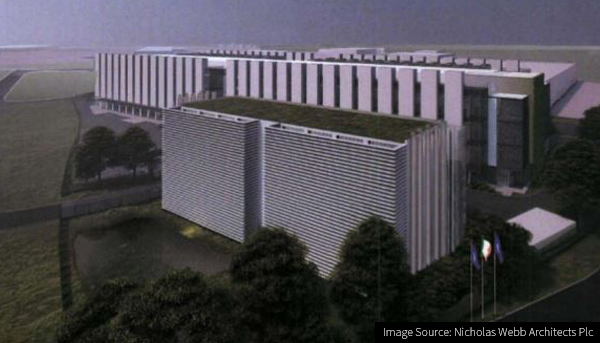 The second largest project in the Republic of Ireland is for the £178.9 million Damastown Data Centre in Dublin (Project ID: 20154845) which is due to start in September this year. The project, which is at pre-tender stage, will comprise four buildings consisting of a four-storey, 48,303 sqm data hall, a 4,064 sqm generator building, sprinkler pump building, and a security building.
UK data centre construction
According to the recent Arcadis Data Centre Location Index 2021 report, the United Kingdom ranks first in cybersecurity followed by high scores for energy security and a decent domestic market size, making it a prime target for data centre investment. And with over £2 billion of investment for future data centre development at the pre-planning stage it looks like that investment has arrived. Here we look at the two largest projects of the seventeen due to start in the next twelve months.
CloudHQ Data Centre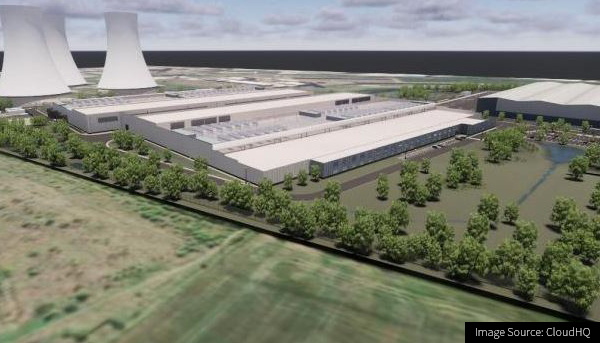 The largest UK data centre project to start in the next twelve months is the £252.4 million CloudHQ Data Centre (Project ID: 18203036) in the heart of the Oxfordshire Science Vale, just west of Didcot B Power Station. The development, which is at the pre-tender stage, has been designed to achieve a BREEAM Excellent rating and will deliver a data centre campus comprising two data centre units, emergency back-up diesel generators, surface storage of emergency diesel fuel, and the construction of a substation. The project is due to start in September this year and expected to take twelve months to complete.
Pure Data Centres Group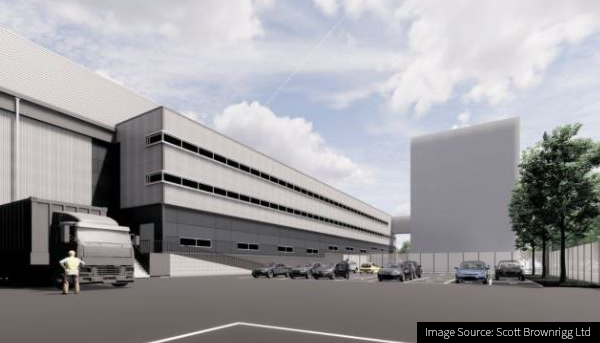 The second largest UK data centre construction project due to start in the next twelve months is the £66.7 million refurbishment and extension scheme for Pure Data Centre Group (Project ID:20263168) in Brent Cross, London. The development, which is at pre-tender stage, has been designed to achieve a BREEAM Very Good rating is due to start in August this year and is expected to take nine months to complete.
Bright future for data centre construction
As data centres continue to play a vital role in our day to day lives, enabling us to work from home, enjoy more streaming services, and to enable critical health and business services, it is clear that demand for new and extended data centres will only go one way, and that will be very good news for construction firms able to work in this sector.
*Total project value over £250,000
Glenigan customers can view all new and planned data centre construction opportunities if part of their subscription.
Not a Glenigan customer but would like to take advantage of this growing opportunity? Please request a free demo where we can show you more details on projects of interest to your business.
PR contact:
Rick Stephens (Content Marketing Lead)
T: 01202 786 859 │ E: rick.stephens@glenigan.com