The underlying prospects for the social housing sector are improving after a number of funding and framework agreements were made over the summer. 
Homes England chose 66 companies as preferred partners for its new Delivery Partner dynamic purchasing system in the agency's largest procurement exercise to date. The deal will produce £20 billion-worth of spending on affordable housing delivered by developers and contractors (Project ID: 21235829). 
Stephen Kinsella, Chief Land and Development Officer at Homes England, said: "This marks a significant step forward in the way we work with developers to build homes."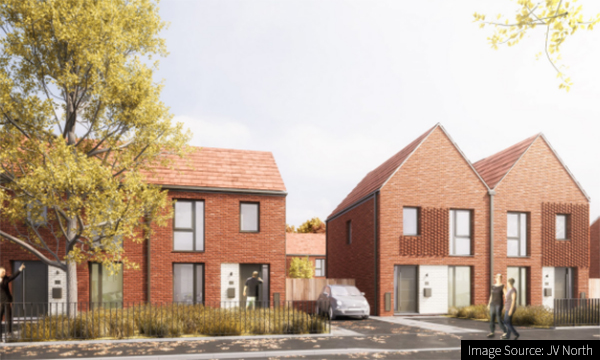 In August, a £560 million framework was also agreed by JV North – a group of 13 housing associations and local authorities from Northern England - to build 4,000 homes over the next four years in the region with 17 contractors appointed (Project ID: 21159352). 
Funding and contract boost 
Glenigan expects social housing construction starts to rise 10% next year. Economic director Allan Wilen says: "Housing associations are now better placed to finance and take forward new developments than in recent years. Government requirements limiting association's rent increases to 1% below the rate of inflation have been lifted, providing associations with greater flexibility to increase their borrowing to fund new developments." 
London has been a bright spot in terms of social housing construction starts. Glenigan's construction market research shows the underlying value of social housing construction projects starting on site in the Capital rising by 4% in Q3 2021. 
Over the next five years, 29,456 homes will be delivered by councils and housing associations after the Mayor of London secured £3.46 billion from the first round of bidding for the next five-year affordable homes programme. 
Clarion received the biggest grant, totalling £240 million. London boroughs will also deliver housing such as Barking & Dagenham, which will receive a grant of £171 million. 
Top 10 housing associations 
The Top 10 housing associations have awarded £1.1 billion-worth of construction contracts in the 12 months to Q3 2021 to build social housing according to Glenigan's research. 
The Guinness Partnership awarded the largest amount with major developments moving onto site including the £55 million King Georges Gate in Kingston-On-Thames to deliver 211 new homes (Project ID: 20257971). 
The next biggest spender is Notting Hill Genesis, which has pushed forward with major schemes including a £98 million development in Aylesbury (Project ID: 21345531). Peabody is third with work including a £98 million social housing scheme for 134 social housing units in Herne Hill due to start in November (Project ID: 14338752). 
Top 10 spending housing associations - 12 months to Q3 2021
Housing Association
Total (£m)
Guinness Partnership
165.5
Notting Hill Genesis
149.3
Peabody Trust
116.5
Metropolitan HP
110.2
A2Dominion
104.6
Sanctuary
95.2
London & Quadrant HT
92.8
Clarion
87.3
Trafford Housing Trust
83.0
Hebridean HP
71.6
TOTAL
1,075.9
Work in the pipeline 
The leading RSLs are also pushing ahead with procurement for major developments.  
Glenigan's market research shows that the Guinness Partnership is currently procuring a contractor for a £26 million redevelopment of a former Matalan site in Stevenage to build 526 homes (Project ID: 06481276). 
Notting Hill Genesis is also in the midst of procuring a contractor to build the £35 million Saxon Wharf scheme to deliver 145 homes in Greenwich, south London (Project ID: 17380397). 
Peabody is at the same stage on its £16 million St Olave's in Southwark, central London, where work is expected to start on-site early in the New Year (Project ID: 19216243). 
Social housing work looks set to deliver a steady supply of new work to the construction industry over the coming months and years. 
Glenigan customers can see future social housing construction opportunities as part of your subscription.
Not a Glenigan customer, but would like to see detailed project information for every social housing construction opportunity in the UK? Request a free demo of Glenigan today so we can show the size of the opportunity for your business.