Prospects in the commercial construction sector are improving with overall activity and work in the pipeline showing signs of recovery.
Rising volumes of commercial construction work helped bolster wider construction activity in the first three months of this year. The total value of office work given detailed planning permission doubled to £3.5 billion compared to the same period a year ago and surged 69% on the last quarter of 2022.
This increase in activity has continued according to the S&P Global/CIPS UK Construction Purchasing Managers' Index, and Glenigan's planning data, showing significant growth in approvals in the sector.
 Bottoming out?
A slump in commercial property values has hit the commercial sector, but this fall is slowing and prompting greater activity, particularly in London, which is the traditional focus of commercial development work.
Real estate firm Robert Irving Burns (RIB) forecasts a 1.6% drop in sales prices per square foot in Q2 2023 compared to a drop of 2.9% in the first quarter. "It does feel like we're nearing the floor," Antony Antoniou, RIB's chief executive officer told Reuters.
With the market bottoming out, developers are looking to push work through the planning phase in London according to Glenigan's construction data.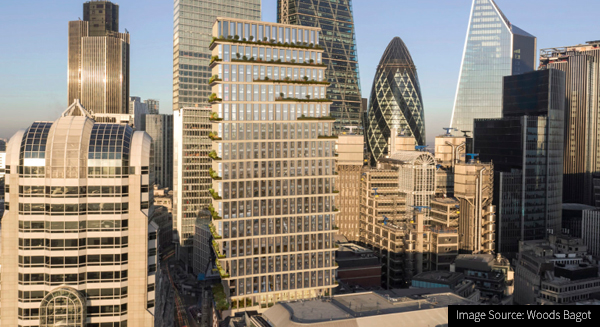 The capital had the largest proportion of work granted planning permission in the first quarter with projects worth a total of £1.4 billion approved. This total was three times higher than a year ago. Approved schemes included the £104 million commercial development at 85 Gracechurch Street (pictured) in the City (Project ID: 22276673) and the £225 million Red Lion Court office scheme in Southwark (Project ID: 18423376).
Regional prospects
Developers are also securing consents for large schemes in other major regional cities.
In the North West, £301 million-worth of office schemes secured planning permission in the first quarter of 2023 with work in Manchester progressing. Major schemes in the city continue to secure approval with the £167.9 million Central Retail Park approved recently (Project ID: 13021292).
In Scotland, the value of approved office work was six times higher in the first quarter of this year than a year earlier at £180 million. Approvals include Soller Group's plans for the £68.5 million second phase of the Carrick Square office scheme in Glasgow (Project ID: 22000674), but procurement of a contractor has not yet begun.
Developer Stoford also secured planning permission in Q1 2023 for the £200 million Typhoo Wharf redevelopment in Birmingham and contractor BAM has just started work (Project ID: 02345442).
These and other major developments such as the £800 million Pinewood Studios Screen Hub development in Iver (Project ID: 20368819) drove the increase.
Underlying growth
Work at an underlying level (below £100 million) also increased in the first three months of 2023..
At an underlying level, the value of work approved leapt by 35% to £1.5 billion compared to the final quarter of 2022. Against the same period a year earlier, the rise was even stronger at 67%.
Projects approved include Phase 3a comprising seven research and development building at the NETPark development in Cleveland (Project ID: 23067114) and a £73 million redevelopment of an old brewery in London's Covent Garden into commercial units (Project ID: 22128445). Glenigan's construction industry research shows that tenders for the work have been returned and construction should start this Autumn.
With work in the pipeline rising at all levels, an improvement in commercial construction prospects looks imminent.
Glenigan customers can see details of all new commercial construction projects if part of your subscription.
Not a Glenigan customer, but would like to see detailed sales leads for new commercial construction projects? Request a free demo of Glenigan today so we can show the size of the opportunity for your business.