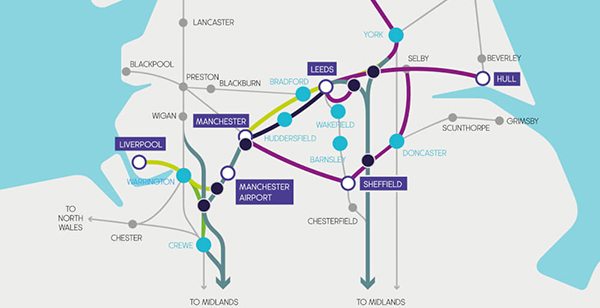 The outlook for new construction across northern England's major urban conurbations – particularly Liverpool, Manchester, Leeds and Sheffield – brightened last month when Chancellor Philip Hammond indicated that he is set to approve the £39 billion Northern Powerhouse Rail Project (NPR).
The scheme involves a series of major upgrades to rail services across the region and plans to integrate existing rail lines with HS2.
Key projects could include a new line linking Leeds and Manchester via Bradford and a new twin-track rail line linking Liverpool to HS2 and on to Manchester and other northern cities. The plans also envisage significant upgrades and integration with HS2 linking Leeds and Sheffield and significant upgrades between Sheffield, Leeds and Hull.
Major upgrades to the rail link along the Hope Valley corridor between Manchester and Sheffield and on rail services between Newcastle and Leeds are also envisaged. It will also promote 'hub' concepts for Northern Powerhouse Rail stations.
Design and feasibility work
The Transport for the North partnership, which is championing the scheme, said in February that it was beginning in-depth design and feasibility work towards finding a final preferred network for NPR. It hopes to move towards detailed consent stage by the early 2020s and start the first phase of construction from 2024.
A major attraction of NPR for the government is its potential for raising productivity across the wider northern region. Improving links between the major northern cities would also help generate 850,000 extra jobs by 2050, according to an economic review.
According to its backers, the improved rail links from NPR would treble the number of businesses able to reach major city centres in the area within 90 minutes from 70,000 currently to 260,000.
As well as the prospect of significant rail-related civil engineering contracts, NPR would also provide a spur to new commercial and industrial development in the major northern cities
It would reinforce the government's current committed rail investment programme in the North which includes £3 billion to improve rail links between Manchester, Leeds and York and the £337 million approval for new Metro Trains in the North East.
Preparations starting
Preparations are starting for some major developments in anticipation of a go-ahead for NPR. Liverpool City Council is setting up a Station Commission to oversee proposals for a new station in the city centre to connect to the Northern Powerhouse Rail and HS2. Although a site has yet to be selected, work is envisaged to start in 2023 and run for 36 months (Glenigan Project ID: 19082130).
Meanwhile, Buckingham Group has recently been appointed as the civil contractor on a Network Rail project for a £9.5 million refurbishment to New Street Station in Leeds to increase capacity. Work is set to start later this year and continue for 24 months (Glenigan Project ID: 19152971).
Elsewhere, a £5 million redevelopment of Crew Rail Station for Network Rail is at an early stage. Work is expected to start early next year and run for 12 months and Atkins is the consulting civil engineer (Glenigan Project ID: 09360518).