An industry bright spot has appeared in the first quarter of 2022 as new office construction activity picks up.
The growth of home working has created a significant workload in renovating and adapting office space to meet employers' changing space. But the April 2022 Glenigan Construction Review also points to an upturn in the development of new office space with the value of underlying project-starts rising by 28% in the first quarter on the previous three months and slightly higher than a year ago.
Larger office projects, particularly in London, saw a sharp upturn in new construction activity. Project starts on new office schemes worth over £100 million more than doubled in value to £686 million in the first quarter, compared to a year earlier. On the same basis, the value of work on new smaller and medium sized schemes – worth £20-50 million – rose by 87% to £581 million.
Glenigan data chimes with the latest RICS commercial property market survey which reports a notable increase in UK office demand in the first three months of this year, particularly for prime space in central London.
Amongst survey respondents, the net balance reporting increased investor demand for offices rose from +5% at the end of 2021 to +23% in the first quarter.
Developers' appetite
Developers' appetite to meet demand for new office space in London, particularly in the City, is driving much of the new construction activity. The capital accounted for office project starts worth £1,263 million in the first quarter, more than half of the total starts in the sector across the country and up 23% on the period last year.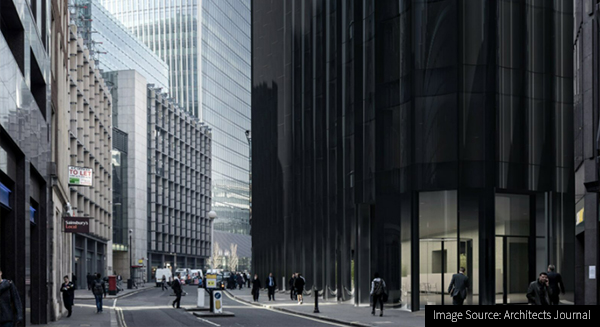 Some major new City of London office projects in the pipeline should help support the momentum in the sector. Detailed plans have recently been granted for Aviva Investors' Fenchurch Development, a £75.45 million scheme in the City involving two new offices, where work is due to start later this summer and continue for two years (Project ID: 14252496).
Meanwhile, across the river from the Square Mile in St Thomas Street, Great Portland Estates has recently submitted detailed plans for a £120.7 million office development at New City Court. It involves the demolition of 1980s buildings and the construction of a new 26-storey office building with over 55,000 sq m of space. Work is set to start in May next year and run for just over three years (Project ID: 17160090).
Growth sectors
Growth sectors of the economy are creating the strongest demand for new space. A recent report on office sector trends across Europe from property agent Savills said that gaming, fintech and life sciences are set to emerge as the fastest-growing occupier sectors, particularly for business space between 500 and 1,000 sq m.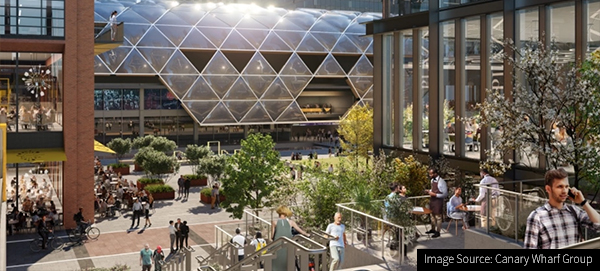 One major project in the pipeline which reflects this trend is the £500 million Canary Wharf North Quay Life Science Building, a 22-storey project on the North Quay site next to a new Elizabeth Line station. The scheme, which is a joint venture between Kadans Science Partner and Canary Wharf Group, is at the pre-planning stage with work pencilled in to start in early 2024 (Project ID: 22120609).
Outside the capital, the North West and the East Midlands emerge as two of the most promising regions for new office construction activity. Office approvals in the East Midlands in the first three months of this year rose to £115 million, up by more than three quarters compared to the period a year earlier.
Approvals also rose by more than a fifth in the North West to £211 million in the first quarter, compared to last year. Work on one flagship project in the region, an £80 million, 18-storey office scheme in Manchester known as The Alberton to be built for client Bruntwood Works, is due to start later this autumn and run for 22 months (Project ID: 22064566).
Glenigan customers can see details of all new office construction work if part of your subscription.
Not a Glenigan customer, but would like to see detailed sales leads new office construction? Request a free demo of Glenigan today so we can show the size of the opportunity for your business.