New construction work at airports across the UK has picked up markedly in recent months as expansion and renovation programmes get underway.
Regional airports have faced some tough times in recent years competing for passengers with the major city air hubs - particularly around London and in Manchester – and expansion plans inevitably face local opposition.
But today, plans for significant extensions are progressing at Southampton and London City airports and a plan to reopen Manston Airport in Kent is set for take-off. Meanwhile, the all-clear was given for a major expansion at Bristol Airport last month.
Updating terminals
The need to update passenger terminals at UK airports is also creating new contract opportunities. At Manchester Airport, work on a £440 million terminal modernisation programme is due to start later this year which will double the size of the departure lounge and create more retail space. Mace is the construction manager on the project, where work is set to run for 36 months (Project ID 22183085).
Meanwhile, airport maintenance and renovation work is providing a useful source of new work for civils contractors. Last month Lagan started work on a contract to resurface London Stansted's 3 km runway in a project set to run over five months. Work takes place at night to limit the disruption to flights and, as well as laying over 50,000 tonnes of asphalt, the scheme involves upgrading the runway and taxiway lights with new LED lamps.
Longer term, London Stansted could provide a major source of infrastructure work for the industry as and when work starts on a £480 million expansion involving a terminal extension, a new arrivals building and two new taxiway links. The Planning Inspectorate has approved the plans, which involve increasing the airport's capacity to 43 million passengers (Project ID: 16135565).
The timeline on new work starting is clearer at London City Airport, where detailed plans have been submitted for a £31.3 million extension. Tenders are being invited and work is calculated to start in autumn 2023 and run for eight months (Project ID: 23026425).
For now, the east London airport is also providing opportunities on smaller contracts. Tenders have recently been returned on a £1.6 million contract to build a pontoon bridge and rescue boat berth at the riverside airfield at London City with work set to start this summer and run for five months (Project ID: 18383720)
Meanwhile, construction work on a £500 million project to reopen Manston Airport on a former RAF base near Ramsgate in Kent could start towards the end of this year. The scheme to create a dedicated air freight facility - with around 10,000 air cargo movements annually - alongside business travel and aircraft engineering facilities is being promoted by Riveroak Strategic Partners and has been deemed a Nationally Significant Infrastructure Project (NSIP). Construction work could continue well into the next decade (Project ID 08503252).
Accommodating larger aircraft
Further along the coast at Southampton Airport, plans for a significant runway extension have been approved to accommodate larger aircraft and attract more passengers as a key step in ensuring the facility's long term viability. Tenders have recently been returned on a £50 million project which involves a 164 metre extension to the runway and the creation of 600 extra car parking spaces (Project ID: 19081040).
Plans for a £22 million expansion of Bristol Airport (pictured), increasing passenger numbers from 10 to 12 million, were given the go-ahead by the High Court at the end of January. The scheme includes two extensions to the terminal building and a new walkway and pier. Work could start at the end of this year and run for 24 months (Project ID: 18224600).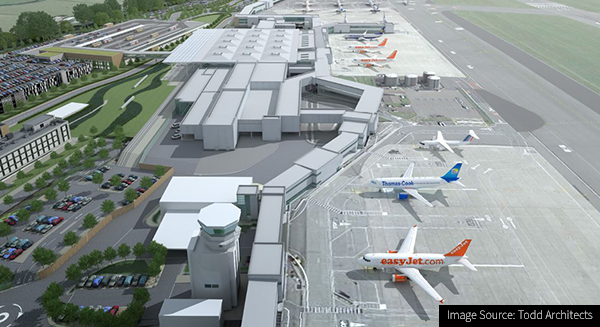 There are also some potentially significant airport extensions moving slowly down the pipeline. Work on the third runway at Heathrow is unlikely to start anytime soon although a client announcement on the £14 billion project is expected later this year (Project ID: 18218583).
Another NSIP scheme which may be more likely to materialise in the medium term is a £1.4 billion plan for an expansion at London Luton Airport, where a public enquiry is underway and where work could possibly start in 2025. (Project ID: 21110220).
Glenigan customers can see details of all new construction work at airports if part of your subscription.
Not a Glenigan customer, but would like to see detailed sales leads for new construction work at airports? Request a free demo of Glenigan today so we can show the size of the opportunity for your business.