One sector where new work prospects are set to remain relatively bright in 2023 is industrial construction. Although a slowing economy has impacted manufacturers, continuing strong demand for modern industrial space from businesses across all sizes and sectors is likely to support new orders.
Firms need more warehousing space today both to accommodate the growth of online business and as Brexit and global supply chain problems have encouraged them to hold higher levels of stocks. Demand for smaller urban distribution units is also set to stay buoyant. According to property agent Carter Jonas, the market for industrial space is likely to remain tight in 2023 given a continuing robust level of occupier demand and limited new development coming onstream.
Severfield, the UK's largest structural steel fabricator and a bellwether for industrial building, is seeing healthy demand in the sector. In November, the firm reported a commercial and industrial order book worth £308 million which included significant new work won over recent months such as the Envision Battery Plant in Sunderland. Severfield has also picked up orders on large and several smaller UK industrial and distribution facilities; a sector which the firm says continues to present good opportunities.
The positive outlook for industrial property is reflected in construction work prospects in the sector. After a 25% increase in the value of industrial starts last year, Glenigan's Construction Industry Forecast 2023-2024 predicts that activity in the sector will remain well above pre-pandemic levels this year.
Despite the economic downturn, starts across the whole industrial sector are forecast to dip by just 5% in 2023 compared to last year and in the warehousing and logistics sector (which accounted for almost half of project starts in the three months to November) they are expected to remain resilient over both 2023 and 2024.
Improved work pipeline
Moreover, the December Glenigan Construction Review points to a recent marked improvement in the work pipeline in the industrial sector. Underlying detailed planning approvals for industrial projects (worth under £100 million) rose by 21% in the three months to November over the previous three months and stood 46% up on the period a year earlier.
The industrial sector also offers strong opportunities for new contracts in various regions across the UK. Planning approvals for industrial projects were significantly higher in 2022 compared to the previous year in the East of England, East Midlands, North West, South West, Yorkshire & Humberside, Wales and Northern Ireland.
Glenigan data highlights numerous examples of small and medium sized industrial projects where construction work is set to get underway over the next 18 months. At Riverside Industrial Estate in St Albans for example, detailed plans have been submitted for a £48.5 million storage and distribution scheme for Columbia Threadneedle Investments involving 42,000 sq m of new space across a 7.6-hectare site. Work is set to start in late 2023 and run for six months. (Project ID 23000064).
Elsewhere in the South East, Kier Group has submitted detailed plans for a £16.23 million warehouse scheme in Milton Keynes involving a B8 industrial unit. Work is set to start in February and run for nine months (Project ID 17104655).
Investment in the North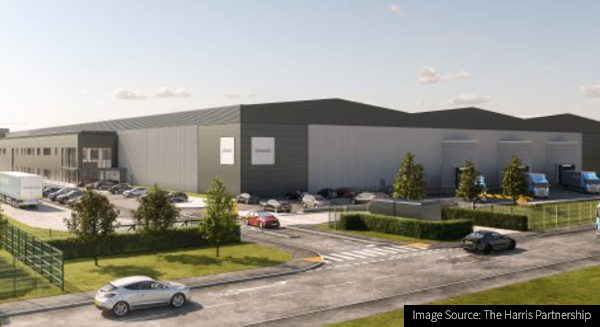 Developers are continuing to invest in new industrial space in the North of England. At Goole in Humberside, Horncastle Group is inviting tenders for a £25 million industrial project at Phase 2, The Ozone. Work on the scheme involving close to 28,000 sq m of space is due to start early next year and run for six months (Project ID 22042370).
New industrial developments involving multiple units are also in the pipeline. At the Blackstone Quarry Development near Doncaster, outline plans have been submitted for a £60.9 million scheme by client Ernest V Waddington involving 52 industrial/warehouse units, across 32,000 sq m of space. Construction work is set to start in summer 2023 and run for nine months (Project ID 19447246).
Meanwhile, new distribution space for retailers is also generating construction orders. At the Gateway 14 development near Stowmarket in Suffolk, Winvic Construction has recently been appointed to build a 1.2 million sq ft warehouse for The Range, the garden and leisure products retailer. Work is due to start this month and continue until November.
Jaynic, the development partner on the Gate 14 scheme, also has a reserved matters application underway for a separate, £23.74 million project at nearby Suffolk Park involving two light industrial/warehouse units with over 19,000 sq m of space. Work is set to start this coming summer and run for 11 months. (Project ID 22304423).
Glenigan customers can see details of all new industrial construction projects if part of your subscription.
Not a Glenigan customer, but would like to see detailed sales leads for industrial construction projects? Request a free demo of Glenigan today so we can show the size of the opportunity for your business.