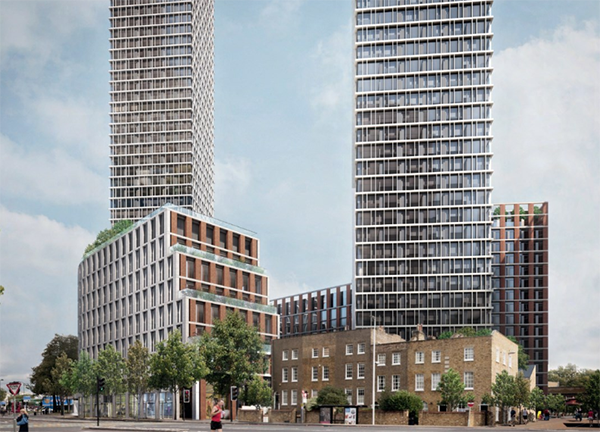 The construction industry remains in a fragile state, but workload is strengthening at leading mechanical and electrical contractors.
Industry research by Glenigan shows that contracts have been awarded to main contractors on nearly £14 billion-worth of construction projects with M&E consultants attached in the 12 months to Q3 2019.While the award of a contract to a main contractor does not mean construction will immediately start on site, work will still swell down the supply chain to consultants in preparation for a start.
The combined value of this work at the top 20 M&E consultants is up by 16% on the same period a year ago.
Top consultants
The consultant working on the largest amount of work moving towards site is Hoare Lea. The group is working on £3.3 billion-worth of construction projects and leads the table of the industry's top 20 M&E consultants.
According to Glenigan's data analysis, contracts on five major projects worth £514 million and with Hoare Lea attached were awarded in September 2019 alone. These schemes include the first phase of the Nine Elms development in Wandsworth, south London, which is valued at £480m and features 1,195 flats and commercial units. Mace is building this project and Hoare Lea is the M&E consultant (Glenigan Project ID: 19006491).
Recent boom
The amount of construction work being let to contractors and with Hoare Lea attached as an M&E consultant has doubled over the last 12 months, Founded in 1862 by Michael Lea and now with 11 UK offices and operations in Abu Dhabi, Madrid and Qatar, this flow of work is providing a boost to the group. Holding company Hoare Lea LLP grew turnover by 4% in 2018 to £82.1 million.
The M&E work for Hoare Lea in the UK looks likely to be sustained. Glenigan's research shows that the company is attached as M&E consultant to a host of other major projects in the pipeline. These range from the £80 million New England Quarter development in Brighton (Glenigan Project ID: 18039334) to the £400 million second phase of the Elephant & Castle Town Centre development by Delancey Estates, which is currently out to tender (Glenigan Project ID: 13394989).
Arup on the up
Arup's M&E work is also rising and the consultant is ranked second in Glenigan's table of the top 20 M&E contractors. Arup is working on £1.7 billion-worth of projects, which have been awarded to a main contractor in the 12 months to Q3 2019. This total is 30% up on the same stage a year ago. Arup is also working as an M&E consultant on flagship projects according to Glenigan's research, such as the £267 million Midlands Metropolitan Hospital, which is due to start on site before the end of 2019 (Glenigan Project ID: 18233050).
While the industry is going through a difficult period, the top M&E consultants are still busy.
Image: Nine Elms development in Wandsworth. Source: Allies & Morrison Architects